ABCs of Touring 2018 results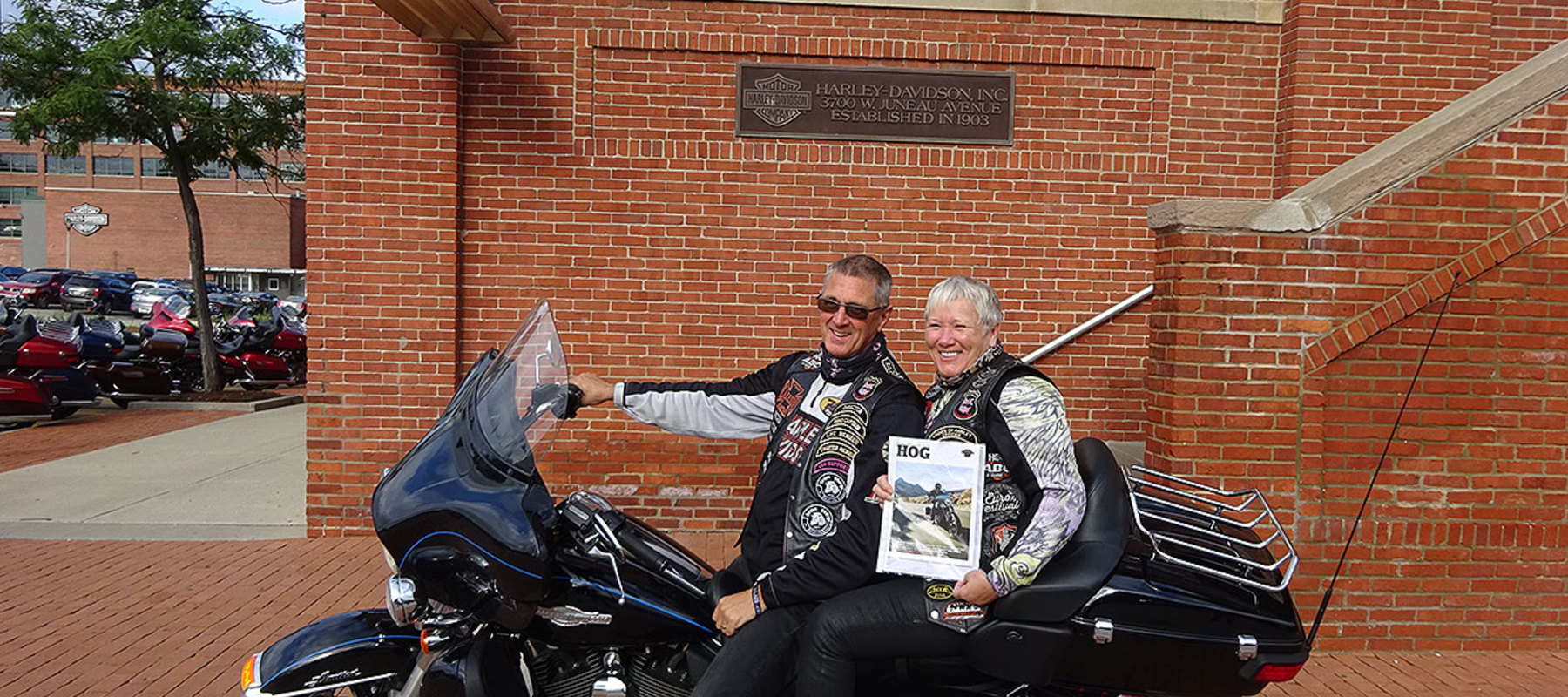 The results are in, and we have clear winners of the 2018 ABCs of Touring contest...
Congratulations to Malcolm and Lorraine Seedhouse from the UK! It was close-run contest but Malcolm and Lorraine proved to be clear winners with fantastic scores of 224 and 221 respectively, with Dolf De Wit from the Netherlands coming in third.
Malcolm and Lorraine explain about some of the many amazing adventures they had while taking part in the ABCs of Touring:
"Winning the ABCs of Touring contest wrapped up an amazing 2018 for us, having covered more than 20,000 miles. It is always great to get out and about riding our Harley-Davidson, if ever we need a reason to. Visiting a variety of places we have never been to before and meeting so many Harley-Davidson enthusiasts along the way. People are always interested to know what we are doing, how it all works and we love being able to share our journey.
We were lucky enough to participate in the 115th Anniversary rallies in Prague and Milwaukee meeting with the Davidson family at both events, this has got to be a unique life memory. Meeting up with friends, who were also participating in the contest, and touring in Belgium, Luxembourg and Germany added to our incredible experience.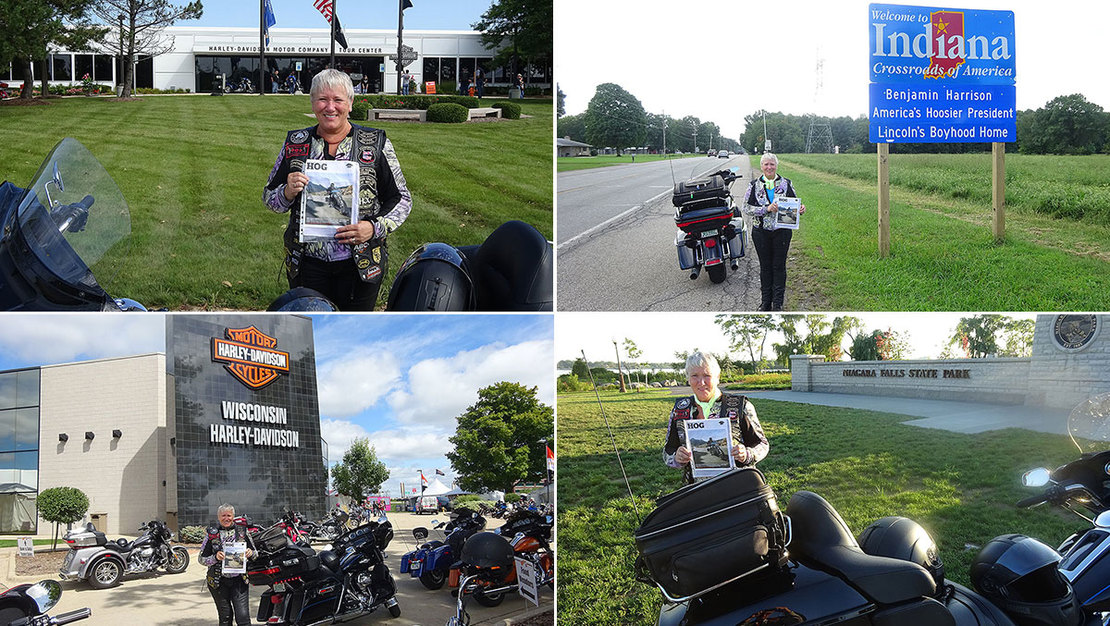 Being able to spend 17 days touring in the USA, visiting numerous dealerships and crossing 20 State lines covering 4,500 miles, and visiting the 8th Wonder of the World, Niagara Falls, was an awesome adventure which we probably wouldn't have done if not for the ABCs of Touring. Attending several rallies in the UK meant that extra points were earned but more importantly more friends were made.
We would encourage everyone to participate in this contest as it is so easy when visiting anywhere to snap a photo and then post onto the H.O.G. site contest page. With a little planning further points are achievable and all of this adds to the fun, excitement and experience of being out and about on our beloved Harleys. As a bonus everyone participating receives a pin and patch, achieving a minimum of 26 points will mean that you also receive a €25 gift voucher, 52 points or more receives a €50 gift voucher both redeemable at hogmerch.com.
Any Body Can."
Well done to everyone who took part in 2018, and if you fancy taking up the challenge and potentially winning some amazing Harley-Davidson prizes, here's how to find out more and sign up:

• Sign into your profile at hog.com
• Hover over the 'MEMBERSHIP' tab at the top of the page, and select 'Benefits'
• Click 'VIEW ALL BENEFITS'
• Select 'ABCs of Touring' from the list, and then 'Learn more'.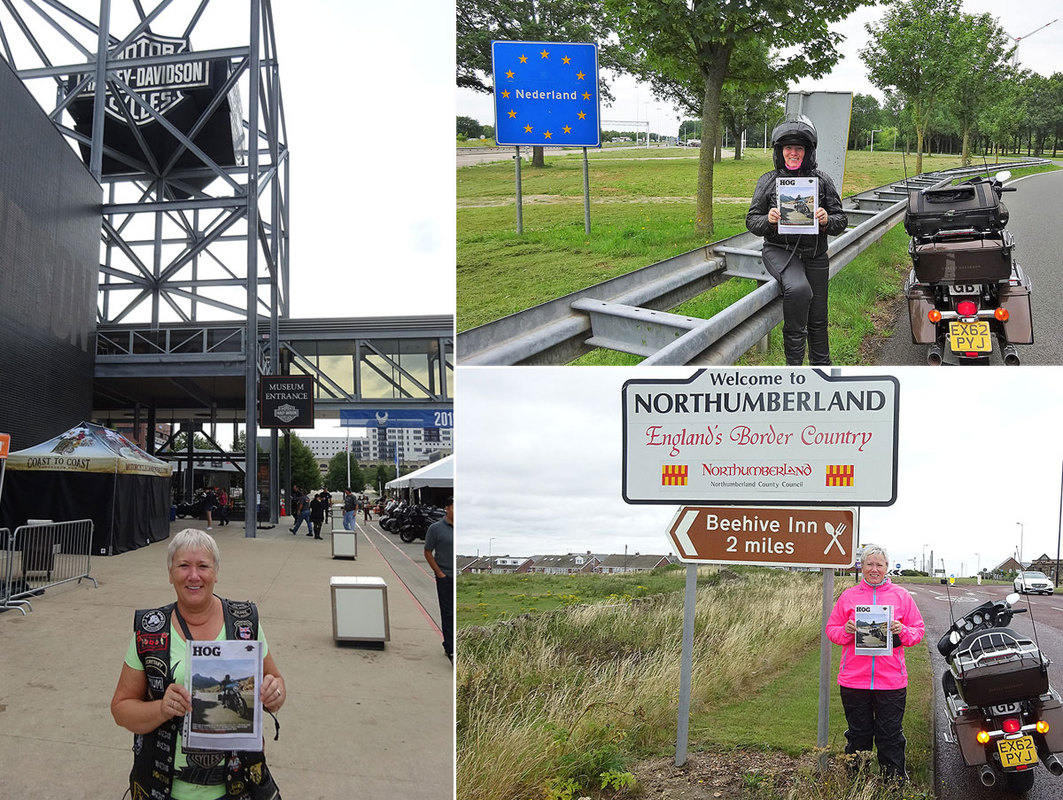 | | | | |
| --- | --- | --- | --- |
| SCORE | COUNTRY | FIRST NAME | LAST NAME |
| 224 | United Kingdom | Malcolm | Seedhouse |
| 221 | United Kingdom | Lorraine | Seedhouse |
| 200 | Netherlands | Dolf | De Wit |
| 192 | United Kingdom | Daniel | Barron |
| 169 | United Kingdom | Charmaine | Till |
| 164 | South Africa | Corrie | Van Rensburg |
| 152 | Switzerland | Pierre-Alain | Schule |
| 152 | South Africa | Meisie | Van Rensburg |
| 148 | Switzerland | Chantal | Schule |
| 136 | Germany | Axel | Schneider |
| 135 | Netherlands | M G | Smoorenburg-Davina |
| 135 | Germany | Ulrich | Hansmann |
| 119 | Germany | Matthias | Peters |
| 116 | Germany | Andrè | Micheel |
| 114 | United Kingdom | David | Hollis |
| 112 | Spain | Jose Antonio | Galvez Prieto |
| 111 | United Kingdom | Robin | Seymour |
| 105 | United Kingdom | Genevieve | Ryan |
| 105 | Netherlands | Eric | Grosse Hamberg |
| 102 | Germany | Dirk | Musstopt |
| 100 | Italy | Luca | Cattaneo |
| 97 | United Kingdom | Pete | Harris |
| 86 | Netherlands | Theo | Kindts |
| 85 | Germany | Joochim | Kronke |
| 83 | Italy | Gianfranco | Carubelli |
| 80 | Germany | Frank | Grell |
| 80 | Germany | Ramona | Grell |
| 69 | Belgium | Jean Claude | Duhamel |
| 69 | Germany | Christian | Faltinrk |
| 68 | Germany | Heidi | Faltinek |
| 67 | Germany | Matthias Claudius | Prosch |
| 66 | Germany | Stephanie | Will |
| 64 | Belgium | Martin | Harvey |
| 61 | Belgium | Karen | Harvey |
| 61 | South Africa | Fred | Van Wyk |
| 59 | United Kingdom | Neil | Bartlett |
| 59 | Germany | Arno | Meissner |
| 59 | Netherlands | Sandor | van de Louw |
| 58 | United Kingdom | Martin | Wild |
| 57 | Germany | Ulrich | Van De Weyer |
| 55 | United Kingdom | Neil | McLeod |
| 55 | Germany | Antje | Kramer |
| 55 | Germany | Christian | Schliter |
| 54 | Belgium | Steven | Dekein |
| 54 | Italy | Andrea | Giordano |
| 53 | Italy | Alessandro | Navarrini |
| 53 | United Kingdom | Francis | Mc Gregor |
| 46 | Germany | Rolf | Rabe |
| 43 | South Africa | Hermien | Van Zyl |
| 40 | Germany | Klaus | Koop |
| 40 | Germany | Ruth | Seehase |
| 39 | South Africa | Jonty | Marais |
| 36 | Germany | Andreas | Schulz |
| 36 | Germany | Peter | Wittbrodt |
| 34 | Germany | Heiko | Nehrkorn |
| 34 | South Africa | Anna | Van Wyk |
| 31 | United Kingdom | robert | bint |
| 31 | United Kingdom | julia | bint |
| 30 | United Kingdom | Ian | Keen |
| 30 | United Kingdom | Anthony | Graham |
| 30 | Netherlands | Erik | Bouw |
| 28 | Netherlands | Peggy | Kindts |
| 26 | United Kingdom | Ceri | Lowen |
| 26 | United Kingdom | Christopher | Lowen |
| 25 | Netherlands | Chantal | De Boer |
| 25 | Spain | Xavier | Valbuena Hernandez |
| 24 | United Kingdom | Michael | Noakes |
| 23 | Spain | Juan | Guzman Lopez |
| 23 | Spain | Marta | Torrellas Iglesias |
| 22 | United Kingdom | Hamish | Rogers |
| 21 | Germany | Friedrich Alexander | Neumann |
| 21 | Germany | Sebastian | Wittbrodt |
| 20 | Germany | Klaus Peter | Santt |
| 19 | Germany | Rainer | Hummel |
| 17 | Germany | Karsten | Schosstag |
| 16 | United Kingdom | Deep | Chabria |
| 16 | United Kingdom | Justin | Prins |
| 16 | United Kingdom | Charmaine | Parson |
| 15 | United Kingdom | David | Haydon |
| 14 | Germany | Markus | Lang |
| 14 | Germany | Manuel | Franke |
| 12 | Poland | Bartosz | Bialkowski |
| 10 | United Kingdom | Alexandra | Oliver |
| 9 | United Kingdom | Stewart | Willox |
| 7 | Italy | Emiliano | Pizzamiglio |
| 5 | United Kingdom | Gary | Richards |
| 2 | United Kingdom | Peter | Eames |
| 1 | France | Serge | Florent |
| 1 | France | Michel | Collin |
| 1 | United Kingdom | Paul Antony | Short |
| 0 | Czech Republic | Radek | Kriegler |
| 0 | United Kingdom | Andrew | Noakes |
| 0 | Saudi Arabia | Hassan | Alabdali |
| 0 | Spain | marcelo | fernandes |
| 0 | United Kingdom | Anthony | Winter |
| 0 | Ireland | Adriano | Bagni |
| 0 | Spain | Ingrid | Daniel Ortiz |
| 0 | Saudi Arabia | Fuhaid | Ahmed |
| 0 | Germany | Reinhard | Herz |
| 0 | France | Alain | Bonamy |
| 0 | Germany | Reto | Gantenbein |