Great riding roads: 115th anniversary ride – Athens to Prague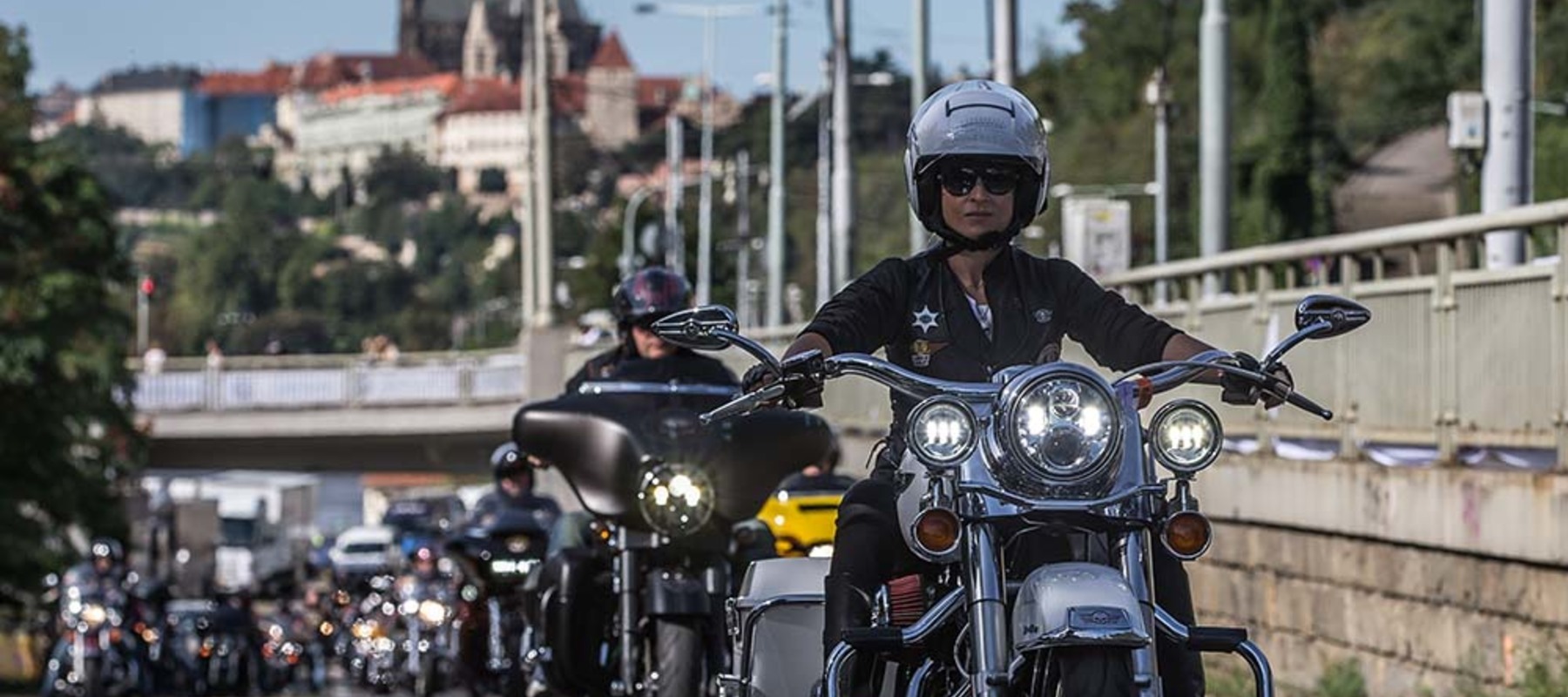 We continue our series of great riding roads, showcasing some amazing routes you could take when heading to the big Harley-Davidson® 115th Anniversary party in Prague! This month we travel from the sunny climes of Greece and head north through Bulgaria, Serbia, Hungary, Slovakia, Austria before heading into the Czech Republic and the big party in Prague.
We start this ride in one of the world's oldest and historical cities, Athens. With it's hot Mediterranean climate Athens is a great place to visit at any time of year and a perfect starting point for our ride.
While in Athens it would be rude not to sample the various ancient delights on offer. The Acropolis of Athens is said to be the most important ancient site in the Western world and contains the remains of several ancient buildings of great architectural and historic significance, the most famous of these being the Parthenon.
Designed to be the pre-eminent monument of the Acropolis and built on its highest ground, the Parthenon epitomises the glory of Ancient Greece. It is the largest Doric temple ever completed in Greece, and the only one built completely of white Pentelic marble. It took 15 years to complete and housed the great statue of Athena, considered one of the wonders of the ancient world.
Once you've had your fill of ancient monuments (I've not even mentioned the Temple of Olympian Zeus, among many others) and want to sample of bit of retail therapy then head down to the narrow streets of the Plaka District with its many quaint shops, restaurants and cafes to relax and watch the world go by. Once refreshed then it's time to head north along the picturesque Greek coastline to Thessaloniki.
The second-largest city – and considered to be Greece's cultural capital – Thessaloniki is renowned for its festivals, events and vibrancy. It is also a city with a 3,000-year-old history with preserved relics from its Roman, Byzantine and Ottoman past. It is easy to fall in love with Thessaloniki, it has beauty, history, culture, a remarkable cuisine and wonderful sea views. What more could you want?
From Thessaloniki it is time to head north out of Greece and into Bulgaria heading for the capital, Sofia. It is worth making a slight detour along the route into Pirin National Park, south-west Bulgaria. With glacial lakes, waterfalls and caves to explore, as well as amazing views of snow-capped mountains it is definitely worth the time to visit before riding in to Sofia.
It is not on most peoples list of must-visit places but Sofia is a modern, youthful city with a scattering of Ottoman mosques and Red Army monuments that lend an eclectic, exotic feel. Away from the buildings and wide boulevards there are vast parks and manicured gardens to explore and the trails of Mount Vitosha are just a short ride away. And don't forget to visit the lovely people at Harley-Davidson Sofia where you will receive a very warm welcome.
From Bulgaria head north-west into Serbia and up to the capital city, Belgrade. This is a lovely ride, dotted with ancient monasteries and wineries to keep you fuelled up as you ride.
Belgrade literally translates as 'White City', but the capital of Serbia is a colourful and modern city that mixes the old and new. Socialist blocks are squeezed between art nouveau masterpieces. As the River Danube flows through Belgrade it offers up some spectacular views as you settle down in one of the many coffee houses for a well-earned break.
From Belgrade we head north out of Serbia into Hungary, but not before a quick stop at the 'Athens of Serbia', Novi Sad. With its history as a vibrant, creative city with established galleries, alternative music scene and a vibe that is generally more liberal than that of other Serbian cities it is plain to see why it has earned it's appropriate nickname. In 2019 Novi Sad will be the European Youth Capital, and in 2021 it will become the first non-EU city given the prestigious title of European Capital of Culture.
From Novi Sad it's time to head to another European capital city, Budapest in Hungary. With its unique, youthful atmosphere, a world-class classical music scene as well as s pulsating nightlife, Budapest is one of Europe's most delightful cities and due to its scenic setting and architecture it has earned the moniker of 'Paris of the East'.
For those who want a moment of calm and relaxation Budapest also has a rich offering of natural thermal baths. The city is blessed with an abundance of hot springs and as a result, 'taking the waters' has been a Budapest experience since the time of the Romans. You can choose from a generous selection of bathhouses – Turkish-era, art nouveau and modern establishments. After a long day in the saddle it could be just what you need. Bliss.
From Budapest follow the Danube north-west into Slovakia and its capital city, Bratislava.
Another European city that mixes the old and the new, Bratislava is a frenetic mix of wild and urban, classic and contemporary. It has a very pleasant medieval inner city with narrow, winding streets to explore as well as a brilliant white, imposing hill-top castle next to the Danube. Whether you prefer beer halls, rooftop cocktails or to relax with a cup of coffee, Bratislava caters for all tastes.
From Bratislava it's a very short hop across the border into Austria and the grandeur of Vienna. With a musical heritage that includes composers such as Mozart, Beethoven, Strauss, Schubert and Brahms among countless others it is little wonder that Vienna is known as the City of Music.
As well as music, the Viennese appreciation of the finer things in life also extends to its food and drink. From its opulent coffeehouse 'living rooms' serving sumptuous cakes, to its beloved pub-like Beisln dishing up hearty portions of Wiener schnitzel, and elegant restaurants, for the gastronomers among you Vienna is heaven on earth.
Once you've been around Vienna's many imperial palaces and baroque streets it's time to head north into the Czech Republic and Prague! But before we do that… a quick stop off in the Czech Republic's second-largest city, Brno. Home to some excellent microbreweries and at least two of the country's best restaurants, there's plenty to reward a transit stop before heading off to the big party!
Speed up, slow down and Czech it out. Come a few days earlier and enjoy the beauty of Central Bohemia – a region worth exploring. Click here for the 10 best sightseeing routes through Central Bohemia.

For more information on the 115th Anniversary party and to purchase tickets, visit h-d.prague115.com where the Rides In route planner is now available.
If you want to download this route to your sat nav, visit greatestrides.eu where you can also upload your favourite route for others to enjoy.