Handmade in France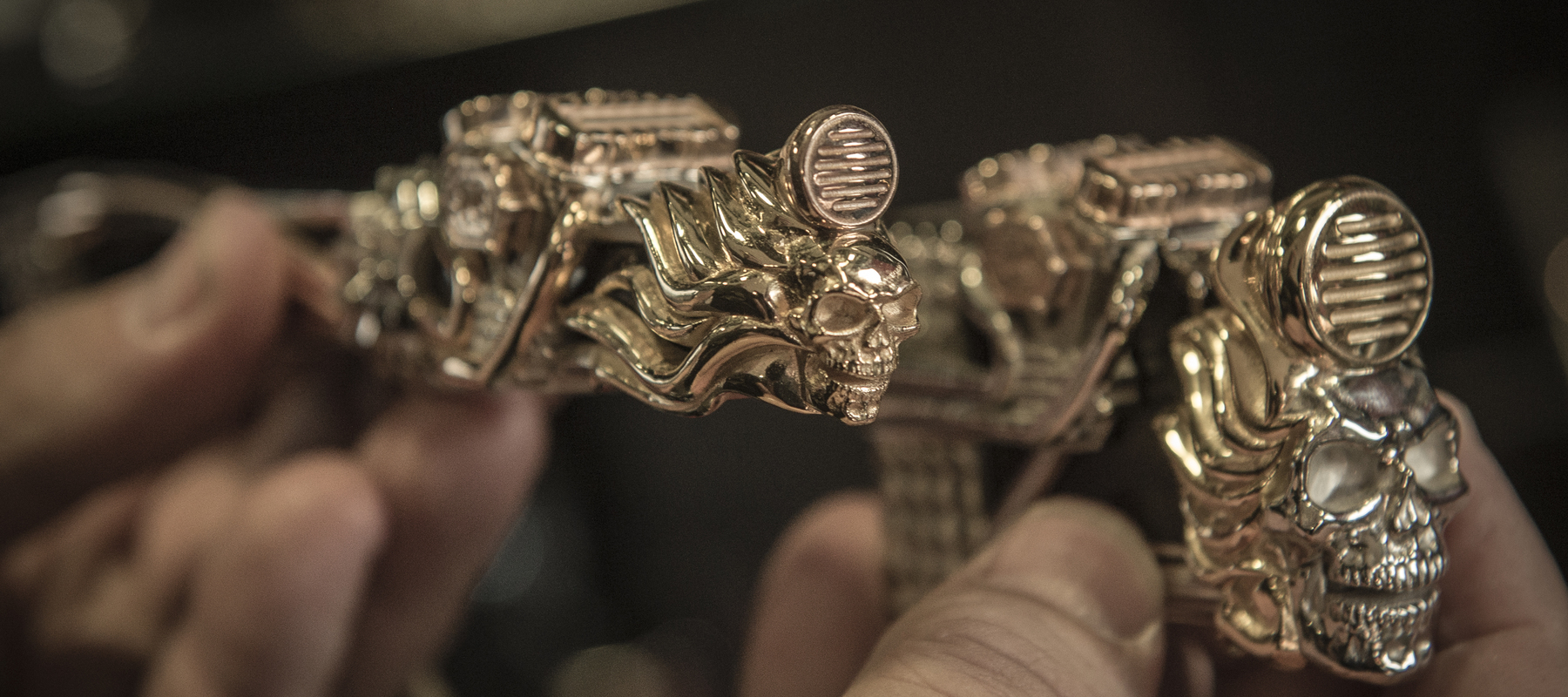 Ever wondered how those beautiful bracelets, medals and trophies that have been a staple at Harley-Davidson Custom Bike Shows in the past few years were made and by whom? Welcome to the prestigious world of 2 Saints.
A passion for Harley-Davidson, rock 'n' roll and beautiful objects is not unusual for H.O.G. members, and many dream of turning this passion into a business. Frederic Saint Romain and his team have done exactly that, building up a business making fine jewellery, limited-edition collectibles and unique items for some of the most prestigious luxury brands in Europe.
In-house brands 2 Saints and Tournaire use a similar approach for very different markets. 2 Saints specialises in men's jewellery – rings, medallions, bracelets, belt buckles, cufflinks, lighters, pens, keyrings – with rock 'n' roll and biker themes; Tournaire specialises in hand-crafted jewellery, mainly for women, and both brands specialise in 'objects of desire'.
"Our aim is to combine cutting-edge high-technology with traditional craft techniques to create unique or very limited-edition items of exceptional beauty," says Frederic. "Typically we use the very latest techniques in design and prototyping with modern casting and craftsmen working by hand to create items that simply can't be replicated elsewhere."
An Exceptional Opportunity
So how did Frederic, his brother Christophe and his partner, Franco-American designer George, build up a portfolio of businesses producing jewellery and luxury items not only in-house but also for brands like Hermes and Cartier?
"My career took me around the world, first working with Procter & Gamble, then Danone and most recently in global luxury brand LVMH," says Frederic. "Eleven years ago I returned to France and was looking for an opportunity in the luxury market that would use my skills and experience and allow me to raise a family in the beautiful rural environment of the Auvergne where I grew up."
That opportunity came in a meeting with legendary French jeweller Philippe Tournaire. Philippe was already a well-established designer and manufacturer of architectural jewellery, and his company Tournaire had recently celebrated its 40th anniversary. Philippe was looking for a creative partner with marketing and management skills, and from that initial meeting a business plan developed based on the specific skills of the two partners.
Visibility in the exclusive high-end luxury market was gained by making a series of 'world's most expensive' items – skis for LaCroix, using gold and diamonds; the world's most expensive lighter; the most expensive petanque set, inlaid with gold and diamonds; the most expensive bottle of rum; and the most expensive headphones and speakers for French brand Focal. This exposure drew the attention of 144-year-old luxury goods retailer ST DuPont, licencee for many global brands, including Marvel and LucasFilm; this association resulted in ultra-collectible items featuring Marvel characters, Star Wars items including a levitating light sabre laser pen set; and items based on the 'One Piece' global manga phenomenon – as well as one-off art pieces and the 'core' products of jewellery and luxury items.
Strict Processes
Frederic outlines the strategy for gaining a foothold in the ultra-luxury market: "Typically we start with a technically difficult project that no one else can do, then when we succeed with that it brings in new business. Because we do absolutely everything in-house we can control the whole process from start to finish, ensuring quality remains at the highest level throughout."
For anyone with an affinity for hand-crafted items of beauty, the 2 Saints facility is a place of endless fascination. Craftsmen work in bronze and gold using traditional methods while technicians operate 3D scanners and printers, high-tech prototype wax moulding machinery, laser welders and CNC milling machines. A bespoke foundry is operated by Frederic's brother, the other 'Saint' in the 2 Saints brand name.
Many of the tools, materials and techniques have been developed and perfected in-house, allowing the company to produce incredibly detailed prototypes – a unique advantage in a market where clients are looking for ever-greater detail.
2 Saints' products range from the V-twin engine motif embodied in the Highway Star collection; the Rock & Skulls collection dedicated to the spirit of '60s rock 'n' roll; and the 'Think' collection – jewellery with visible tiny cogs and gears – to symbolise 'the mysterious mechanisms of thought'.
The Motorbike Muse
2 Saints' work will be familiar to those attending the Harley-Davidson Euro Festival in the Golfe de St-Tropez, where many will have seen the 2 Saints 'pop-up' store in the Freeway Village, the first showing of the brand to a wider biker audience. Elaborately detailed 2 Saints trophies for Best In Show are fiercely contested by Europe's best custom bike builders at Euro Festival, European H.O.G. Rally and European Bike Week, while the work of Tournaire is well known in France and the wider European market, where the trademark architectural rings and jewellery with the distinctive integrated square/circle/triangle design are worn by many high-profile clients.
"Riding is an essential part of the creative process for me," says Frederic. "I started riding on the road at a very early age, on a Mobylette, like so many French kids of that era. Since then I have owned a series of Harleys, including a customised Street Bob® and a Rocker. For me, riding is vital to 'erase the hard drive' and allows me to clear my mind for thinking of the future for the business. The Harley connection and passion for riding has also brought me into contact with talents like painters Noir Mat, Daddygraph and knife maker Manu, who have inspired the designs we produce at 2 Saints – it is a real team brand."
That future is already looking bright. Retail outlets now include a walk-in store built into the workshop, a store in Lyon and the flagship outlet, a 130m2 store in the prestigious Place Vendôme, Paris.
"Like Harley-Davidson, our customers seek beautiful items, customisable to make them unique and a reflection of their owner," says Frederic. "This is our niche – limited-edition, high-quality, customisable items, with everything done by hand, in-house – everyone wants something unique and special, and that is something we can do and the big brands cannot."
Words: Jeremy Pick Photos: Paul Bayfield