Mediterranean Magic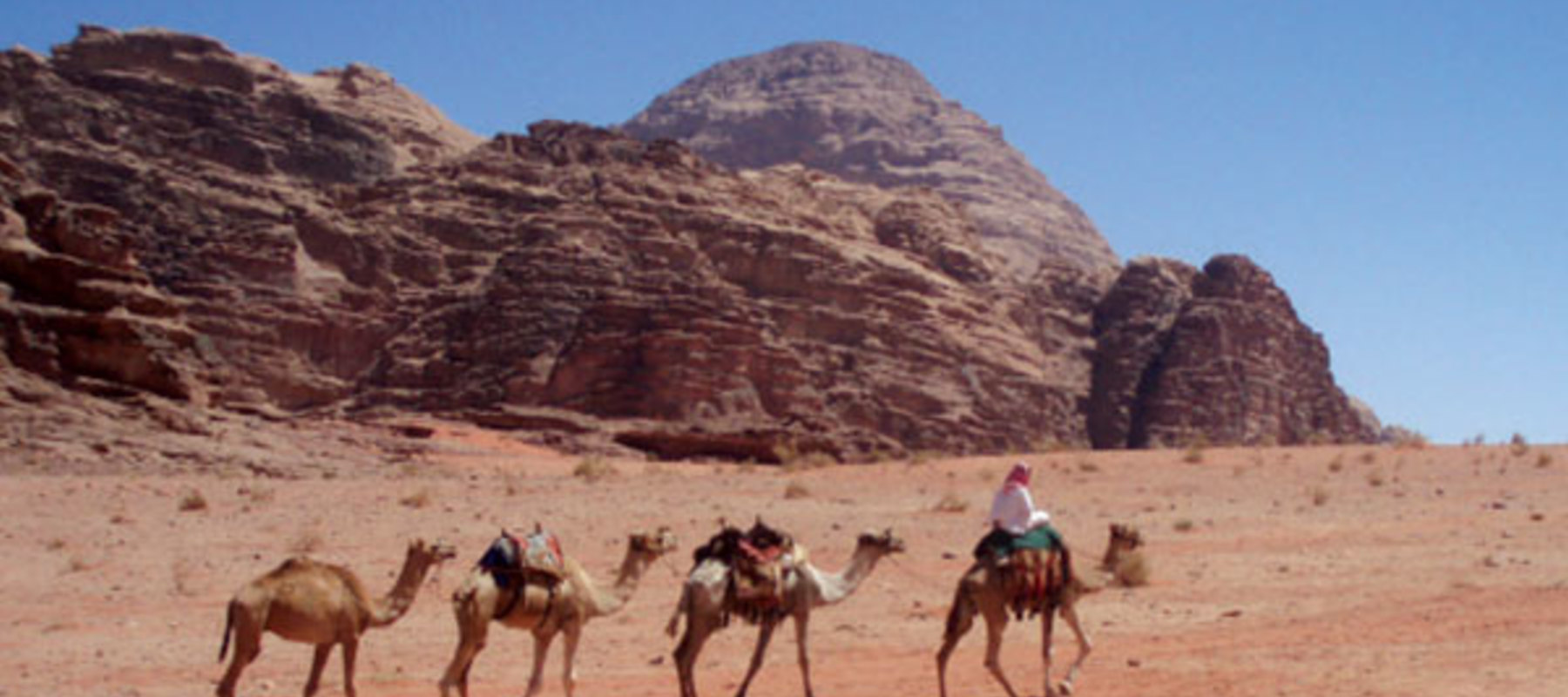 Back in 2007, Roland Bischofberger rode 5,200 km from his native Switzerland to Saudi Arabia to join the rally at Jeddah. In 2009, he set himself a new goal – to circumnavigate the Mediterranean
With 250 people, live bands, biker friends and many motorcycles, a passer-by could have been forgiven for thinking that Aadorf, Switzerland, had grown a H.O.G.® rally all of its own – but no. This was Roland Bischofberger's going-away party. Roland was, once again, taking to the roads astride his Road King® to circumnavigate the Mediterranean Sea.
This ride would be his greatest challenge to date, covering a massive 15,000km. That said, he would not be riding alone, but would have different riding friends accompanying him for each of the eight weeks of the trip.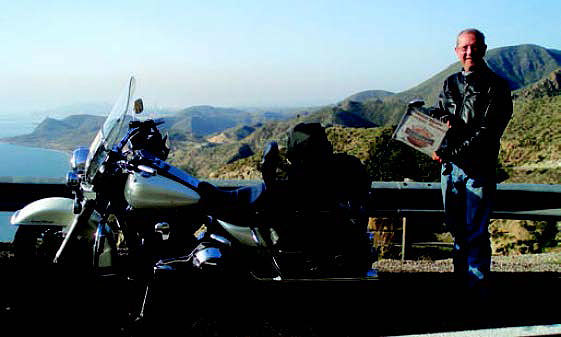 Leaving his party, Roland rode south to Vezia. As he crossed the phenomenal Gotthard Pass he reflected on his huge undertaking, and the many kilometres he would cover before he next returned home to Switzerland. The ride had begun.
The following days saw Roland ride across to Ancona, take the ferry to Greece, and ride through to Turkey. "Turkey is a wonderful and huge country," reminisced Roland. He longed to share this glorious landscape with his wife, Sylvia, who had not been able to join him for the whole trip.
"The street from Gazipasa to Anamur makes every biker's heart race," Roland explains. "It takes you downhill by the sea, then you follow curve after curve uphill through pine forests and banana plantations. It was simply wonderful."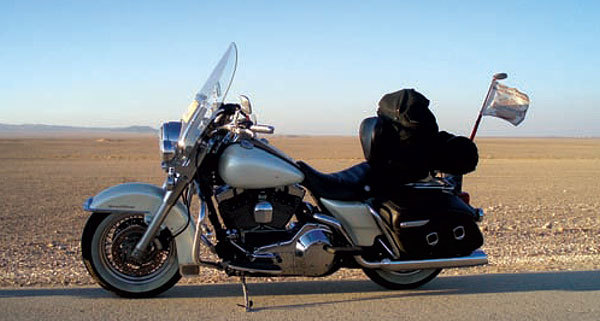 At this point, carefully crafted plans began to unpick themselves, with bureaucratic difficulties riding high at the top of the list of obstacles. "While preparing to travel into Syria, my passport from the Algerian embassy didn't arrive," remembers Roland. "Meanwhile, my friend Andy was supposed to fly to Jordan to meet me but his passport was still at the Syrian consulate."
Eventually, Roland met with Andy and together they enjoyed a stunning ride into Jordan, together planning alternative routes. They also discovered that there are modes of transport in this world far harder on the behind than a motorcycle: "Every day, my backside endured 8-10 hours of the Harley® saddle," explains Andy, "but after five hours of the camel saddle, my valuable buttocks became injured!"
Sadly, their border difficulties were not yet over. "During our planning, Libya blocked entry for Swiss people. We couldn't find an affordable solution to get from Egypt to Tunisia and Algeria had rejected our visas." It was a step too far, and Roland took the difficult decision to travel no further into Africa. This ride would no longer trace the full outline of the Mediterranean, rather he would turn and follow an alternative route back to Switzerland – via Italy, Sicily and as much of France and Spain as he could cover.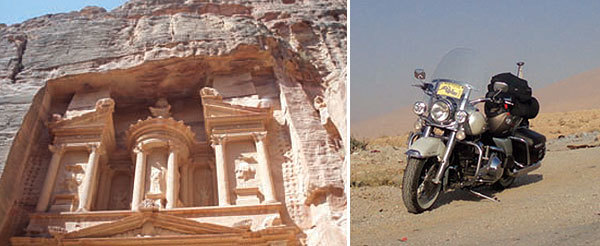 "One day, we rode from Amman, Jordan to Aleppo, north Syria," says Roland. "Ten hours of hard work either on the bike or with customs officers – it was an exciting life!" Enjoying this ride to the fullest, the next few days were a torrent of riding, roads, fine food, water pipes, new friends and a tremendous amount of fun.
The new route went through Patras, to Bari, Palermo, through the Alps and into France. So close to home, yet determined to follow the sea, Roland continued through France, south through Andorra and into Spain. "The Pyrenees is an absolutely wonderful region for a biker," advised Roland. They rode south, calling over to Gibraltar, then back up through Granada and back into France.
Awakening on the final day, day 52 of travel, Roland had just to make it from Roubitolins to Aadorf. Having been through so many countries, in such high temperatures ("At the Dead Sea, we'd wake in a sweat – it would be 33°C at 6.30 in the morning," explained Roland), it was something of a shock to see the turn taken by the weather. "We filled the tanks for the last time and began heading home in snow," Roland adds.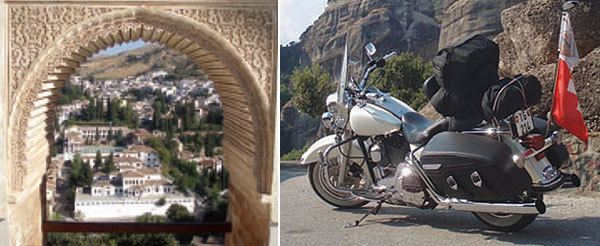 The reception on arrival was anything but frosty. Roland threw open the doors to his garage to reveal scores of friends and family ready to welcome him home, while a projector beamed photos from his trip across the room. With the diversions to avoid northern Africa, this journey had ended up covering closer to 40,000km across the eight weeks Roland and his motorcycling compatriots had spent on the road.
The name 'Mediterranean' means centre of the earth. Whether this name arose because the sea is surrounded by land, or because it was, once upon a time, at the centre of the known world is unknown. Here, though, this is moot. This iconic body of water, which has influenced civilisations for thousands of years, was the template for a ride that few of us will equal.