The ultimate touring ride through South Africa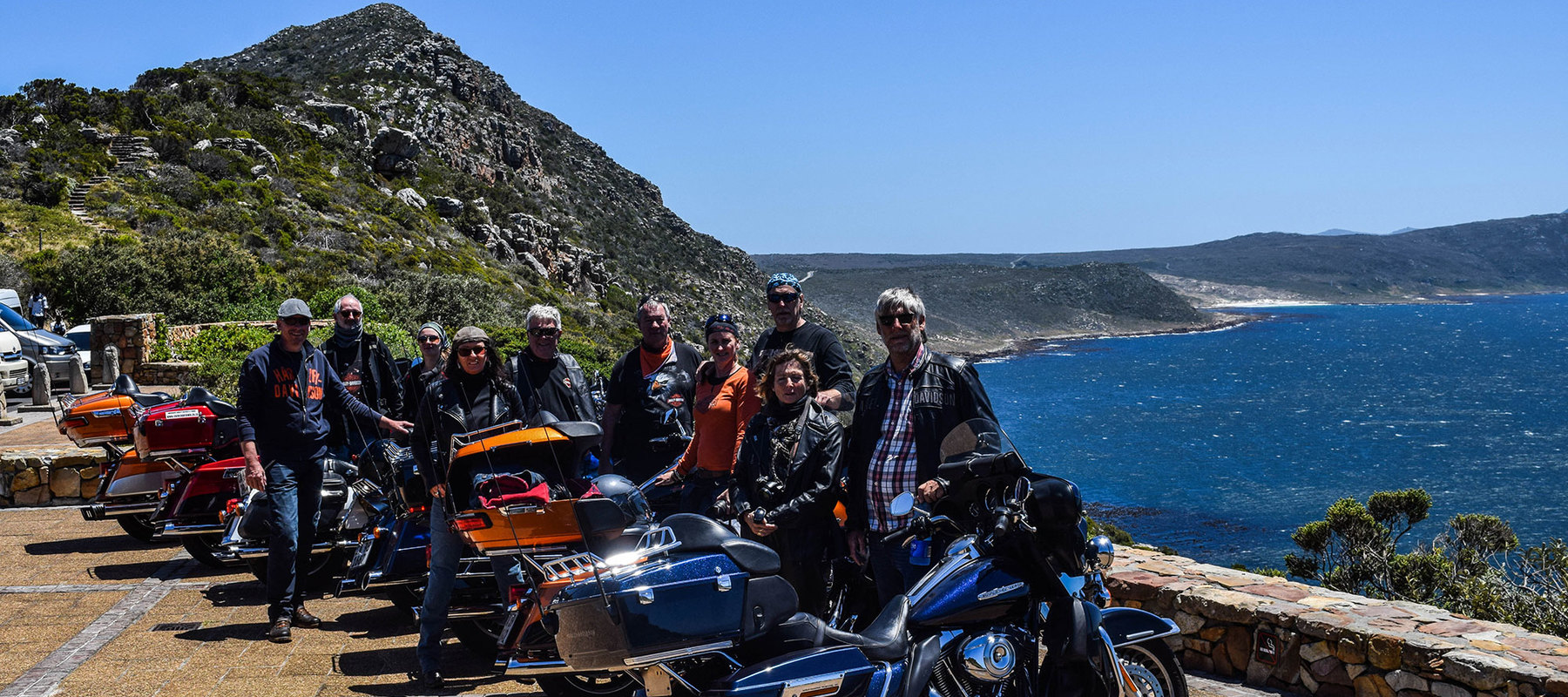 Fancy a breathtaking 15-day touring ride through the heart of South Africa, including two full days at Africa's biggest...
Nothing compares to the joy of riding your Harley-Davidson with friends and family across hundreds of miles – and when the final destination is Africa Bike Week™, the biggest free bike event on the African continent, you're talking about a truly life-changing experience.
So, if you're considering heading to Africa Bike Week in 2018 (and even if you weren't before, it's an attractive prospect, right?) then do it in style and take the 'Road to Africa Bike Week'. H.O.G.® Africa have teamed up with H-D Authorized Tours operator Crossroads Motortours (crossroadsmotortours.com) to maximise the experience by combining a touring ride through the stunning Western Cape with a visit to this storied event. The beautiful country of South Africa has a melting point of cultures and history that will make this tour of the 'Rainbow Nation' one you will never forget.

For more information on this once-in-a-lifetime experience, visit www.crossroadsmotortours.com/tour/info/shortcut/africa-bike-week
Schedule

Day 1: Arrival in Cape Town
At last you are on your way to South Africa. Your tour leaders are waiting for you at the airport and will accompany you to our first hotel. We will spend the night in Cape Town.
Day 2: Cape Town to Stellenbosch (114 miles)
Today, we first explore the peninsula and head for the Cape of Good Hope. At this historic site we take a break to visit the lighthouse, where you can enjoy a good coffee and watch the amusing antics of the baboons.

We continue our ride to Muizenberg, where we have a special location for our lunch. After lunch we head for Strand and then turn inland towards Stellenbosch, which is the wine capital of South Africa. In the evening your tour leaders take you to a special restaurant for dinner, before spending the night in Stellenbosch.
Day 3: Stellenbosch to Montague (124 miles)
In the morning we start with a breathtaking ride over a mountain pass, taking us into Franschhoek. After a coffee stop, we head for Paarl and Du Toitskloof, which is particularly stunning. After leaving Du Toitskloof we head over another mountain pass and then descend down through a canyon towards Worcester. After lunch we ride to Montague, which is another famous wine producer. We will spend the night in Montague in a boutique hotel.
Day 4: Montague to Oudtshoorn (165 miles)
Today our route brings with it a lot of nostalgia as we ride Route 62, which is the equivalent of the US Route 66. Both routes were built in the 1920s to move towards a new life for the country's inhabitants, and there are many special sites to see along this route. We then continue on to Oudtshoorn, the world's ostrich capital, and at dinnertime we can sample this fine meat.
Day 5: Oudtshoorn to Graaff Reinet (198 miles)
Early in the morning we visit a famous ostrich farm and learn all about the breeding and luxury products of the ostrich – and there's even the opportunity to ride one! Then we head for Graaff Reinet where the road takes us through the Great Karoo Desert, with its impressive canyons. Today's hotel is located in Graaff Reinet, in the heart of the Great Karoo Desert: it's as if time stood still in this historic town.
Day 6: Graaff Reinet to Addo (149 miles)
After another luxury breakfast we ride some more of Africa's desert roads before heading southwards towards Addo. Riding into Addo is like riding into an oasis, surrounded by fruit and citrus farms.
Day 7: Addo
In the morning we visit Addo Elephant Park. We explore this enormous national reserve in four-wheel-drive vehicles, and hopefully encounter the majestic African elephant. After lunch we go to Scotia Game Park: in this luxury reserve you can hope to see zebra and antelope, and, if you're lucky, maybe even a lion. We end the day with a dinner in the park and spend a second night in Addo.
Day 8: Addo to East London (170 miles)
Now it's full speed ahead to East London for the fun and excitement of the annual Africa Bike Week™! As you approach East London you'll see more and more riders on their way to the event. This is the first of three nights where you'll get the opportunity to embrace the party and engage with riders all over the world.
Days 9 and 10: East London to Africa Bike Week
Africa Bike Week™ is an annual event presented by Harley-Davidson® Africa and hosted by Buffalo City Metro. All motorcycle enthusiasts, riders, their families and friends from across South Africa and internationally are invited to attend the biggest free biker bash on the continent.

Expect great live entertainment, H-D® merchandise, free Harley-Davidson test rides, trade markets, a Custom Bike Show where you can see spectacular bikes, a mass ride and much more. It's also a great chance for H.O.G.® members to meet and interact with other riders from across the globe.
Day 11: East London to Stormsriver (190 miles)
For the next couple of days we more or less follow the coastline along the famous – and appropriately named – Garden Route. We pass through Tsitsikamma National Park and visit one of the most breathtaking beaches on the coast. We spend the night in Stormsriver.
Day 12: Stormsriver to Mossel Bay (112 miles)
We start the day with a whale-watching trip, which is a great chance to see these majestic mammals in their natural environment – if you've never seen a whale in the wild before, this is something you will never forget. After another day of enjoyable riding on the Garden Route, we spend the night in Mossel Bay.
Day 13: Mossel Bay to Hermanus (211 miles)
Today we ride to Riversdale and then to Swellendam where we will have an authentic lunch in a centuries-old drostdy (a house built for a former Dutch landdrost, or local official). From here we go on to Hermanus, which is an old fisherman's town known for its whales. We make a stop at the whale viewing point, but our hotel for the evening is also a hotspot for whale watchers.
Day 14: Hermanus to Cape Town (127 miles)
This is the last day of this memorable tour, so we're riding along the coast back towards Cape Town. This must be one of the most spectacular roads in the world, so we definitely end on a high! After returning our bikes, we still have one more evening to spend in Cape Town.
Day 15: Departure from Cape Town
After a spellbinding tour, the tour leaders accompany you to the airport to see you on your way!