The universal language of Harley-Davidson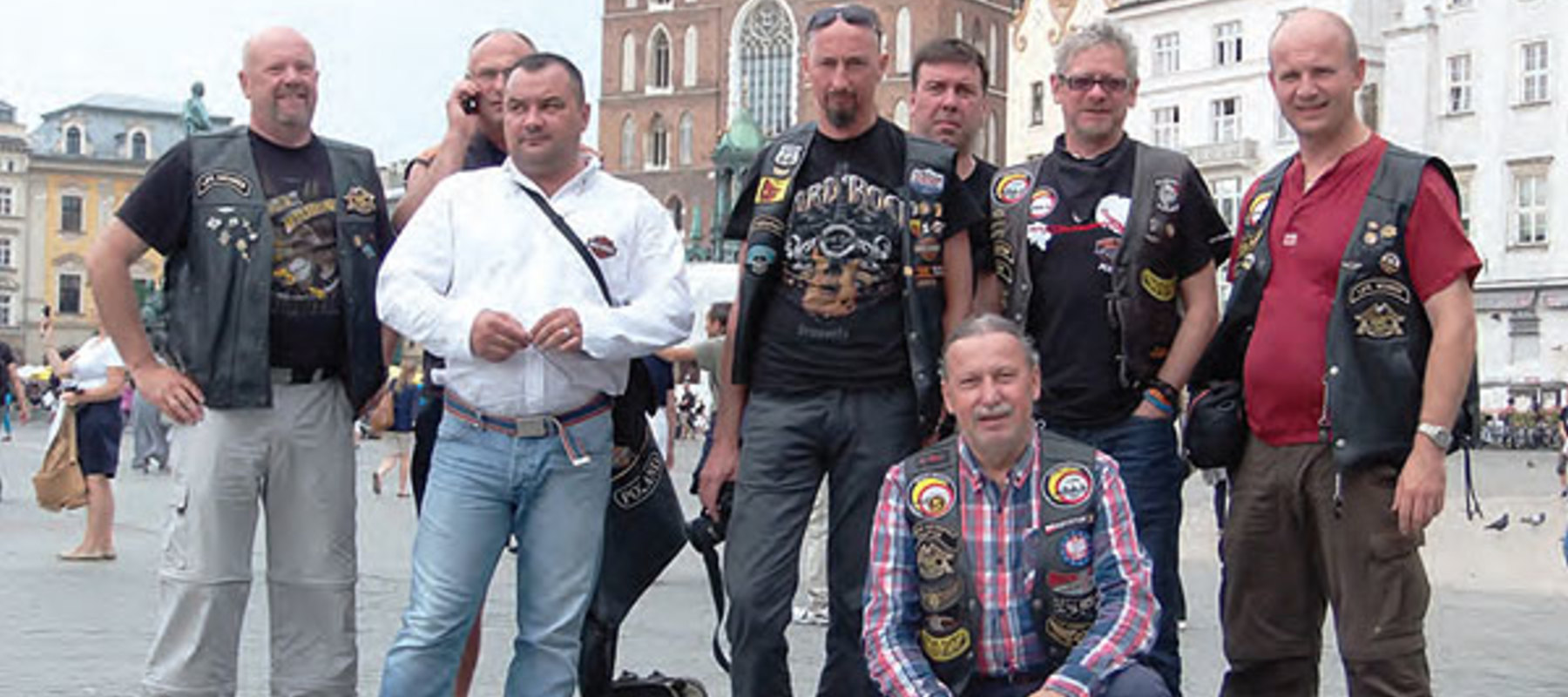 Django, editor of the Belgium Metropole Chapter (BMC), recounts the tale of a road trip from Belgium to Poland and back...
Brussels, early in the morning. Five friends and members of the Belgian Metropole Chapter – Hans, Jef, Jan, Patrick and myself – steer their rumbling Harleys® to the highway. Direction: Poland! A few minutes before, they had thrown away their mobiles. Well, at least that's what they had told their wives…

Are motorcyclists the "new nomads looking for a physical kick", as I once read somewhere? And what makes motorcycling in groups so attractive, almost addictive? After all, once the helmet is snapped down, you mainly experience all the sensory stimulations on your own. Perhaps the attraction lies in the practice of mentally 'freewheeling' while riding and yet always being in good company when you stop somewhere.
Day 1 (August 10)
After a long first leg of the trip, we spend our first night in Mansfeld, Germany, about 650km from Brussels. After a refreshing shower, we order Schnitzel (what else?) and beer and enjoy some German humour.
Day 2 (August 11)
Today we'll meet our friend and Polish member of the Belgian Metropole Chapter, Krzysztof Stepien, in Wroclaw, about 500km from Mansfeld. None of us have ever been to Poland before and we all are a little surprised by the excellent state of the roads and the beautiful houses and cars. I always like to mingle when I am travelling abroad and let curiosity take me. I want to fall in love somehow with the country I visit; it will soon become obvious that it's not difficult to lose your heart in Poland.
At about 4pm we turn up the driveway of our hotel in Wroclaw and even before we are able to drop off our engines three smiling faces run up to us: Krzysztof, Tomek and his teenage son Igor, all with a warm welcome. In the garden we enjoy the nice weather and a few cold beers. We get to know that Tomek is a member of the Lublin Harley-Davidson® Club and he helped to organise this journey. He will join us for most of the coming week. Language is not an issue; we use a mixture of Dutch, French, English, Polish and the most universal language: laughter. The more beer we order, the better our Polish gets.

Time for dinner! We trust in our Polish friends and let them order the traditional cuisine. I am particularly surprised by the delicious soup, 'zurek'. Another nice touch is that vodka is served instead of wine. At the end of the evening my Polish is excellent! Time for bed. Tomorrow we ride to Zakopane, another 350km.
Day 3 (August 12)
This is definitely one of the most beautiful rides that we have done recently, with perfect roads running through stunning hilly countryside. Sun, cool wind and the nice rumbling Harley® sound are our companions. I'm pretty sure every biker will recognise the feeling of freedom, the excitement of being on a road that leads you on unknown adventures.

In the early afternoon we arrive in a small village near Zakopane called Bialka Tatrzanska, where we meet Robert Wójcik, director of the Lublin Harley-Davidson Club, his wife Marzena and their sweet little two-year-old boy, Mateusz. They've arranged a very nice apartment for us for the next three days. We exchange patches, T-shirts and information about our clubs.

Due to spending several winter vacations here, Robert and Marzena know the area (the best ski resort in Poland) well. On the first evening they take us out for dinner in a charming restaurant. We enjoy traditional food and nice chats about Belgium and Poland and, of course, about bikes and our clubs. We are charmed by the friendliness of the Poles. A young couple even treats us to vodka just because we laughed and waved at their little child. Offering drinks to a Belgian makes you a lifetime friend!

Day 4 (August 13)
Weather forecast: heavy showers, cloudy, storms. Without asking, our Polish friends have ordered a minibus to get to the Wieliczka Salt Mine, a visit that's not recommended for motorcycles. Even though we're used to riding in the rain, we're happy with this arrangement. We are also happy with the fantastic breakfast!

The impressive Wieliczka Salt Mine has been producing table salt for more than 700 years. Up to 140 metres underground, a three-hour journey takes you on a 2.5km route through chambers with amazing carvings and statues, and a large collection of mining equipment. Everything is made of – how could you guess – right, salt!

In the afternoon, soaking wet due to a heavy shower, we visit the centre of Krakow, a clean, beautiful and romantic city. We make our way to the local Harley® dealer where, after buying some T-shirts, our presence gets immortalised by some lovely pictures with the whole crew.

Hours later, with darkness having fallen quite a while ago, five Belgians and one Pole (Krzysztof is actually half Belgian) are fumbling with the key to the front door, giggling and joking.

Day 5 (August 14)
Today Auschwitz-Birkenau is on our list. What can I say about this visit? That it kicks mercilessly on your soul and that tough bikers have sensitive hearts. That evening we drive to Zakopane, where an annual party takes place. The one-hour drive spent listening to Djem, a Polish bluesrock band, through the speakers, allows us to somehow handle the impressions that overwhelmed us earlier that day. We enjoy the atmospheric, crowded streets with cosy cafes, bars, restaurants, food stalls and clubs, and rinse the lumps in our throats. We still have a magnificent evening.
Day 6 (August 15)
We say goodbye to Tomek and his son, who are turning back to Lublin. His son, who reminded me of my own, was extremely proud that I had let him wear my jacket during our visit to the salt mine earlier in the week, which Tomek later thanked me for in his own special way. He has a wonderful son. I hope he's doing fine – Igor, if you read this: "Hey pal!"

The route to Poznan is about 500km. Somewhere around half way we miss the planned route; this is quite an experience. Pits, bumps and grooves with a vengeance!

We leave our bikes in the parking garage of the hotel and take a taxi to the Malta Rally area in Poznan, where a Polish H.O.G.® event is taking place. It's not the biggest event we've ever been to, but definitely one of the most charming, with a really pleasant atmosphere. It is full of friendly Poles, Russians, Germans and Belgians, all mixed together with music, beer and the smell of baking hams coming from the ovens. Where else would you be able to enjoy a string quartet during dinner?

This is our final destination in Poland and we throw ourselves into the party with no inhibitions. Unfortunately I've got to be short about this part of our journey and brush you off with a faint "what happened in Poland, stays in Poland!".
Day 7 (August 16)
Right after breakfast our machines are roaring on the driveway of the hotel. After a small sightseeing tour, we end up at the rally area again to pick up our Malta Rally T-shirt and get more acquainted with the management of the Warsaw Chapter, in particular with director Dariusz Kramek who gave us, thanks to the introduction yesterday by our Lublin friends, a very cordial welcome. We take pictures and even get a nice present for our chapter, which now has a special place in our BMC clubhouse – thank you Dariusz!

In the afternoon, under a bright sun, we visit Poznan, which is among the oldest cities in Poland. By coincidence we run into some Germans whom we had met the day before at the party. I decide not to ask anything about the evening before!

In the evening we return to the meeting, where about 10 members of the Lublin Club have arrived. While fraternising, we see an excited Tomek, who has made the trip from Lublin to rejoin us. What a guy!

Later that evening we say our farewells. We express our tremendous thanks for the hospitality to Robert and his family, and to Tomek and Krzysztof, who organised the trip in a truly exceptional manner.


Day 8 (August 17)
Riding, riding, riding… top day! Patrick had booked a nice bed-and-breakfast in Bad Salzuflen, Germany, which turned out to be a health resort. The older, but nevertheless still very eloquent, guests asked if we could be more quiet – "Uh, we're sorry, these are Harleys!"
Day 9 (August 18)
Rain, rain, rain… bad day! After a journey of 3,500km, I am happy to come home to my wife, child and animals. It is amazing how, due to a motorcycle, people get so easily connected to each other. A HarleyDavidson club in Lublin has given us, complete strangers, an extraordinary week, all because we share the same passion. This fantastic spirit makes Harley-Davidson® the best motorcycle in the world!