UK & IRELAND EXCLUSIVE: CHAPTER NEWS (MAY 2019)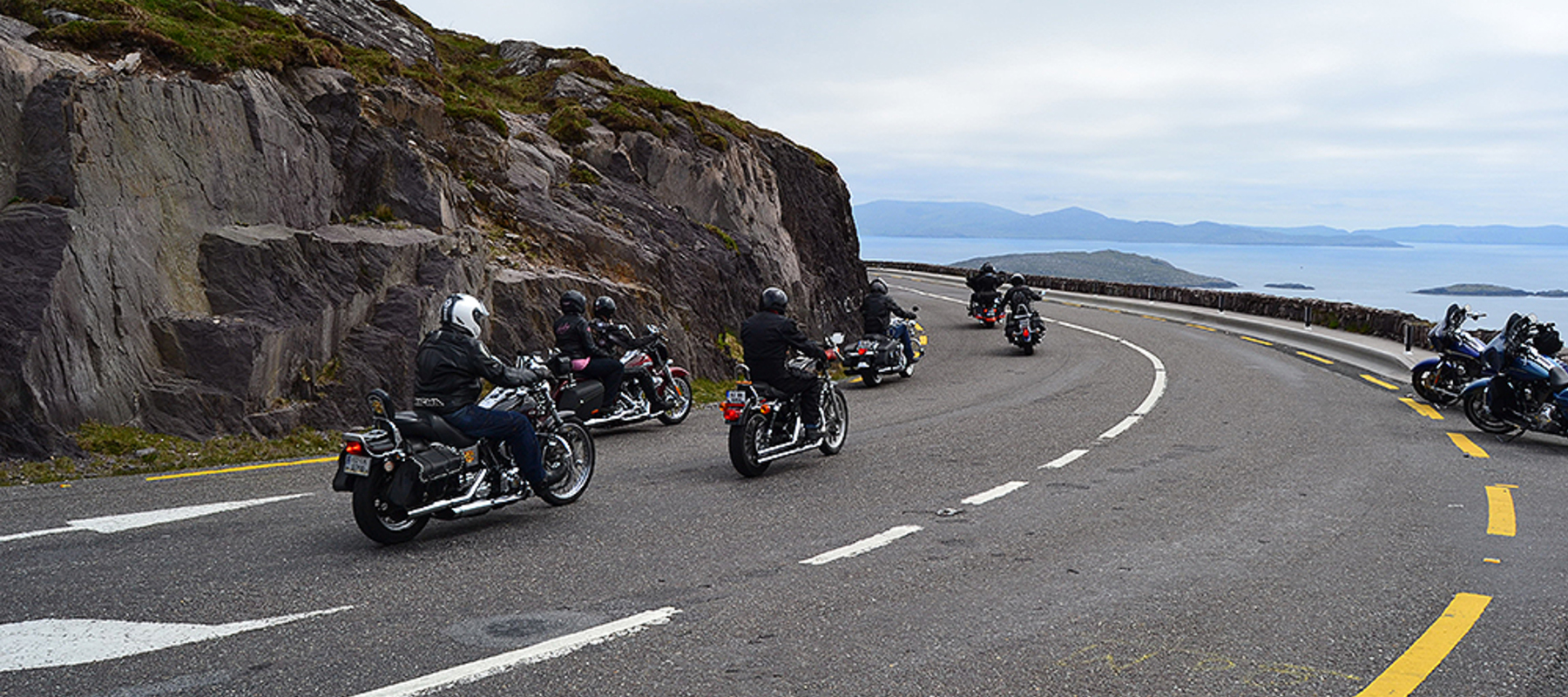 ALL THE LATEST H.O.G. CHAPTER NEWS FROM THE UK & IRELAND
Forever In Our Thoughts
As a Chapter Director I have always thought a major part of my role is to try and continue to bring something different to the Chapter. As some would say make a difference to our members and do something that will live on beyond my time as Director of this great Chapter.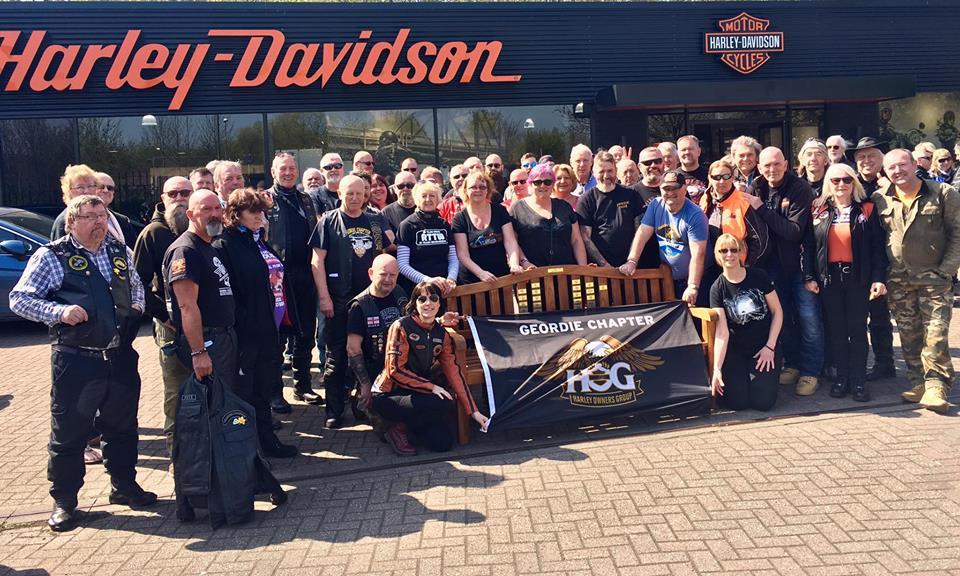 In January, after tragically losing another member in an accident, the Chapter committee decided it was time to create a lasting memorial to the valued members that we have lost over the years.
After speaking to Gateshead Harley-Davidson® it was decided that a memorial bench would be a fitting tribute. It would be put in position and securely fixed at our dealership. Not only would this let our members remember their friends, it would also enable their loved ones to continue to remember the good times they had as a Chapter member.
We managed to source a good sturdy bench that would be long lasting, but a small problem we had was compiling a list of the past members and what year they had passed away. After getting the Chapter membership and a few past Directors involved we came up with a list we could give to the engraver for the name plates.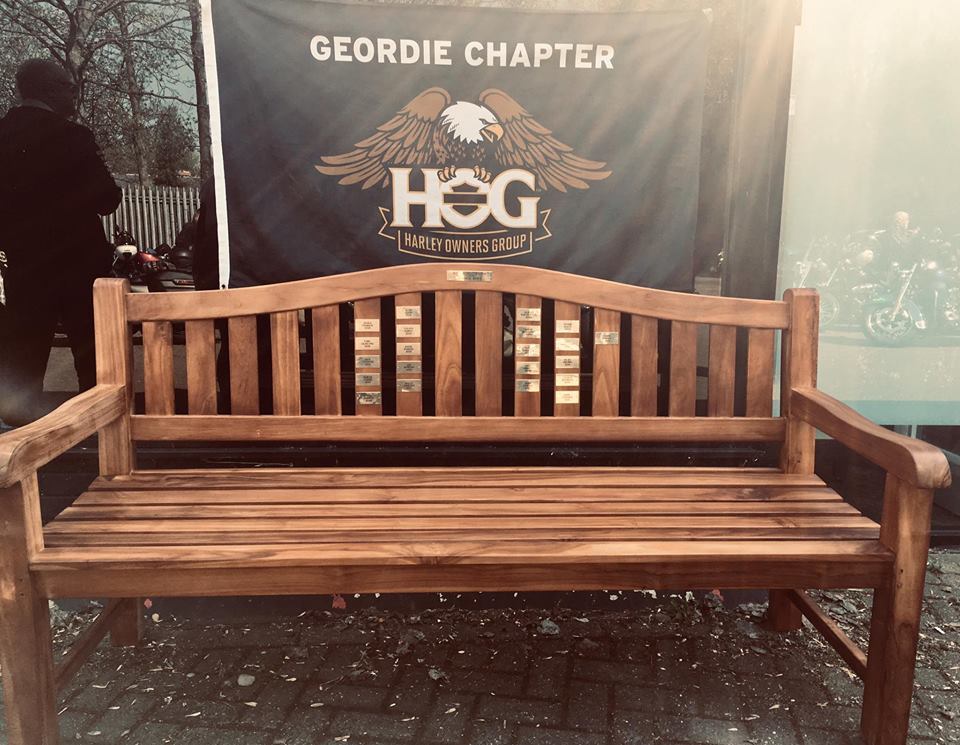 Once we got them back they were securely fixed to the bench along with a few more coats of oil to help preserve the bench for years to come by Chapter member Allen Glasper.
A 60 mile circular ride from the dealership was planned by our road crew and the date of the unveiling was set for the Easter Monday.
We are also lucky to have Rob Oates as our Chapter Photographer, who is also a leader of the Christian Motorcyclist Association North East Branch. He said a few poignant words to help us remember our friends and loved ones.
We have now decided that this will be put in our riding calendar as an annual event.
Barry Gillespie
Director, Geordie Chapter
---
1066 Pillion Riders get to ride on the front seat
Those who know me know that I love riding. It always makes me smile no matter what else is going on in my life. However, when I encourage others to have a go, the response is often, "I've never tried because bikes are so heavy/I am too short/not brave enough/too old, etc". I remember feeling just the same. In fact only a chance conversation actually got me started. It's no exaggeration to say that my motorcycle license changed my life.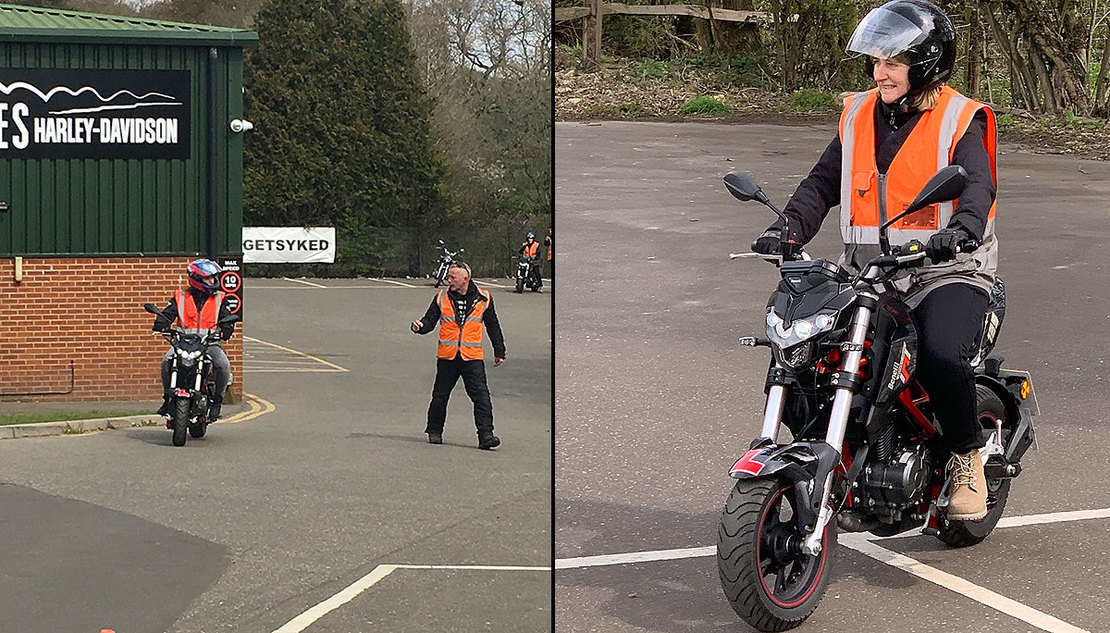 So, having discussed this with Alan, who runs our local TT Motorcycle School in Sussex, he offered 1066 Chapter a free taster day and Sykes H-D® kindly offered their premises on a Sunday (usually closed to the public).
Inviting partners and family of 1066 members to give riding a try, guided by Alan and his fellow instructor Sean - both excellent at assisting novices - it was the ideal trigger to get people to give riding a go.
After only half an hour our initially nervous riders were accomplishing confident U-turns and even figures-of-eight. I was seriously impressed by everyone involved.
Here are some of the participants comments :
Tina – "I enjoyed it, I might even take my test!"
Helen – "Fabulous experience. The instructors were dedicated to success, patient and spot on. I am now seriously considering training to get my licence. I found it magical how, just by turning my head, the bike also turned."
Sian – "I am definitely going to take more training in the hopes of getting my licence."
Jackie – "I did wonder what I was letting myself in for, but I loved it. It was invaluable in showing me whether I can ride or not. I will be booking my CBT soon."
Elaine – "I enjoyed the experience. If I won the lottery, I might be tempted by a Softail Deluxe, especially if it had an automatic clutch!"
Chris – "Yes! It has enabled me to decide to get my full licence. Thank you!"
Wendy – "Great instructors!"
Patti – "It was awesome. I loved it and will train to get my licence."
Natasha – "Having been a pillion, I now have a new appreciation of what it takes to ride a bike. I enjoyed it and am now considering CBT. Would love to do it again."
Claire – "It was brilliant. I was terrified this morning thinking - what am I letting myself in for?! Although I found it hard and a whole new way of coordination and thinking, I loved it!"
Nicola – "Thanks. It was great fun."
Kerri – "I enjoyed it and will now think about getting my licence."
I've since learned that several have already booked their CBT, which is wonderful. If anyone reading this wishes they had been able to participate, please check out your local riding school and find out what you have been missing. Go on, you know you want to… :)
Bev Beechey
1066 Chapter
---
Wedding bells on the Street
You may have noticed a few articles in the past with notable stars from the cobbles of Coronation Street visiting the Mancunium Chapter at the Manchester H-D dealership and falling in love with a Harley-Davidson®. However, one star took it a step further at his wedding.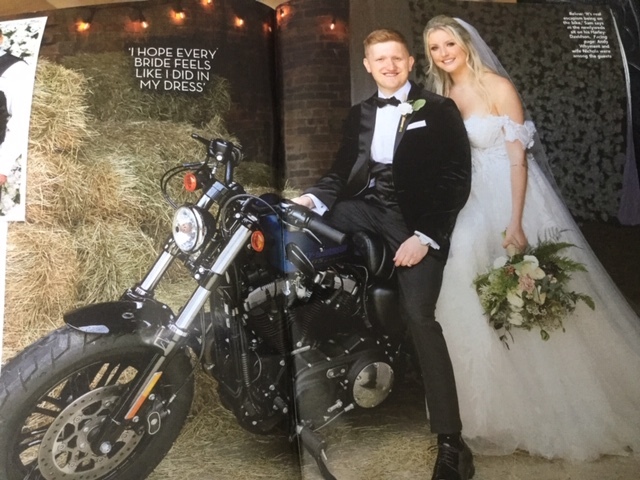 Sam Aston, who plays Chesney on the Street, had a Harley-Davidson Forty-Eight® present at proceedings with his bride Briony. Congratulations guys!
Steve Spenner
Mancunium Chapter