UK & IRELAND EXCLUSIVE: EVENTS (JUNE 2019)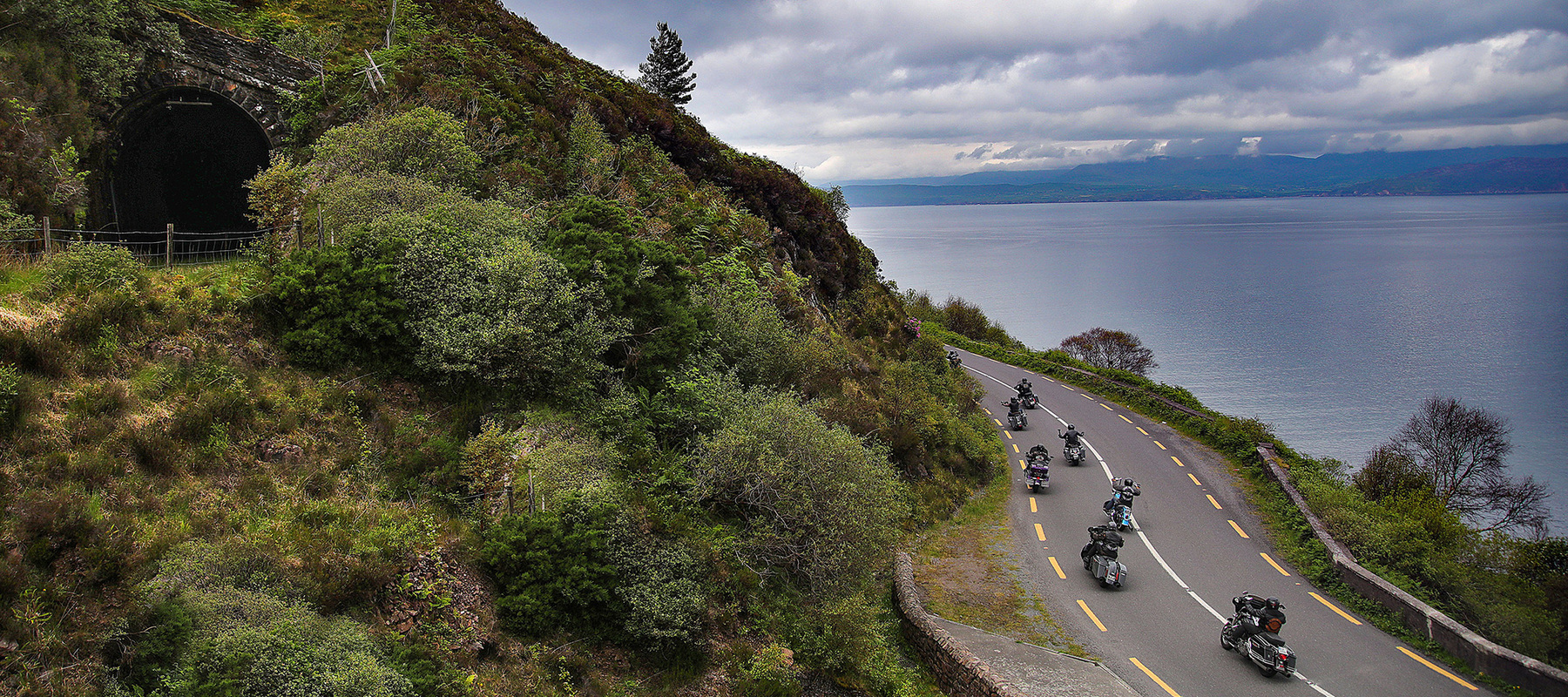 ALL THE LATEST EVENT NEWS FROM THE UK & IRELAND, INCLUDING THE OFFICIAL VIDEO FROM AN AWESOME IRELAND BIKEFEST
Ireland BikeFest 2019 – Killarney celebrates 13 years!
During his stint on Top Gear, TV and radio presenter Chris Evans posted on social media that the Wild Atlantic Way – on the rugged west coast of Ireland – was the "Best road I've ever driven on". He's right – it is awesome, and its stunning scenery has featured in movies like Star Wars Episode VII: The Force Awakens. But for that very reason, it tends to get jammed with bus-loads of tourists gawking through the glass at the view. This presents a problem for your average hire car – but not for a Harley-Davidson®. If the brand is all about freedom, then in the context of the famous Ring of Kerry that means freedom to bypass the buses and simply enjoy the beautiful flow of roads that twist through mountain passes and along coastal routes often just yards from the sea, with scenery that will take your breath away.
This dramatic backdrop is the setting for Ireland BikeFest, which celebrated its 13th year in 2019. Killarney, the town which hosts the event, is a popular tourist destination throughout the year thanks to the many beauty spots nearby, and it has lots of accommodation and, of course, lots of entertainment to offer too. The main location for Ireland BikeFest is right on the edge of town, between two of the area's biggest hotels, The Brehon and The Gleneagle, which sponsor the event. As usual, this year's site featured a main outdoor stage with music from midday until 21.30 – but in true Irish style the fun didn't end there; it merely moved indoors to the INEC (Irish National Event Centre) an even bigger venue with a capacity of thousands, where the entertainment continued until the small hours!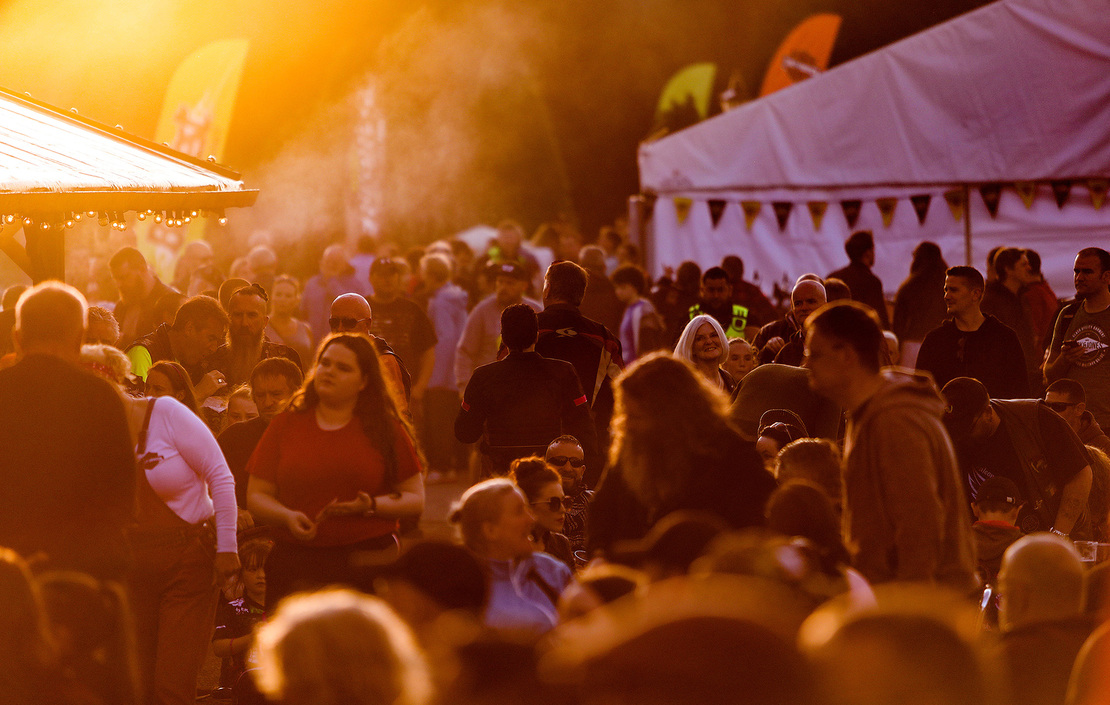 On site, the Waterford and Dublin Harley-Davidson dealerships had merchandise and sales stands, and Harley-Davidson ran free demo rides all day long, giving visitors an opportunity to trial the latest motorcycles. The queues were long, but it was well worth the wait as riders were treated to a spectacular half hour ride on a new bike. Non-riders also had the opportunity to try out a Harley® for the first time thanks to the Jumpstart experience – effectively a motorcycle on rollers. This inclusiveness epitomises an event that always manages to mingle locals with visitors and riders with non-riders, resulting in one of the best parties of the year. The family-friendly environment even included funfair rides – and we saw plenty of chapter vests on these alternative rides alongside younger visitors!
This year's Harley-Davidson-sponsored Custom Bike Show was won by Irish customisation legend Greg Pienkowski, with the People's Choice prize going to Declan Fitzgerald for an astounding creation, complete with trailer. There was also another rather unique event that allowed locals to get involved too: A Custom Dog Show! Well, strictly speaking it was the Novelty Dog Show, but Harley fans re-christened it to match the motorcycle version. And the winner, Chico, reciprocated by wearing a rather stylish motorcycle helmet in honour of the occasion!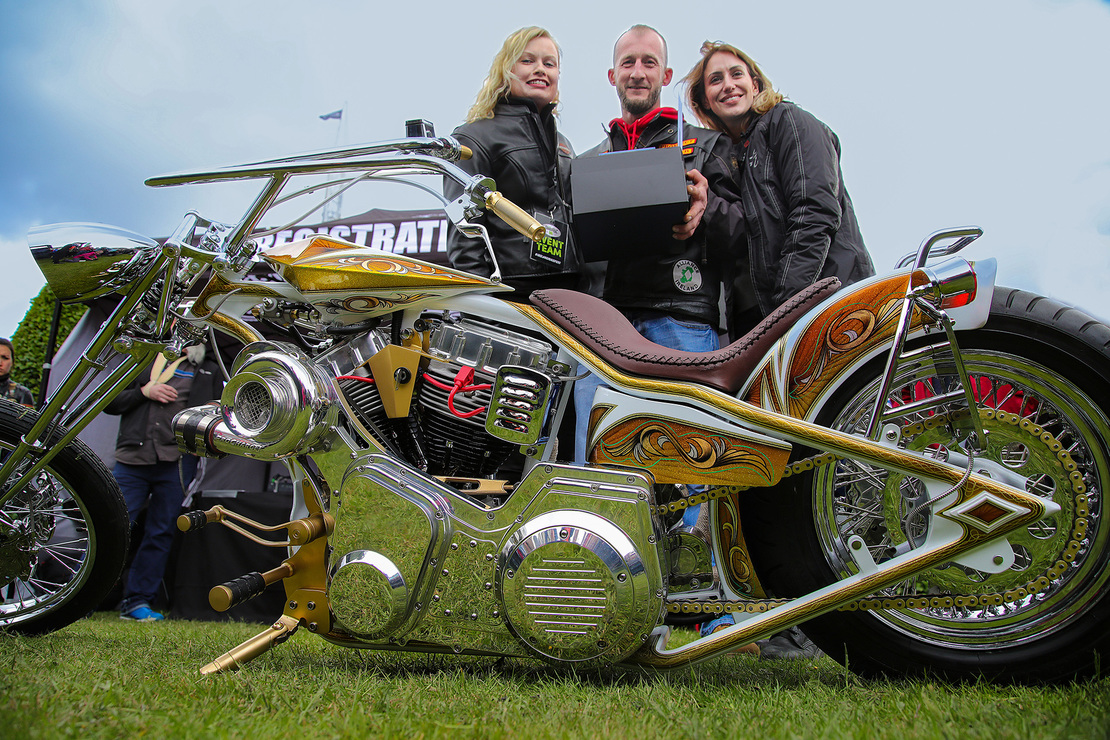 Away from the main event site, the Wild Atlantic Way provided the setting for what must be some of the most picturesque guided ride outs in the world, with the Celtic Thunder Chapter (Waterford), Gaelic Chapter (Dublin) and Belfast Chapter leading rides around the Ring Of Kerry and Skellig Ring (the setting for Luke Skywalker's hideout in the aforementioned Star Wars film) and the Dingle Peninsula and Slea Head. A huge member turn-out at the event from all of these chapters ensured that H.O.G. was well represented – indeed, it was the cooperation of all three chapters with the event organisers that really helped make Ireland Bikefest 2019 what it was.
Ladies of Harley was well represented at the event too, and had its own Ladies' Garage Party on Friday May 31, with the aim of encouraging more women to take up motorcycle riding. The key speaker was motorcycle lifestyle vlogger All About Holly [Allaboutholly – LINK], who talked attendees through her journey, explaining how she fell in love with riding and the motorcycle lifestyle.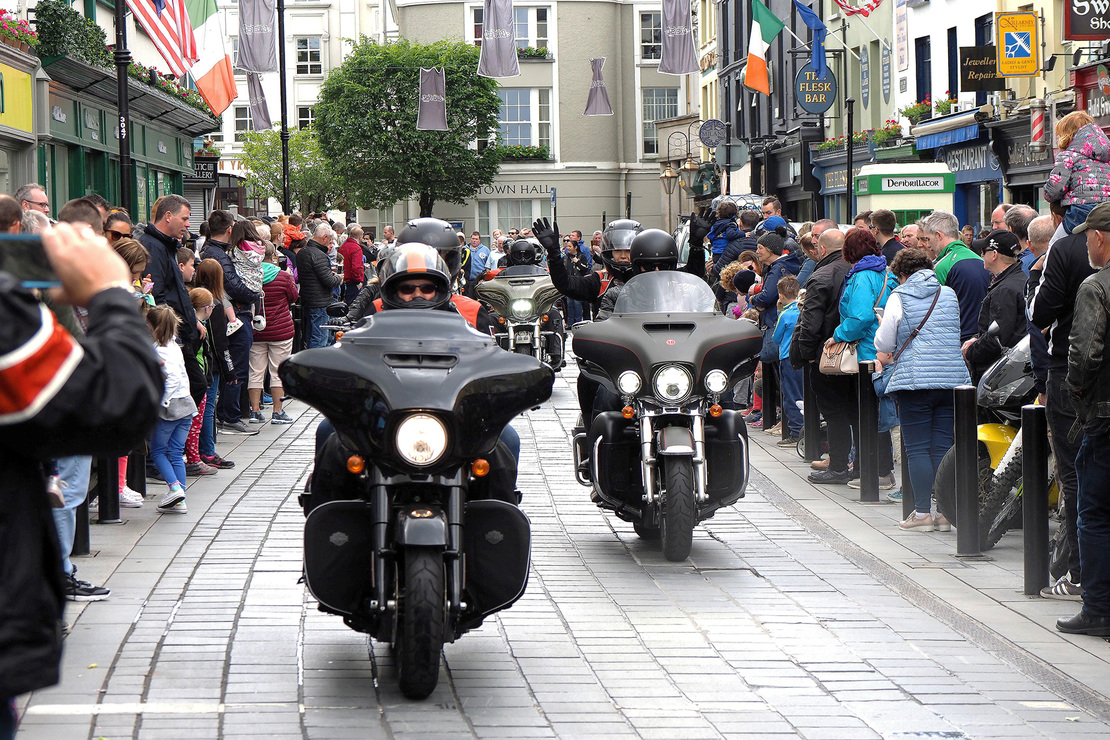 On Sunday June 2 came the Ireland BikeFest Parade, which saw more than 1500 motorcycles ride through the town of Killarney, past crowds of onlookers cheering them through. Although Harleys dominated, there was a great mix of motorcycles, as you'd expect for an event that is free and open to all – including a cavalcade of over 50 Honda 50s. A contrast, for sure – but anyone on two wheels is welcome!
This year's event saw more than 55,000 visitors in total make their way to Killarney from over twenty countries, including the UK, Germany, Italy, Spain, Portugal, France, Poland, Denmark, Norway, Switzerland, the Netherlands, South Africa, Romania, Lithuania, Latvia, The Czech Republic, Argentina, Belgium, Canada, New Zealand, Australia, India and the United States. One lucky attendee among them – Cahal Hayes, from County Clare in Ireland – got his hands on a brand new Harley-Davidson Street Rod® motorcycle in the raffle, which was in aid of Muscular Dystrophy Ireland. Along with other activities, the raffle helped raise Ireland BikeFest's total charity tally to an astonishing €170,000 over the 13 years it has been running.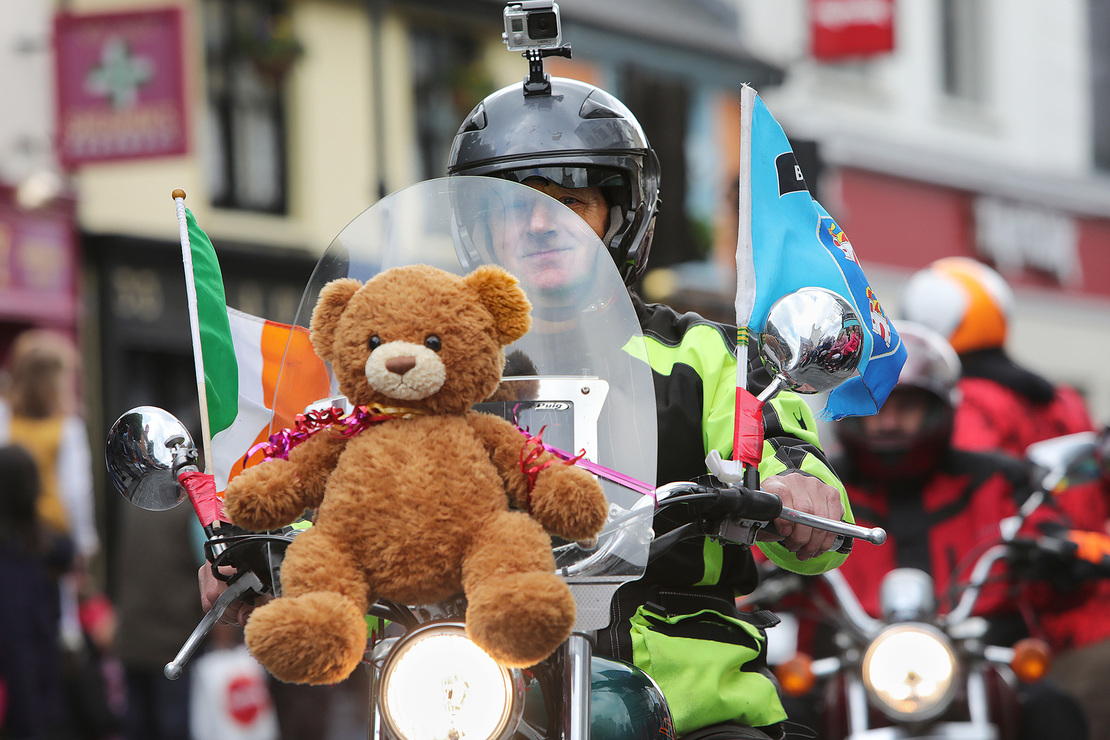 In 2019, Ireland BikeFest was vying with the 28th European H.O.G. Rally in Cascais to be the westernmost official H-D® sponsored event in Europe. Next year, with the European H.O.G. Rally moving east to Portorož, in Slovenia, there will be no competition. If you haven't yet had the chance to visit Ireland and sample BikeFest yet, be sure to put it in the diary for 2020!
---
Barbersride 2019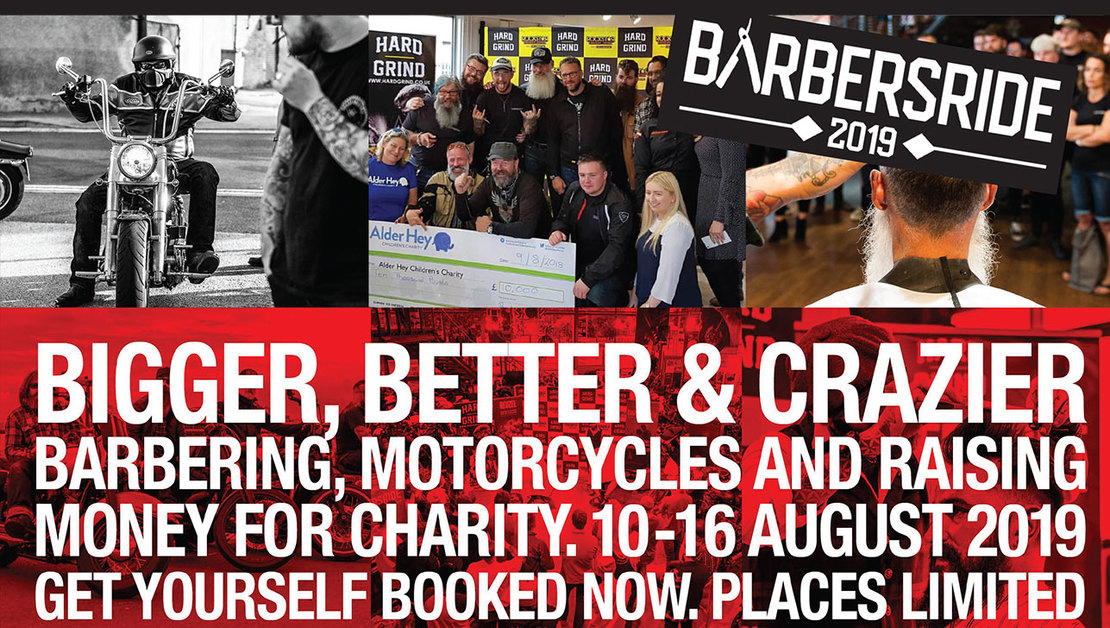 A group of barbering and bike-obsessed chums will congregate at The Speakeasy Barbershop in Liverpool in anticipation of their 3RD ANNUAL BARBERSRIDE. BarbersRide was the brainchild of a group of passionate barber and biker buddies – their shared passion for barbering and motorbikes was the catalyst to planning a five-day UK road-trip adventure. The ride has become as much about the journey as the evenings spent in prestigious barber shops taking inspiration from some of the world's most in-demand barbers. The mission: to raise as much money and awareness as possible for a chosen charity while enjoying the unbeatable sense of camaraderie that only a motorcycling road trip could offer.
2019's extravaganza is set to be the biggest yet with a record number of riders already signed up and a line-up of some of the world's most inspirational barbers hosting intimate events. Evenings hosted by Alan Beak (Ruger), Joth Davies (Savills), Paul Taylor-Clinch (Black Sails), Mark Young (Swagger & Jacks) and Darren "Baldy" Kenny (Baldy Barbers) are likely to sell-out within hours.
Having raised in excess of twenty thousand pounds during 2017 and 2018 for charities including London's Great Ormond Street and Alder Hey Children's Hospital in Liverpool, the BarbersRide Gang are now focused on smashing their fundraising targets for 2019 for MAKE A WISH FOUNDATION. MAKE A WISH FOUNDATION is a national charitable organisation who create life-changing wishes for children with critical illnesses.
Visit www.barbersride.com for more details and how you can join in!
---
Your UK & Ireland 2019 Events Calendar

JUNE 2019
27-30
WAKE THE LAKES
Red Rose Chapter
redrosechapter.com
28-30
ROAR ON THE MOOR
Aire Valley Chapter
avhog.co.uk
28-30
VALLEY RALLY
Thames Valley Chapter
thamesvalleyrally.co.uk

JULY 2019
12-14
PROUD TO BE RUTLAND RALLY
Rutland Chapter
rutlandchapter.co.uk
25-28
FENLANDERS RALLY
Fenlanders Chapter
fenlandershog.co.uk
26-28
HEART & SOUL RALLY
Geordie Chapter
geordiehog.com
26-28
OXFORD UK CHAPTER RALLY
Oxford UK Chapter
oxfordukchapter.co.uk

AUGUST 2019
2-5
HOG N' BOG
Belfast Chapter
belfasthog.com
9-11
CIRENCESTER RALLY
Hogsback Chapter
hogsbackchapteruk.org
16-18
OLD SKOOL RALLY
Nene Valley Chapter
nenevalleyhog.co.uk
23-26
THUNDER IN THE GLENS
Dunedin Chapter
dunedinhog.com

SEPTEMBER 2019
5-8
CIRCUS MAXIMUS
Deva Legion Chapter
devalegionhog.co.uk
13-15
SPARKLE / TWINKLE TOURS
Ladies of Harley® - various locations
chapterreploh@harley-davidson.com
27-30
BLAZIN' 50s RALLY
New Forest Chapter
newforesthog.co.uk