UK & IRELAND EXCLUSIVE: EVENTS (MAY 2019)
ALL THE LATEST EVENT NEWS FROM THE UK & IRELAND, INCLUDING THE 2019 EVENTS CALENDAR
It Was Meant to Be
As Ireland BikeFest kicks off again this year, Marjorie Rae shares a heartwarming note, received as a follow up to a conversation had a year ago
I should say at the start of this note I am not a believer in 'it was meant to be', however…
We last met and talked in Killarney at Ireland Bikefest last June; I had just been stopped from riding my motorcycle by the doctor and was wandering around in a not very happy mood as I couldn't ride my bike. Furthermore, the previous year I was going to sell my Road King® as I'd lost my enthusiasm for riding. You told me that basically my illness 'was meant to be' because, being restricted from riding made me realise I missed it and it rekindled my desire to go riding again. Since then, quite a lot has happened in the 'was meant to be' category, which I thought you might be interested in.
Firstly, I have sold my Road King, but all is not lost!
On the Monday after Ireland Bikefest we were sat in front of the Brehon Hotel and I was discussing PCPs (Personal Contract Purchase deals) with Phil, one of your colleagues. This discussion tweaked my curiosity as to whether I could arrange a PCP for myself, so later that week I called Dublin H-D®.
A week later fellow Chapter member and good friend, Fiona Carroll, was meant to be taking a couple of Americans, who'd hired a Road King from Lemon Rock bike rentals, on a tour of the Ring of Kerry. However, she had to cancel so my wife Pauline stepped in and I went along to help navigate.
On the day of the tour Pauline's bike kept cutting out and we ended up in a garage in Killorglin, trying to fix it. Then a couple of chaps pulled in and started paying very close attention to my Road King, which I said might be for sale as one seemed particularly keen. We exchanged mobile numbers and although he had not passed his test, Ger and two of his H-D® friends came to have a look at my bike. A chance meeting in a garage - "It was meant to be"??
A few days after seeing my bike, Ger was taking his son to school in Killarney and saw a woman riding into the school on a Road King. He didn't know her but went over to talk to her about her bike and told her about a blue Road King that he had seen in Killorglin. This rider just happened to be our good friend Fiona, who works at the school. She said: "Oh, that'll be my friends Mark and Pauline," and of course went on to tell him what a great bike it was. "It was meant to be"??
The outcome of this is that I took delivery of a 2019 HD Low Rider® from Dublin H-D in October last year. "It was meant to be"??
The new bike has rekindled my enjoyment of motorcycling and I've now moved on to attend a H.O.G. Road Captains training course in Killarney to prepare and be ready for volunteering to work with the H-D team at Ireland BikeFest this year. "It was meant to be"??
Now at the end of this note I am not so sure. Maybe there is something in "it was meant to be". I certainly have to wonder.
Mark Lucas
Celtic Thunder Chapter Ireland
---
Star Treatment
The Deva Legion and Mancunium Chapters are pulling out all the stops to promote their Circus Maximus Rally!
Steve Spenner from the H.O.G. Mancunium Chapter recently managed to enlist the help of Boyzone, as well as members past and present from Coronation Street, to help get the Maximus message out. How many can you name?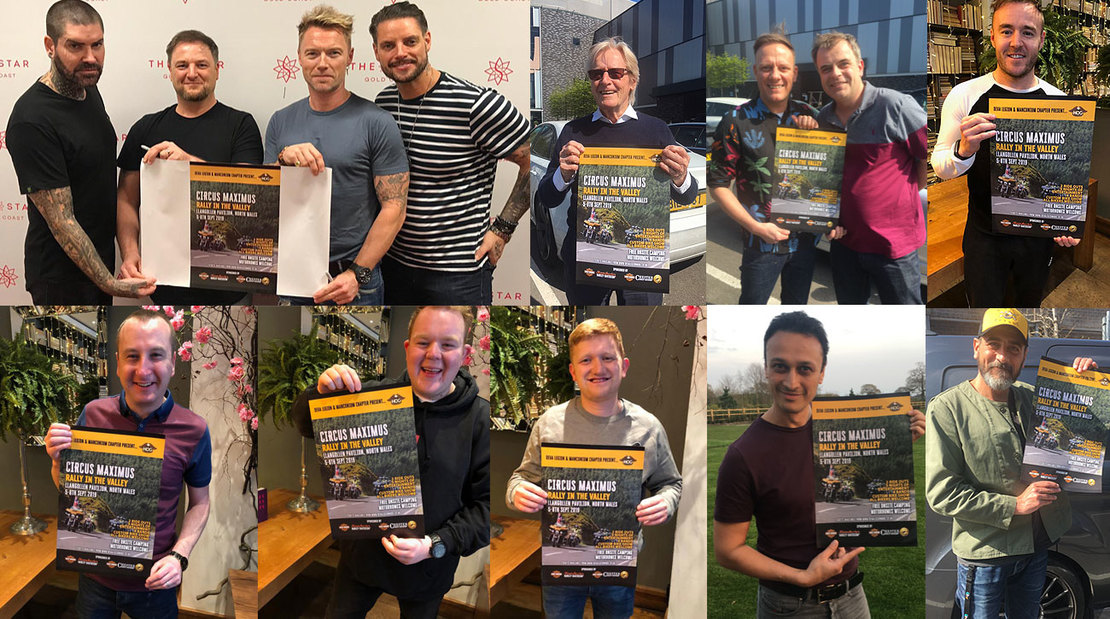 The Circus Maximus 'Rally in the Valley' takes place at Llangollen Pavilion in North Wales, between September 5-8.
There will be two ride-outs through the picturesque surrounding countryside, as well as three nights of great entertainment, featuring four live bands, celebrity appearances and a custom bike show.
Tickets cost £37.50 and are available from devalegionhog.co.uk. Free onsite camping is available, and motorhomes are welcome. www.devalegionhog.co.uk/circus-maximus-2019
---
Cider Rally takes over Burnham-On-Sea
On the Bank Holiday weekend of May 3-6, the Bridgwater Chapter welcomed H.O.G.® members from all over the UK & Ireland to the always popular Cider Rally.
Saturday, May 4 was also International Female Ride Day, where women from all over the world demonstrate their passion, enthusiasm and involvement in motorcycling on all levels. Ladies of Harley from various Chapters all came together at the Cider Rally to show their support for this annual event.
On the Sunday hundreds of Harley-Davidson® motorbikes then swept into Burnham-On-Sea for the parade and to raise money for many worthy causes such as Macmillan Cancer Support, Teenage Cancer Trust, Great Western Air Ambulance and Burnham's BARB Search & Rescue.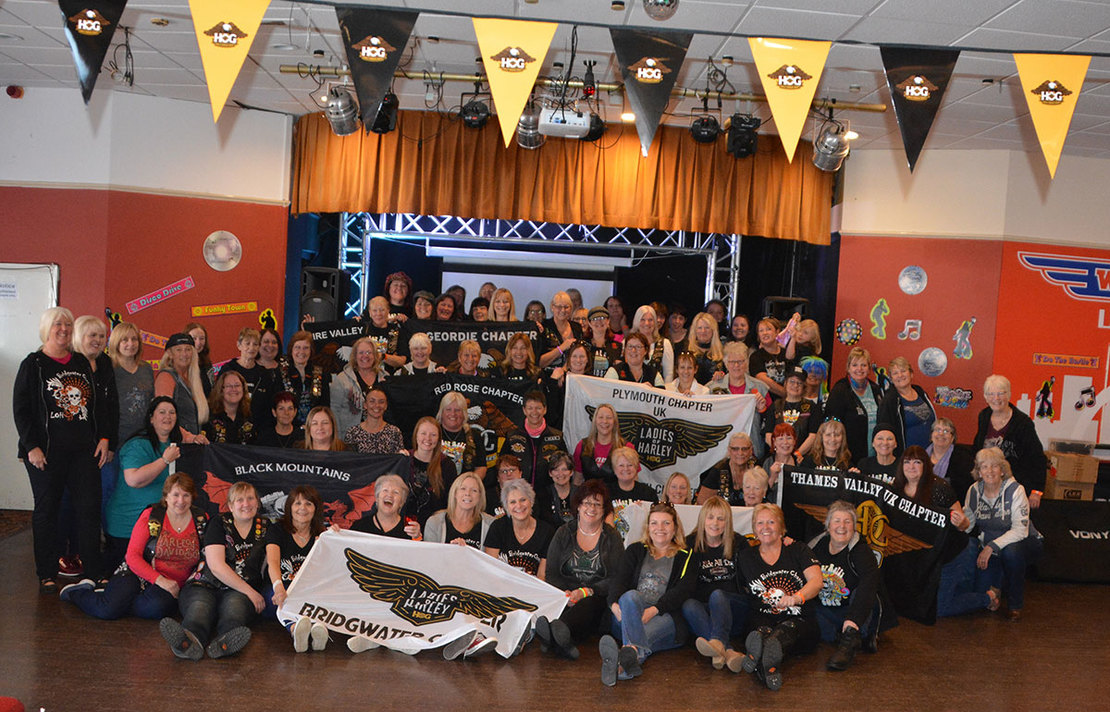 Bridgwater Chapter certainly put on a great show: "We had a record turnout of bikes for the run to Burnham and a special thank you to all the spectators for their support. Every year the Cider Rally is always well attended, with many guests coming from mainland Europe."
Be sure to mark your 2020 calendar for the next Cider Rally and keep your eye on the Chapter website for registration information!
www.bridgwaterhog.co.uk
Patsy Coles
Bridgwater Chapter
---
Your UK & Ireland 2019 Events Calendar

MAY 2019
31 MAY-3 JUNE
IRELAND BIKEFEST
irelandbikefest.com

JUNE 2019
7-10
THE GATHERING
Clyde Valley Chapter
clydevalleyhog.com
21-23
HOGS IN THE HAYFIELD
Great Western Chapter
greatwesternchapter.uk
27-30
WAKE THE LAKES
Red Rose Chapter
redrosechapter.com
28-30
ROAR ON THE MOOR
Aire Valley Chapter
avhog.co.uk
28-30
VALLEY RALLY
Thames Valley Chapter
thamesvalleyrally.co.uk

JULY 2019
12-14
PROUD TO BE RUTLAND RALLY
Rutland Chapter
rutlandchapter.co.uk
25-28
FENLANDERS RALLY
Fenlanders Chapter
fenlandershog.co.uk
26-28
HEART & SOUL RALLY
Geordie Chapter
geordiehog.com
26-28
OXFORD UK CHAPTER RALLY
Oxford UK Chapter
oxfordukchapter.co.uk

AUGUST 2019
2-5
HOG N' BOG
Belfast Chapter
belfasthog.com
9-11
CIRENCESTER RALLY
Hogsback Chapter
hogsbackchapteruk.org
16-18
OLD SKOOL RALLY
Nene Valley Chapter
nenevalleyhog.co.uk
23-26
THUNDER IN THE GLENS
Dunedin Chapter
dunedinhog.com

SEPTEMBER 2019
5-8
CIRCUS MAXIMUS
Deva Legion Chapter
devalegionhog.co.uk
13-15
SPARKLE / TWINKLE TOURS
Ladies of Harley® - various locations
chapterreploh@harley-davidson.com
27-30
BLAZIN' 50s RALLY
New Forest Chapter
newforesthog.co.uk