UK & IRELAND EXCLUSIVE: LADIES OF HARLEY (MAY 2019)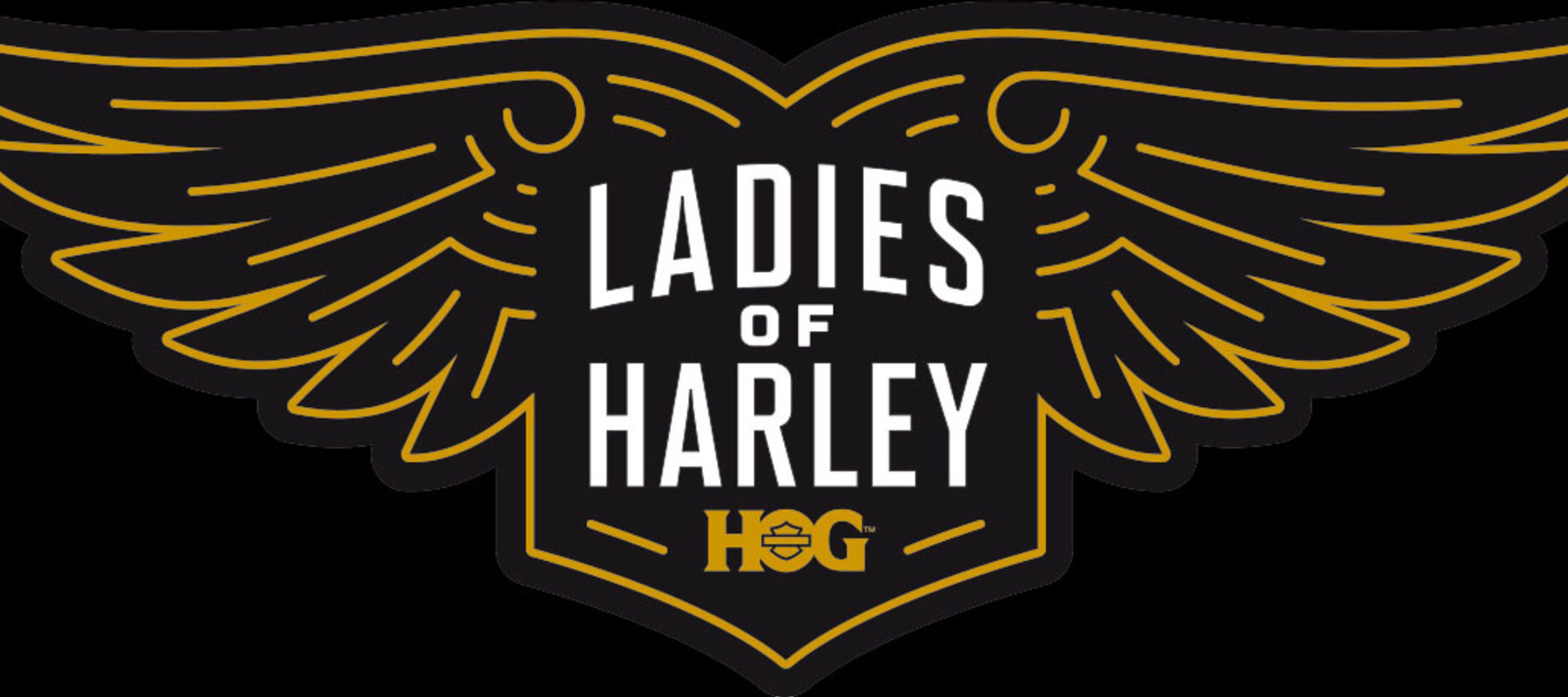 ALL THE LATEST NEWS AND UPDATES FROM THE LADIES OF HARLEY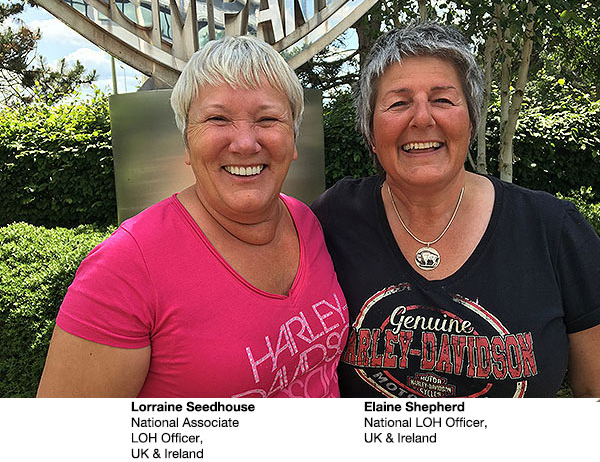 The past couple of months have been extremely enjoyable, if not a little crazy busy! I sometimes wonder how I manage to balance my day job when it feels like no sooner is my kick-stand is down, than it's back up again for another long weekend full of riding and meeting fellow H.O.G® cousins.
Following the Road Captain Training course in Oxford in March, I soon had the pleasure of taking part in a ride-out to Guildford Harley-Davidson's® birthday bash event. This was led by one of the course participants. The new Road Captain had planned and recced his route thoroughly but then had to suddenly adapt to overnight road works and closures - something no road captain ever wants to experience, least of all on their first ride-out!
The following weekend I enjoyed another ride-out, again led by another one of the course participants. This time it was a delightful scenic route that left Reading Harley-Davidson and took over an hour to arrive at a charity Easter egg event at nearby Alexander Devine House Hospice, just a mere 10 miles away. This simply demonstrates that your destination doesn't necessarily have to be very far from your start point. The route can make the ride most enjoyable still the same. Something that Road Captains become good at is planning, improvising & adapting their route to ensure everyone arrives at their destination with a smile on their face.
These shorter journeys were soon followed by a much longer journey, one that saw me travelling to Ireland for Road Captain training and an Ireland BikeFest prep event in Killarney, with other volunteers from the H.O.G team. Stopping off en-route in Fishguard to enjoy a breakfast at Swansea Harley-Davidson's Finks Diner definitely set the scene for another H.O.G weekend.
Although I've taken my bike on small ferries covering very short distances, this was my first experience of boarding such a large ferry and having the bike secured down with ratchet straps. I recalled an earlier article in INSIDER from last year and remembered to take a cloth with me to protect my bike from the risk of getting scratched from the straps; the whole experience was easy and enjoyable. I'd not ridden in Ireland before but travelling with my friend and fellow H.O.G team member, Jo Green, we were soon enjoying a day of riding, covering almost 200 miles to Killarney.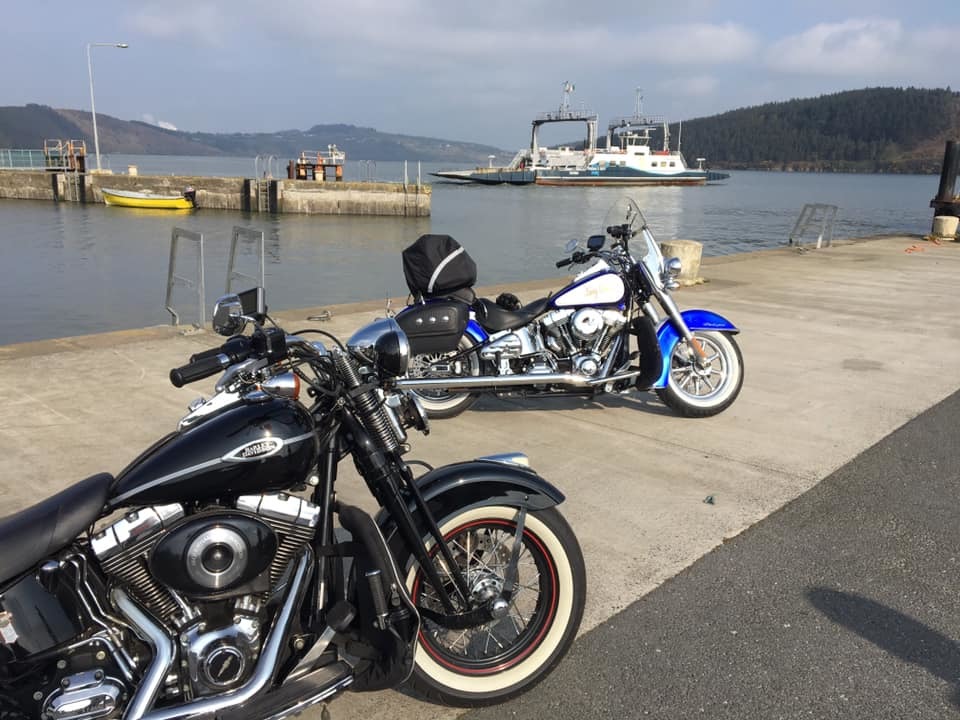 Incorporating a visit to Waterford Harley-Davidson (it'd be rude not to) we took the Ballyhack to Passage East ferry crossing, a stark difference to the Stena Line from the day before. This ferry took just a few minutes to cross the estuary. If you're heading to Ireland BikeFest this fun experience will add to the adventure of your journey. The tarmac on the R733 literally comes to an end for you to board the ferry. Once at Killarney, and with a few hours to spare before the course started, Jo and I enjoyed some quality time with fellow H.O.G team members Gordon Dick and Mike Dall. They led us out on an unforgettable ride to Ladies View; a marvelous scenic viewpoint, memories of which will stay with me for a very long time to come.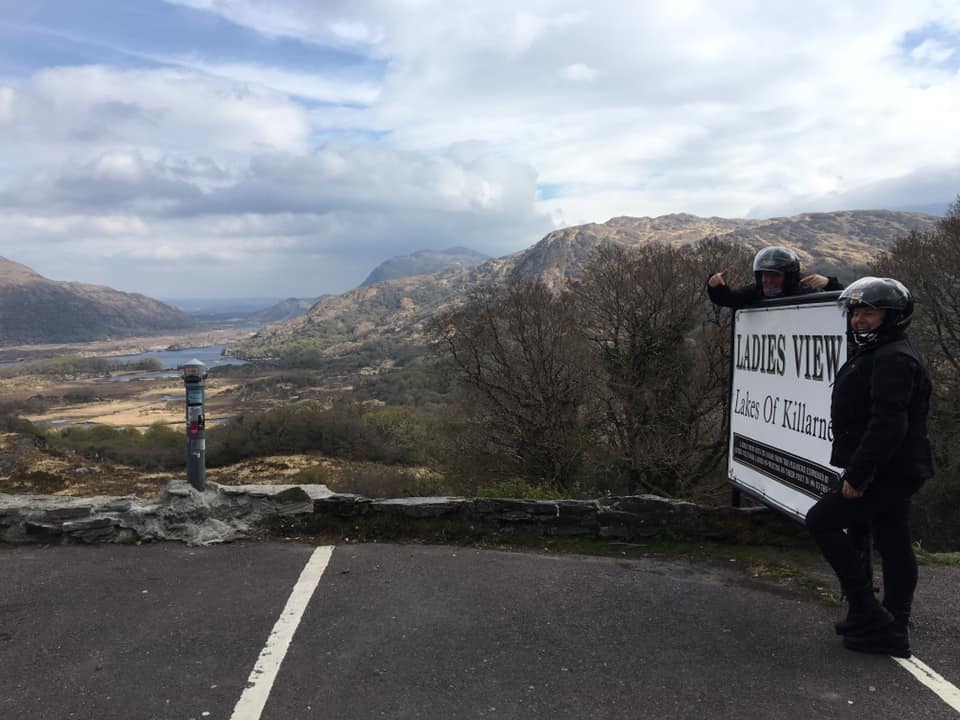 The Road Captain course saw H.O.G Chapter Directors and members from all three Irish Chapters coming together to focus on preparation for Ireland Bikefest's parade ride, led rides, demo rides and suggested local rides for the event at the end of May. The planning and ground work for each of the routes had been meticulously put together by Celtic Thunder's LOH, Road Captain and Assistant Director, Fiona Carroll who lives in Killarney. What a delightful area to ride and recce!! Fiona also has great plans for an LOH-hosted Garage Party at Bikefest so ladies, if you're attending you'll want to check it out! I'm confident you won't be disappointed.
Although mid-April, seeing almost 50 Harley-Davidson motorcycles riding routes around the town had locals lining the pavements, waving and taking photos. It was definitely a taste of what the main event has to offer and was due to come. With Killarney's abundance of fuel stations in and around the town there will be no worry about filling up either.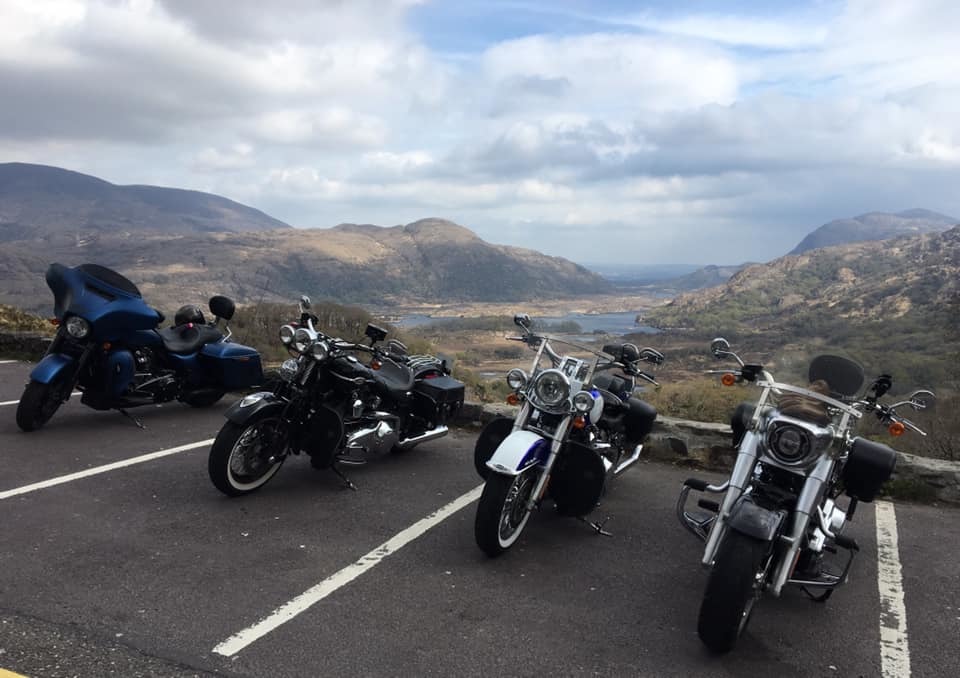 Spending time with Celtic Thunder, Gaelic and Belfast Chapters was inspiring. They certainly know how to 'share the craic' and make everyone welcome – Ireland Bikefest is definitely on my rally list for next year!!
For the journey home we incorporated a welcome stop at the new Cardiff Harley-Davidson®, nice and easy to find from the M4.
A few days after being at home it was soon time to head north to meet the H.O.G team again for Road Captain training in Carnforth, another scenic destination for a weekend of riding local roads and learning safe and best practice for ride-outs. Whilst this course normally sees attendance from the UK & Ireland's more northern chapters it was wonderful to see chapter members from Plymouth and 1066 each riding well over 300 miles to take part. This course also saw two ladies participating in readiness for becoming road crew on their respective Sparkle Tours in September; Jean-Ann McKinnell and Emma North will certainly be enjoying are now well-prepared for their Scotland and South West tours.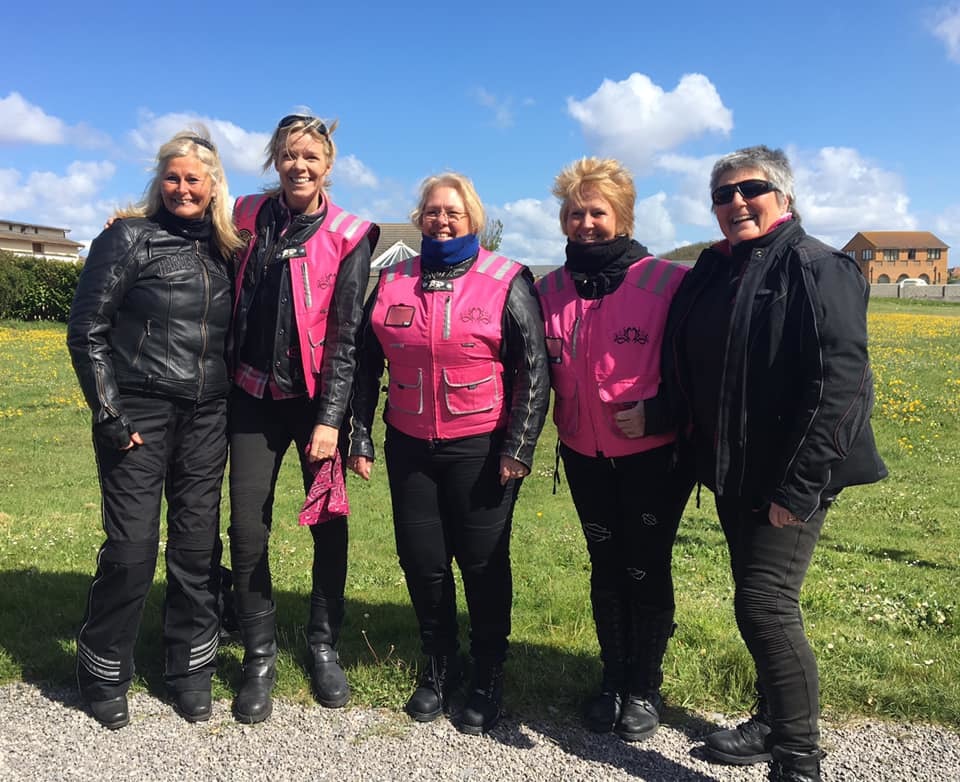 One week on and it's time to ride down south for the first rally of the season, and yet again the Cider Rally did not disappoint. It's so good to catch up with so many H.O.G cousins. With everyone's batteries recharged after the winter hiatus there's much to talk about! Whether riders, pillion riders or non-riders, Saturday was a busy day for Ladies of Harley. In the morning LOH road crew Lisa Davies, Gina Chapman and Gill Mogg hosted a ride-out on a delightful route to celebrate International Female Ride Day (IFRD). This was made even more special with a surprise visit from Marjorie Rae, Consumer Experience Manager, UK & Ireland, who turned up to take part and share in the day too. With ladies worldwide getting out to 'just ride', they share the road on IFRD (always the first Saturday of May each year) on whatever motorcycle they own and this made our ride even more significant. With the ride stopping off at Riders of Bridgwater, participants enjoyed a slice of IFRD cake too.
Returning back to the rally site gave the ladies enough time to change and chill out for a couple of hours, before meeting up for the LOH reception. These gatherings bring all ladies together, whether they ride or not. It's an opportunity to meet with their peers and share experiences and continue to feel that they are part of this amazing past time that we each enjoy and community we belong to. It also gave ladies who have taken part, or are about to take part, in a Sparkle Tour an opportunity to meet up. Ladies enjoyed a glass of cherry fizz and some 70's brightly coloured candy, which had them all sugared up to enjoy a fun game of pass-the-parcel. With Gill Mogg in charge of the panel of buttons the room saw many winners at each stop of the music. In the space of an hour ladies raised over £400 for charity and enjoyed a lot fun in the process.
Social media during the course of the day saw ladies sharing rides and experiences from Clyde Valley, Dunedin, Sherwood, Hogsback, Thames Valley and New Forest - each sharing their IFRD adventures with LOH in their Chapter.
So, what's next? With H-D Dealership open days and the H.O.G rally season fully underway there's plenty for ladies and gents to choose from.
For me, it's time again to give some serious thought to packing my saddlebags as I head off to France as the tail rider for TOUR1's ladies only Chocolate & Bubbles Tour, followed by a few days exploring a little piece of Belgium before meeting up with fellow chapter members the following weekend as they ride through to the Netherlands for the annual Benelux H.O.G rally- HOGSTOCK hosted by Rock City Chapter.
With many miles planned ahead, I look forward to catching up with you out on the road – just keep 'sharing that spark'!
Share the Spark
Elaine Shepherd
National Chapter LOH Officer, UK & Ireland
ChapterRepLOH@harley-davidson.com
---
Having spent way too long away from sitting in the rear saddle, 89 days to be exact (not that I was counting) I found myself permanently glued to it - recces, an evening ride to the iconic Ace Café, an overseas day trip to Ghent and a local ride-out were all undertaken. Our waterproofs are always in our bike as you never know what the weather will throw at you especially during the month of April, or at least that's what I used to think with "April showers".
With changes in the weather I think waterproofs will be in our bike permanently but recently, when I looked in our bag where they are kept I noticed one major piece of our equipment was missing. No it wasn't my rain jacket, rain trousers, spare buff or spare gloves. It was a plastic bag. Some of you may already know about how to use one of these bags with your waterproofs, but for those of you who don't, I have a very handy tip to share with you.
If you don't want to waste precious time putting your waterproofs on or indeed get very wet when at the side of the road in a heavy down pour then this tip is for you. I use the bag to place one of my feet in and then pull my trouser leg over the bag, it slides in like a hot knife through butter, and then the other one, cutting the time down drastically that it takes to put on my waterproof trousers. I have to say the Harley plastic bags are ideal for this. They are strong and robust, come in different sizes and they take very little room up when packing or just travelling locally.
Also, just a heads up for all of you who are travelling abroad. With Brexit uncertainties, you may find it in your own interests to get an International Driving Permit , which can be bought for a few pounds from your local Post Office. You will need to take a passport photograph of yourself, your passport and your driving license. They will then complete all paperwork for you over the counter. Laws abroad are changing frequently and although my hubby had one last year when we travelled to Prague for the 115th H.O.G. Rally in Czech Republic, when we travel to Cascais in Portugal, due to different countries we will be riding through he needs a different one. For all of you attending the Rally in Cascais this year, if you see me around please say hi!
From the Rear Saddle,
"The Dudette"
Lorraine Seedhouse
National Associate LOH Officer, UK & Ireland
chapterrepassociateloh@harley-davidson.com
---
Plymouth Chapter Charity Cream Tea
Being situated in the south west we're all quite fond of a cream tea, and so we held one to raise money for our chosen charities this year, the Cornwall Blood Bikes and Devon Freewheelers. Initially, the problem was where to hold it. I thought - we need a chapter member who has a big enough house to host this event. After a bit of thought I approached Chris and Helen Wheatley, owners of Rowcroft Lodge B & B in Paignton and Plymouth chapter members for many years. They were both up for this and so the planning started with the chosen date being the afternoon of Saturday 18th May 2019.
Chris and Helen, along with their daughter Emily and son Luke, worked really hard to make it a special afternoon. Chris managed to get jam and clotted cream donated from their suppliers and they themselves donated the scones, tea, coffee and milk, which meant all money raised went to the charities.
We had a lot of fun on the afternoon with a lot of banter between the Cornish and the Devonians about which should be put on first the jam or the cream. The scones were huge and I think everyone ended up very full! There was a bit of debate about just how many scones and dishes of cream Sherrell had and just don't mention squirty cream to Emma!
We then all gathered outside to have a photo taken with the Chapter flags, much to the amusement I think of the guests checking in for the weekend. A big thank you to all the Wheatleys for being such good hosts and helping make the day possible.
Along with the ticket sales we also had some more money donated from chapter members and guests who were staying at Rowcroft Lodge that weekend. So, in total we raised £151.00, which isn't bad for an afternoon spent with fabulous friends.
Penny Weeks
Plymouth Chapter