Win exclusive access to launch night beach party in Cascais!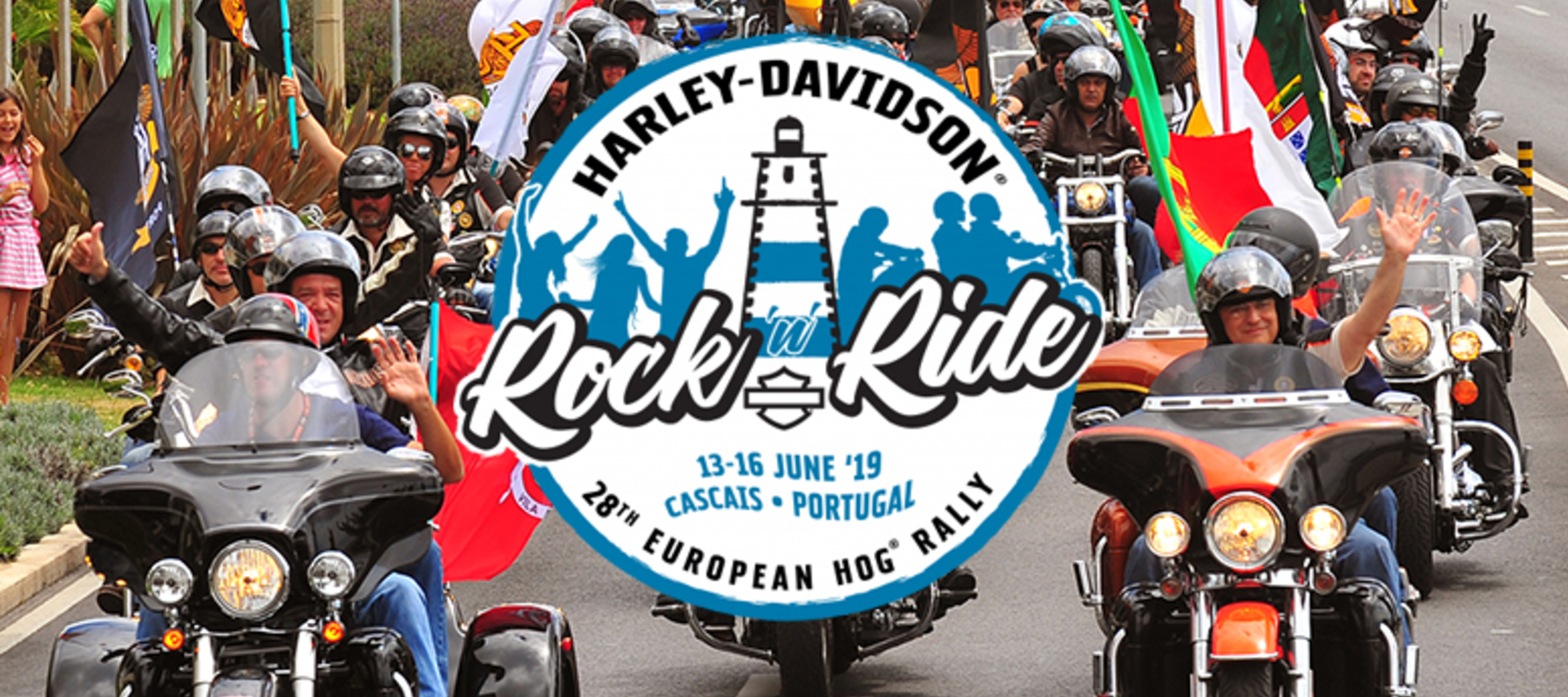 Not long now until we head to beautiful Cascais, Portugal, for the 28th European H.O.G. Rally and we would like to invite you to an exclusive launch night BBQ beach party in Cascais!
To be in with a chance of winning an invite (along with a +1) all you have to do is fill in the survey below where you can shape the future of the European H.O.G. Rally.
There are 125 tickets up for grabs for the BBQ beach party, which will take place on Thursday, June 13, from 20:00 to 21:30. Winners will be required to collect their wristbands from the H.O.G. Zone on Thursday, June 13, so make sure you're there on that date, and good luck!
---
Terms & Conditions for the 2019 European H.O.G. Rally BBQ Launch and T-Shirt Prize Draw
(the "Prize Draw")
1. Introduction
a) The Prize Draw is organised and run by Harley-Davidson Europe Limited ("Harley-Davidson"), who can be contacted at Oxford Business Park North, 6000 Garsington Road, Oxford, OX4 2DQ.
b) By entering this Prize Draw you agree to these Terms and Conditions (the "Terms") and any decisions reached by Harley-Davidson, which are final and binding in all matters related to this Prize Draw.
c) The Prize Draw starts at 18:00 (GMT) on 29 April 2019 and ends at 23:59 (GMT) on 17 May 2019 (the "Prize Draw Period").
2. Who can enter this Prize Draw?
a) Participants must be:
i. a H.O.G.® member, attending the 2019 European H.O.G. Rally in Cascais from 13 – 16 June 2019 (the "Rally"); and
ii. aged 18 or over.
b)The Prize Draw is not open to directors, members, partners, employees, agents or consultants of Harley-Davidson, any person who directly or indirectly controls or is controlled by Harley-Davidson, or any supplier of goods or services in connection with the Prize Draw, or their spouses, life partners, business partners or immediate family members.
c) By entering the Prize Draw you hereby warrant that all information submitted by you is true, current and complete. Harley-Davidson reserves the right to verify the eligibility of all participants and disqualify a participant for submitting false information.
3. How does the Prize Draw work?
a) There is no fee charged to enter the Prize Draw.
b) To enter the Prize Draw, participants must complete and submit the survey, a link to which will be emailed to them at the email address associated with their H.O.G.® account (an "Entry"). The survey must be completed before 23:59 (GMT) on 17 May 2019.
c) For the avoidance of doubt, only completed Prize Draw entry forms will be considered to constitute an Entry.
d) Each participant can only enter the Prize Draw once. Multiple Entries are not permitted. Only the first Entry by each participant will be accepted and constitute a valid Entry.
e) All Entries must be received by Harley-Davidson during the Prize Draw Period or they will be void. Harley-Davidson will not accept responsibility for:
i. Prize Draw Entries that are lost, mislaid, damaged or delayed in transit, regardless of cause, including, for example, as a result of any postal failure, equipment failure, technical malfunction, systems, satellite, network, server, computer hardware or software failure of any kind; or
ii. any change in dates, times or cancellations or other arrangements that may prevent a winner from accepting, taking or using a prize.
f) On 22 May 2019, one hundred and twenty-five (125) winners and 5 runners up will be selected at random using a random computer-generated process, from all valid Entries received.
g)The winners and runners up will be notified on 25 May 2019 via email ("Winner Notification").
h) The Prize must be claimed by emailing Harley-Davidson at the email address specified in the Winner Notification within seven (7) days of the Winner Notification. Failure to do so will result in the forfeit of the Prize and an alternative winner will be chosen.
i) If a winner or runner up is found to be ineligible or fails to comply with the Terms, then the winner/runner up may, in Harley-Davidson's sole discretion, be disqualified and an alternate winner/runner up will be selected.
4. What is the prize?
a) There will be one hundred and twenty-five (125) winners.
b) Each winner will receive two (2) wristbands, which permits the winner and one guest entry to the H.O.G Rally launch barbeque (the "Launch BBQ"), which will take place on 13 June 2019 between 20:00 – 21:30, located on a private beach in front of the Hotel Baia (the "Prize"). For the avoidance of doubt, the guest of the winner must also be a H.O.G member attending the Rally.
c) For the avoidance of doubt, there are two hundred and fifty (250) wristbands available in total, and each winner will be awarded two (2) wristbands.
d) The Prize does not include the cost of transportation to and from the Launch BBQ, the purchase of any items at the Launch BBQ, or any other costs in relation to the Launch BBQ. Any expense outside of those specified in the prize details in clause 4(b), will be the sole responsibility of the winner.
e) The winner will need to collect their wristbands from the H.O.G Zone at the Rally, before 19:00 on 13 June 2019.
f) The winner and their guest will be required to provide their H.O.G Membership Number.
g) There will be 5 runners up.
h) Each runner up will receive one (1) H.O.G 2019 Cascais T-shirt (SKU HD19HOG070UTS015 or SKU HD19HOG070LTS020). The runners up will be able to select which t-shirt they would like to receive (subject to availability). The T-shirt will be posted to the runner up at the address they provide to Harley-Davidson when claiming the Prize. Harley-Davidson will aim to deliver the T-shirt within 14 days of the runner up claiming their prize but cannot guarantee this.
i) Prizes are non-transferable, non-exchangeable, and have a cash value of zero. Prizes are for personal use only and are not for resale. Prizes may be forfeited in the event that Harley-Davidson determines that the Prize is being misused. Harley-Davidson reserves the right to substitute a prize of an equal or greater value in its absolute discretion.
5. General
a) Each winner/runner up may be asked to take part in reasonable publicity in connection with the Prize Draw, including the publication of his/her name and geographical location.
b) Harley-Davidson will keep your personal information safe and will use your personal information in accordance with the privacy policy available on its website https://www.harley-davidson.com/gb/en/footer/utility/privacy-policy.html.
c) Each winner/runner's up surname and county will be made available. Each winner/runner up will have the right to object to this information being published or to request a reduction in the amount of information being published. Harley-Davidson may be required to provide this information to the relevant regulatory authorities.
d) Harley-Davidson reserves the right to amend the rules of the Prize Draw, to withdraw the Prize Draw at any time if circumstances beyond its control make this unavoidable, or to cancel a prize or discount in the event of non-compliance.
e) Harley-Davidson accepts no responsibility for any entries which are not completed, lost or delayed for any reason.
f) By entering this Prize Draw, you agree to these terms and conditions without exception. If you require any help or have any enquiries relating to these rules, please contact the Harley-Davidson Customer Services at: customerservices@hog-europe.com.
g) As far as the law allows, neither Harley-Davidson Europe Limited, its respective associated companies, nor the directors, officers, employees or agents of the aforementioned shall be liable for any loss or damage, whether direct, indirect, consequential or otherwise, arising from any cause whatsoever which may be suffered as a result of entering the Prize Draw, the provision of the prizes, or any act or omission of any other person. This clause 5.5 does not purport to limit or exempt the Harley-Davidson for any loss directly or indirectly attributable to its gross negligence or that of any person acting for or controlled by it.
h) Harley-Davidson Europe Limited's decision in respect of all matters to do with the Prize Draw will be final and no correspondence will be entered into. Any disputes will be subject to the exclusive jurisdiction of the courts of England and Wales.
i) This Prize Draw is run by Harley-Davidson. Any complaint about the Prize Draw should be directed to the Promoter.
j) If you require any help or have any enquiries relating to these Terms please contact Harley-Davidson at the address above.
k) These terms and conditions shall be governed by English law, and the parties submit to the exclusive jurisdiction of the courts of England and Wales.