A unique experience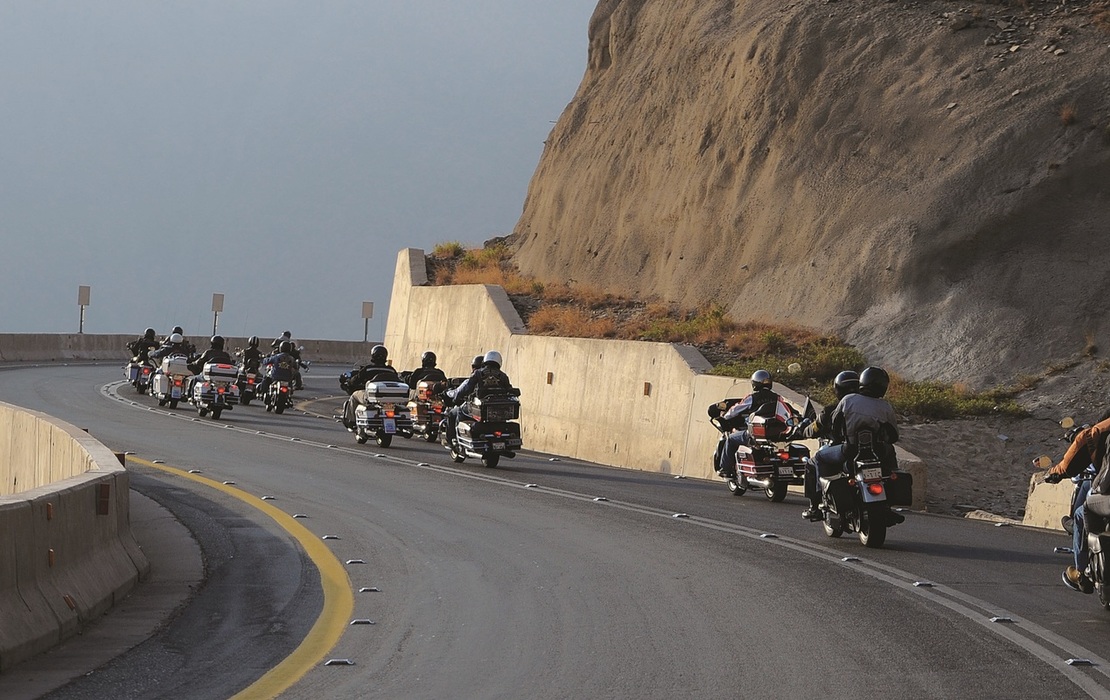 Bizzie Frost attended the 2nd Saudi National H.O.G. Rally in 2008, and gave us a thorough report on this unique experience
Following the success of last year's 1st Saudi National Harley Owners Group (H.O.G.) Rally, Mr. Ahmed Halawani was given the task of organising the second one. Already an experienced biker, he bought his first Harley-Davidson motorcycle in 2005 and in 2007 was elected as the Director of the Jeddah Chapter. Although he hasn't been to any HOG rallies outside the Kingdom, he attended a Harley-Davidson Rally Co-Ordinator training course on how to organise and direct one. "It was a great training programme and I used all the skills that I learnt there," he said. Working together with Mr. Monther Al Mutlaq (joint owner of Harley-Davidson Saudi Arabia) and Ms. Lisa Schlensker (H.O.G. Manager for Middle East & Africa) they decided on At Taif city and Al Baha province as the locations. Halawani's inspiration to suggest these towns came from his previous trips there. Because of the abundance of mountain roads, he persuaded them to make it a "riding" rally, as opposed to a more social one with biking games and activities.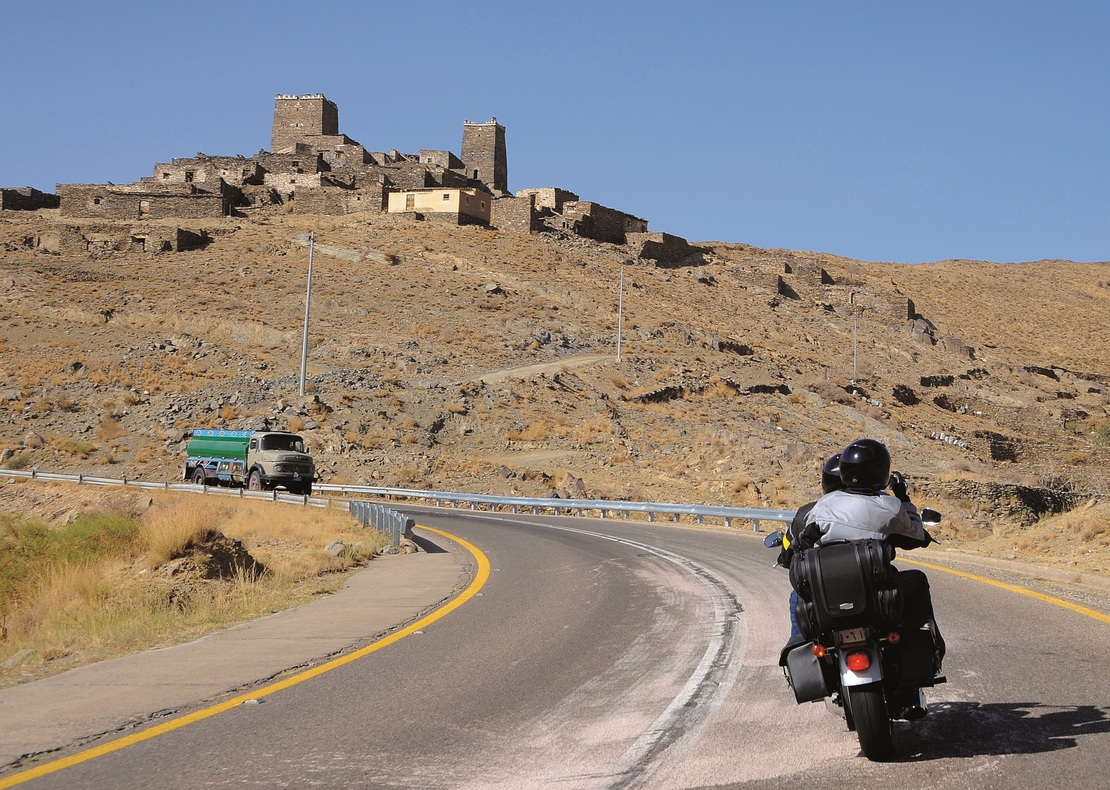 With Al Baha around 550km from Jeddah, and 1,100km from Riyadh, Halawani described some of the logistics in planning the event: "It involved a lot of travelling to Al Baha as we had to make sure the roads were good enough, and that there were enough fuel stops, and to note any emergency stops. We also had to get permission from the Governor of Makkah province, Prince Khalid al Faisal, and Prince Dr. Faisal bin Mohammed bin Saud bin Abdul Aziz, the son of the Governor of Al Baha province, and this required a lot of private meetings. We are very grateful to them for allowing us to hold this rally."
One hundred and thirty bikers were registered to arrive in Taif on October 22, so Halawani had to ensure safe riding principles were carried out during the rally. Ten "Road Captains" were appointed to lead groups of around 13 bikes each to ride between At Taif and Al Baha, along the Tourist Route. This winds its way along the top of the massive Al-Sarawat Mountain range, a harsh landscape that still has the remains of old stone settlements and watch towers. Many of these have gradually become integrated with new buildings as villages have expanded over the years.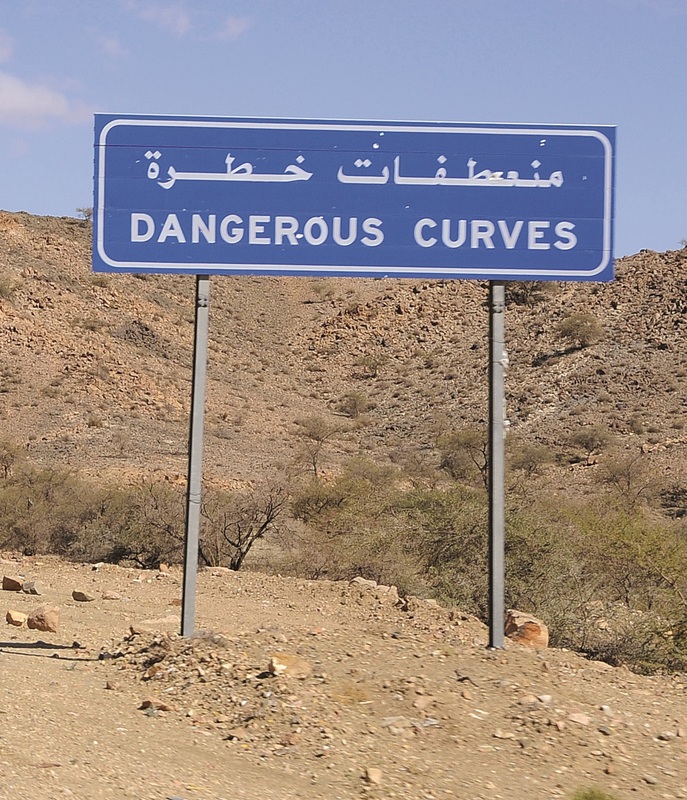 Road signs to warn motorists of dangerous bends and corners have been charmingly translated from Arabic into English to read 'Dangerous curves', and these signs were seen at regular intervals along the route. Although there are frequent petrol stations and small shops on the way, washroom facilities on Saudi Arabian highways are notoriously grim, especially for ladies. However, it is all part of the big adventure!
An important part of H.O.G. events is the family involvement and, as women cannot drive in Saudi Arabia, several buses had been laid on to transport wives and children. Ms. Schlensker is particularly keen to promote this aspect of Harley biking. "When you look at this rally here and you see the family involvement, this for me is the highlight of the rally. We all know that women can't ride motorcycles here, but that is not the relevant point – it is the activities that we do that bring families together." Although not riding their own bikes, there were quite a few steadfast Ladies of Harley riding pillion.
As all the Hogs congregated in At Taif and Al Baha it was also interesting to note the wide age range of the bikers. After a few enquiries, Mr. David Joury, aged 60, was found to be the oldest one there. He has been biking on and off for many years, and recently bought a Heritage Classic. He explained his passion for Harleys: "I grew up in Lebanon and the police in my day used to have fantastic Harleys – so it was a 'must have' item from when I was a child – and it keeps me young!"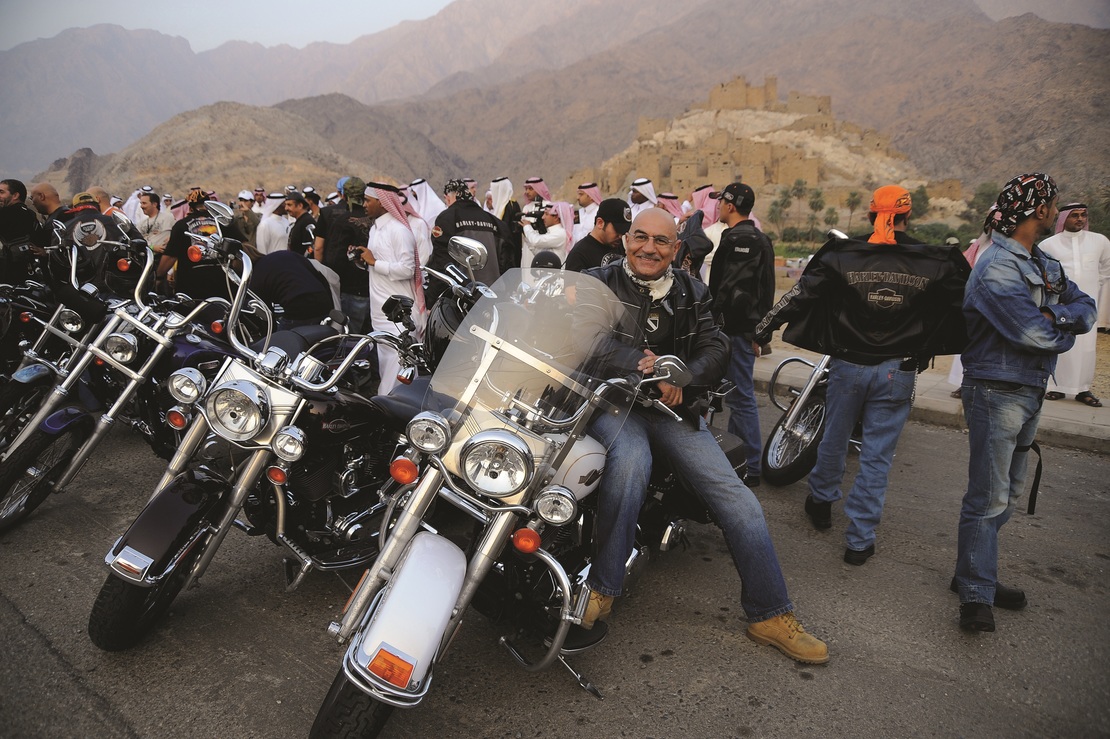 A close runner-up was 59-year-old Torbjorn Nilo, a Swedish businessman on a visit to Riyadh. He has been riding with the Riyadh and Jeddah Hogs since 2005 and was very impressed with the roads. "I have been to rallies in Europe and Sweden, but the road from Taif to Al Baha is the best one I've ever been on. It is 240km of non- stop corners and hills – it is fantastic."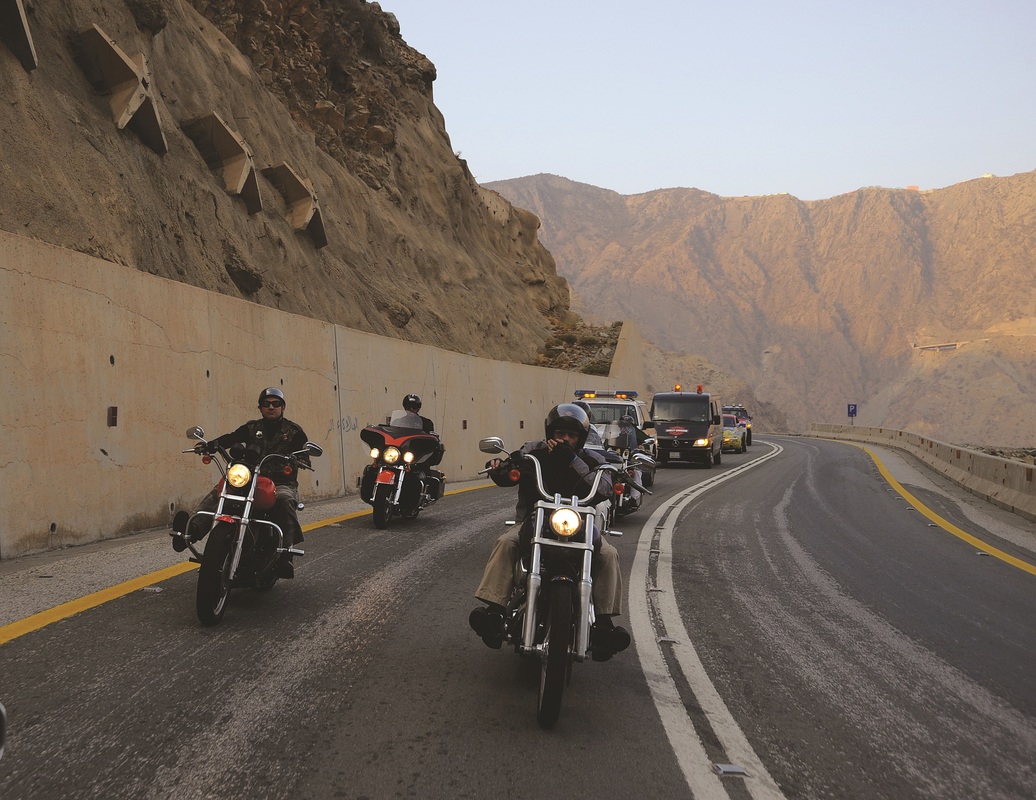 Nilo's sister, Mrs. Anneli Dearing, is a nurse living in Jeddah and is a Lady of Harley. She is a very youthful 'wannabe' grandmother and has been passionate about Harleys since she was only 12 years old. "My brother and his friends had bikes and I will never forget the first time I heard their Harleys come up the hill to our house. But I never owned a Harley before coming here. Then my brother came to visit in June 2005 and we went to the dealership and we made a decision right there and then to buy one."
Most Harley owners would dearly love to own more than one, and another man in this category is Jeddah businessman Amr Amawi. He has been biking for almost 20 years and bought a Harley "for the camaraderie and for what Harley stands for – love of nature and cruising, and being together in groups of like-minded people". However, he was reluctant to tell me how many Harleys he actually owns: "I have got a few but I prefer not to say how many. I do love them and I love to customise them and show them." He took three bikes on the rally, all prize winners in the show.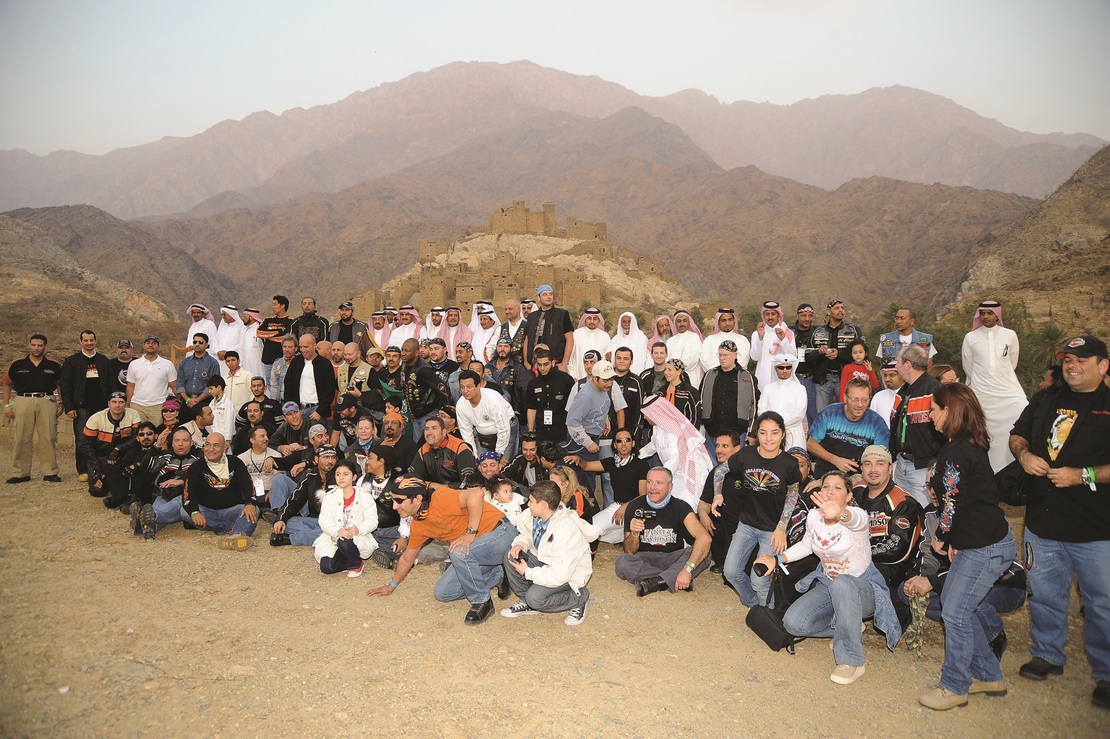 As all Hogs know, looks are everything, whether on the bike or at dinner after a ride – lots of black leather jackets and leather waistcoats glinting with souvenir pins, and black jeans and T-shirts with elaborate Harley-Davidson pictures on them. During the first dinner at the Intercontinental Hotel, a few of us were enjoying the fancy dress show, and voted that one man in particular should be awarded the 'Most Authentic Looking Harley Biker' (although such an award didn't exist even at this rally!) He was a tall, dark, handsome man, with very long 'pepper and salt' dark hair tied in a pony tail, a beard, the prerequisite leather waistcoat and black jeans, plus an impressive black Stetson hat.
Mr. Ghassan Hourani has a contracting company in Riyadh and he was amused at our summation of his appearance. "I have only been riding a Harley for about one and a half years and have a Road King Classic. It is fantastic and a great adventure to ride a Harley. I had other friends who bought Harleys at the same time and we ride together. We have so far been to Sharm El Sheikh in Egypt, Muscat in Oman, Lebanon, and Fujeirah in the UAE."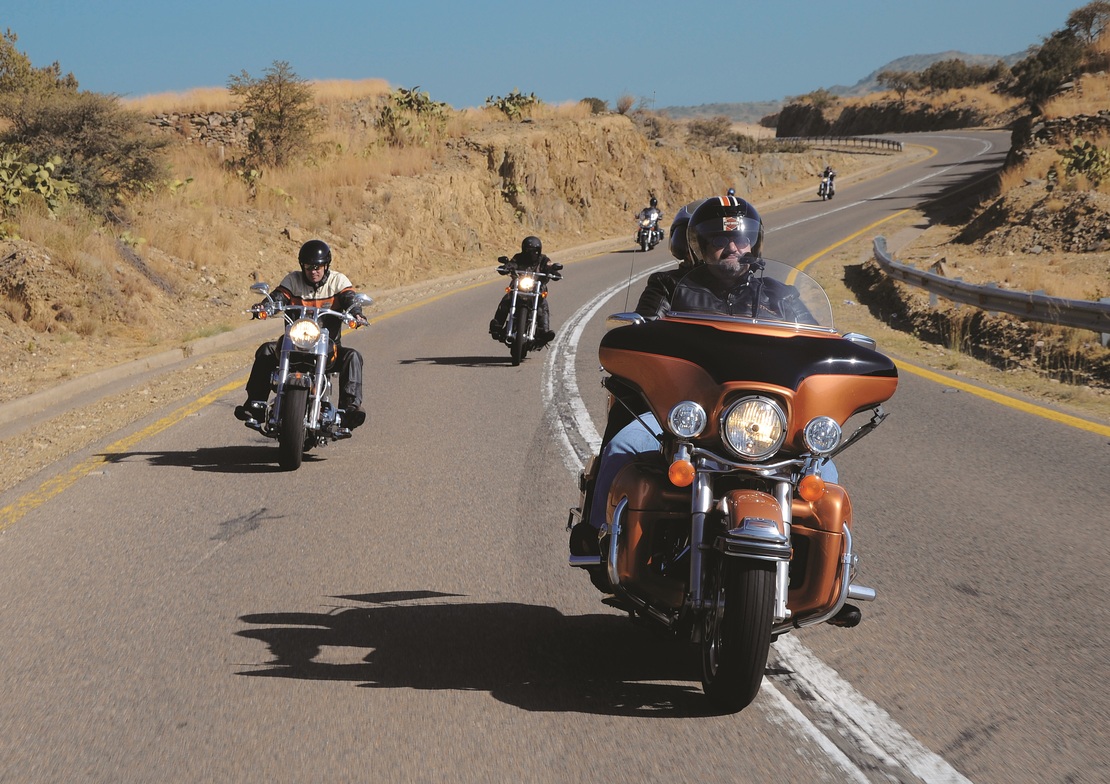 Harleys also appeal to the younger generation in Saudi Arabia, and cousins Mohammed Al Mutlaq and Mishal Al Mutlaq, aged 24 and 25 years old respectively, were the youngest at the rally. Mohammed is studying finance at university and bought a Dyna Fat Boy earlier this year. "I prefer the Harleys to speed bikes. We don't have many activities to do here in Saudi Arabia, and H.O.G. arranges activities. I like the rides, gatherings and rallies." Mishal rides a Softail Custom 2006 bike and he particularly enjoys being able to customise his bike and enter it for shows (it won two classes at the rally, including the 'People's Favourite'). "I enjoy working on my bike. Some people prefer to race bikes, but I like the safety courses that H.O.G. gives."
Another young and very enthusiastic Saudi H.O.G. member who uses his Harley as his main form of transport is 31-year-old Mohammed Kalantan, an electrical technician from Yanbu. His wife and two small children live in Makkah, so nearly every week he rides the 860km round-trip back home on his 'no frills' 2001 Ultra Classic Electra Glide. "Before, I used to like speed bikes. I bought a Harley because I like travelling and adventure. My wife also comes on the bike. Even when she was pregnant, I had a recording of the motorbike sound and I played it to our unborn son. I hope eventually he will ride better than me."
Looking at all the different crash helmets, one in particular stood out as being different. It belonged to Colonel Haitham Attar. He used to fly fighter jets in the Saudi Royal Air Force and explained about his unusual helmet: "It was my flying helmet and has been with me for 20 years, so I am very attached to it. It is made out of lightweight Kevlar and is bulletproof. It also reduces noise levels – good when the bikes are going through tunnels! I like the team spirit of H.O.G. – they are really nice people and you see all kinds of different cultures here."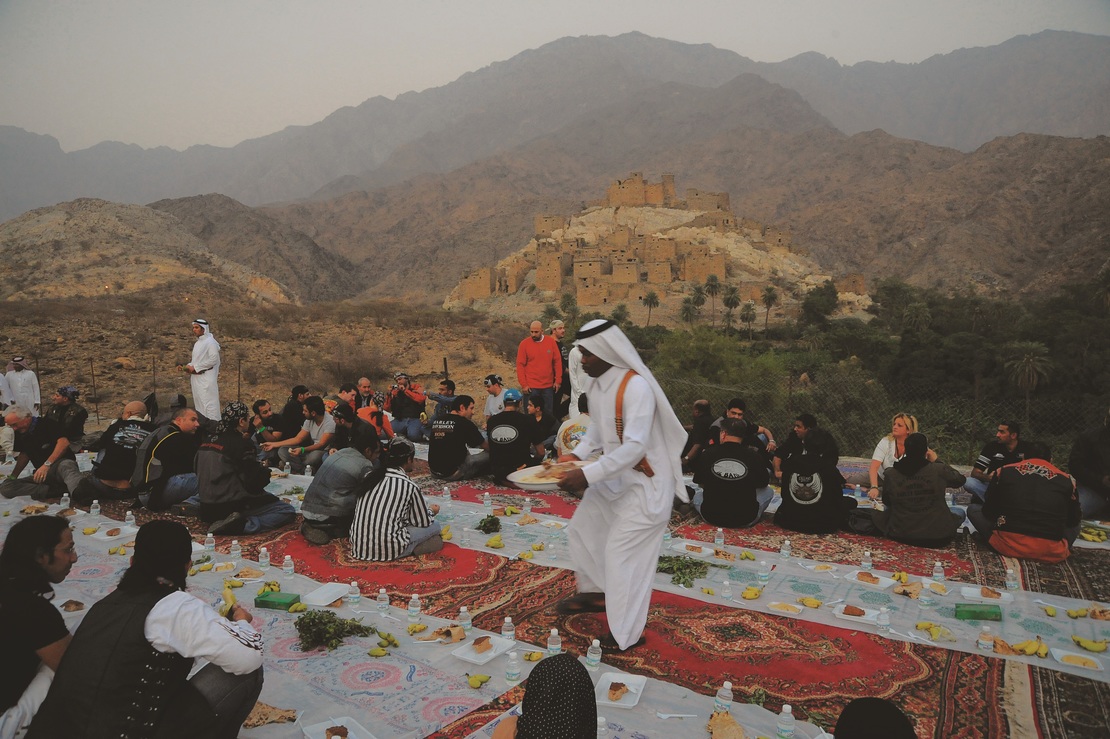 Once in Al Baha, the Rally took the bikers on a challenging ride down the Al Baha escarpment. This road twists and turns its way precariously down some 2,000 metres of the rugged Asir mountainside, going through numerous tunnels on the way. It even took some of the more experienced bikers by surprise. On several occasions, as groups of growling Harleys were in the enclosed space of a tunnel together, one or two riders couldn't resist unleashing more noise by revving their engines.
At the bottom of the escarpment is the picturesque ruin of the Marble Village, Thee Ain, and it was an incongruous sight to see so many Harleys against this secluded backdrop. With the light fading behind the mountains, we sat cross-legged on carpets to enjoy a local dinner, followed by traditional sword dancing, all organised by Prince Dr. Faisal bin Mohammed. Everyone enjoyed the outdoor location and the distinctive Saudi atmosphere of this event, and the sword dancers encouraged the bikers to join in with them. The bikers then had another unusual challenge: a night ride back up the escarpment road.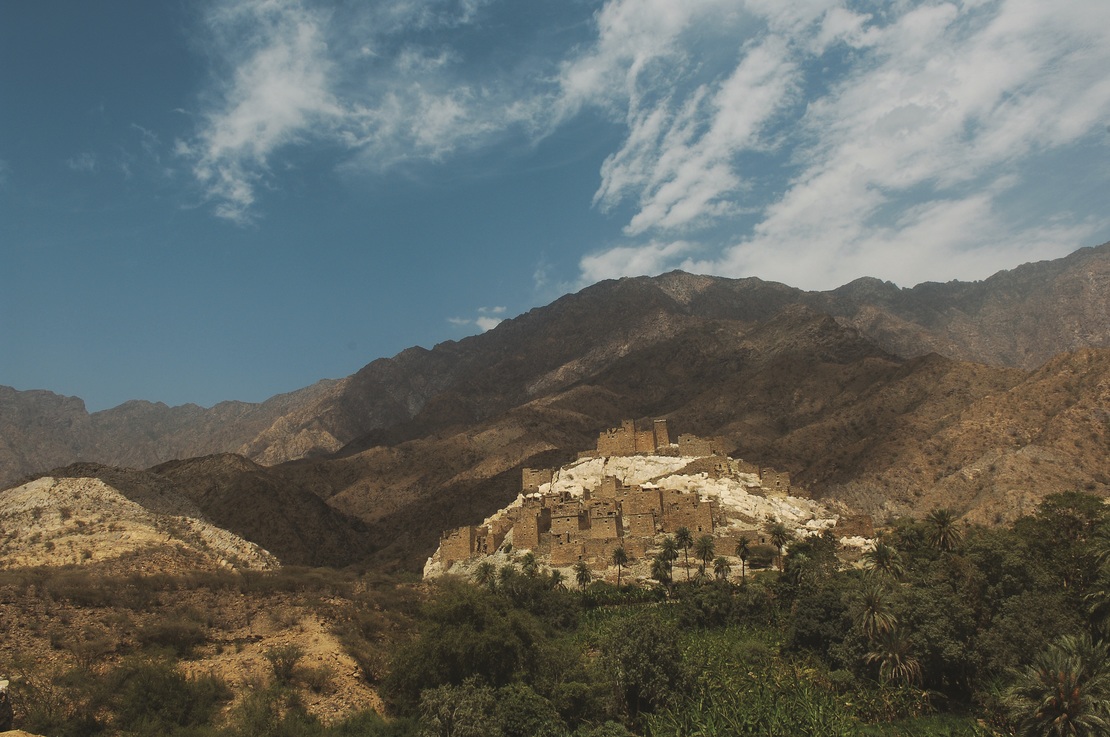 By international standards, the Saudi rallies have been small, as I learned from Mr. Jamil Ayas, the General Manager of the Jeddah dealership. He has worked for the Company for 16 years, in different countries including Scotland. "I did the Aviemore Rally – we had 10,000 riders show up!"
A well-known and always cheerful face on the local H.O.G. scene is businessman Amr Al Khaldi. He has been an active H.O.G. member and officer in the Riyadh Chapter for six years and rides a 2007 Street Glide. As well as riding extensively in the Middle East, he has also ridden through Europe. "Two years ago we did a trip to Ireland and we loved the roads in Europe. As they say, it is not what you ride but who you ride with, so that is one of the major advantages of the H.O.G. group; regardless of who you are, what religion or what colour, we are just brothers and sisters. This ride has been great; I like the curves on the mountain rides. It's a challenge, and I love it."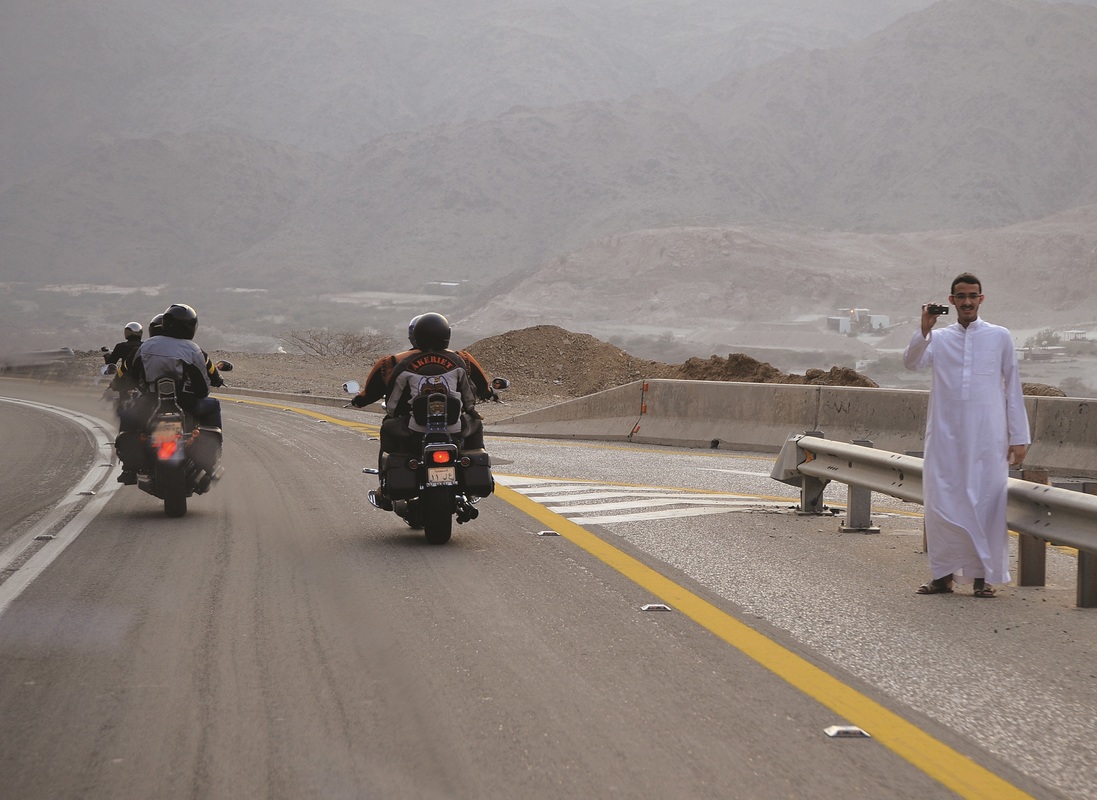 Marwan Al Mutlaq, a joint owner and Managing Director of Harley-Davidson Riyadh, was very pleased with how the rally turned out. "I think this rally is exploring Saudi Arabia in ways that have never been done before, and showing the opportunities for riding here. The participants get a chance to see first hand the special flavour of the country. I am very happy that by starting Harley-Davidson here, we have given people the chance to enjoy something they never had – when I see the smiles on their faces, and having a fun time, this is all about Harley." The rally also brought smiles to the faces of spectators along the route, young and old; they waved enthusiastically at the bikers and many used their mobile phones to photograph the unusual spectacle – and be photographed with the bikes.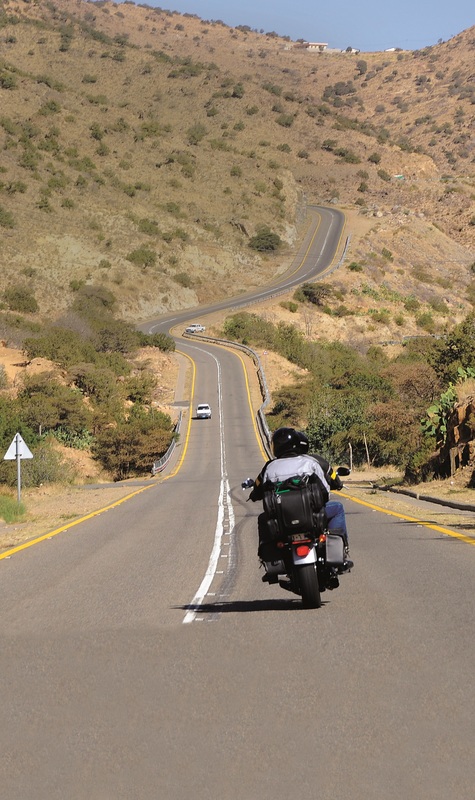 At the end of the rally, the advisor and co-ordinator for tourism in the Al Baha area, Gharmullah Al Ghamdi, said: "Prince Mohammed bin Saud bin Abdul Aziz was very happy when he was asked if the Harleys could come here and he gave instructions to make sure that you are well looked after and given a warm welcome. We hope you have all enjoyed yourselves and we will welcome you back at any time."