BEFORE THE WORLD IS PAVED…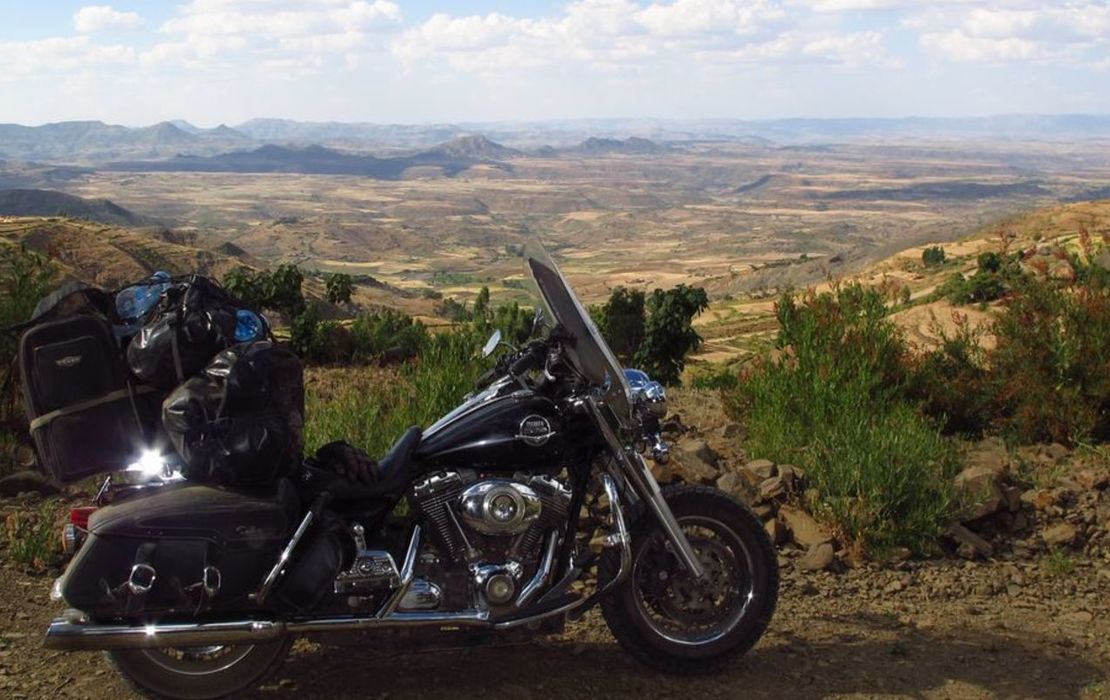 Rob Jones took an inspirational and emotional journey through the heart of the African continent
"Do you have a death wish?" My mother's a strong woman, but I can't imagine the courage it took to ask her youngest son a question with such weight. We had just dropped my '08 Road King off at the dock in Newark, New Jersey – a month later I would meet it in England, eager to start a 30,000km ride through east Africa, ending in Cape Town. I didn't know how to answer her question; I thought of a few clichés, but I couldn't bring myself to say anything – her question hung awkwardly in the air.
In truth, I don't have a death wish; I'm not that extreme or cool. When I purchased my Harley® five years ago, I couldn't even ride a motorcycle. That summer I learned to ride by criss-crossing the US. The following summer, my Road King® carried me to Alaska and, two years later, down to Argentina. After each trip, the insatiable wanderlust only grew worse – all I could think about was the next ride.
Harleys are machines capable of riding anywhere… but Africa? I gave myself five days to leave London, race across Europe's highways and arrive in eastern Turkey. With the exception of a handful of truck drivers, the manifest of the ferry to Egypt was mostly Syrian refugees fleeing civil war – my friend Rick and I were embarking on a ride through Africa on a lark, hoping to see new places and maybe run across a little danger, while small children played on cardboard boxes containing all their families' possessions, unaware their lives were irreparably changing – everything came into perspective. We were on a ship of families fleeing a war zone. For the next few months, human suffering would be exposed, raw and out of the shadows.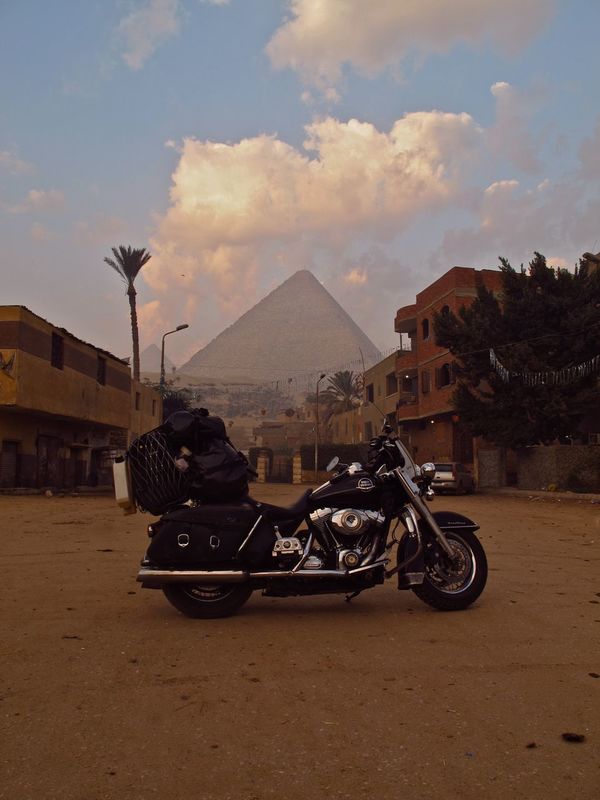 The riding in Egypt was beautiful and seemed safe. I ticked off loads of places that I've wanted to see since childhood: the tomb high in the Great Pyramid, Luxor, and Abu Simbel. But the highlight was diving the Thistledorn wreck 30 metres below the Red Sea and seeing a cargo hold of doomed World War II BSAs and Triumphs. Later, sitting on a hotel balcony in Cairo, I watched as people took to the streets at night, demanding a better life. The road to Sudan was closed, so I spent the night on the deck of a ferry. Once in Sudan, riding hours a day through the vastness of the Sahara gave me plenty of time for self-refection. I was near meditation, lost in thought about who I was and who I wanted to be.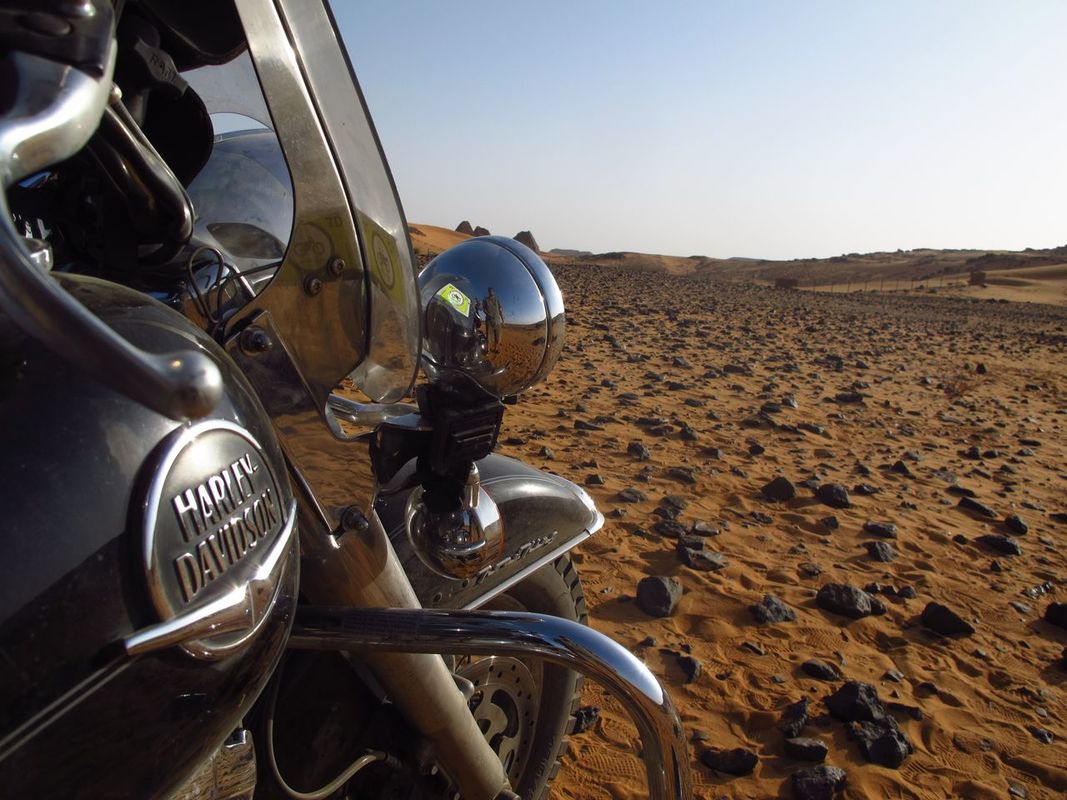 At first, it was a little unnerving to be an American riding a Harley® through Sudan, but I only felt warmth and welcome. When I quietly told locals I was American, people would shake my hand and shout "Obama!", nodding their heads with approval.
I had one run-in with the Sudanese military after Rick and I both got a funny feeling at a checkpoint; we exchanged subtle head-nods and rode off – unfortunately, the third biker in our group, Rob Roy, didn't understand the gestures and was stuck with guns drawn on him. After 20 minutes we rode back to collect him; the officials were rightly angry and searched our bags. Upon seeing my US passport the police searched the video on my helmet camera, suspecting that I could be a spy. After an hour, the captain let us go, but not before he looked me dead in the eye and started singing a song in Arabic that rocked my very soul.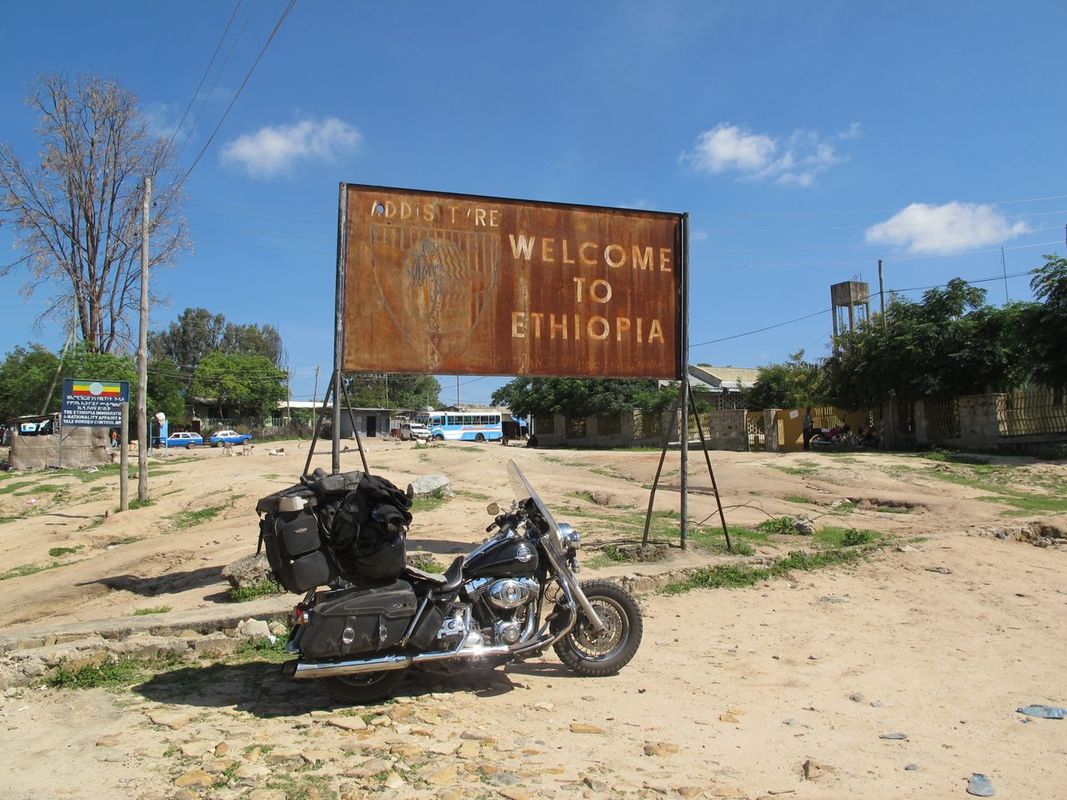 When I started planning the ride from London to Cape Town, I couldn't find most African countries on a map, some I had never heard of, but Ethiopia… yeah, I had that one down. I watched We Are The World as a kid, and I prepared myself to see sickly children covered in flies outside mud huts.
Okay, so a bit of worldly ignorance is innate in most Americans, but every assumption I had about Ethiopia was totally wrong; it was gorgeous.
At times riding in Ethiopia is perfect, with freshly tarred high-mountain twisties overlooking a vast horizon of plentiful farmland. Ethiopians are certainly poor, but in general the people of Ethiopia seemed joyous, healthy and prosperous. Hearing my Harley approaching, children wearing Chelsea football shirts would run to the edge of the road, waving both hands with bright smiles. I've never been so happy to be so wrong.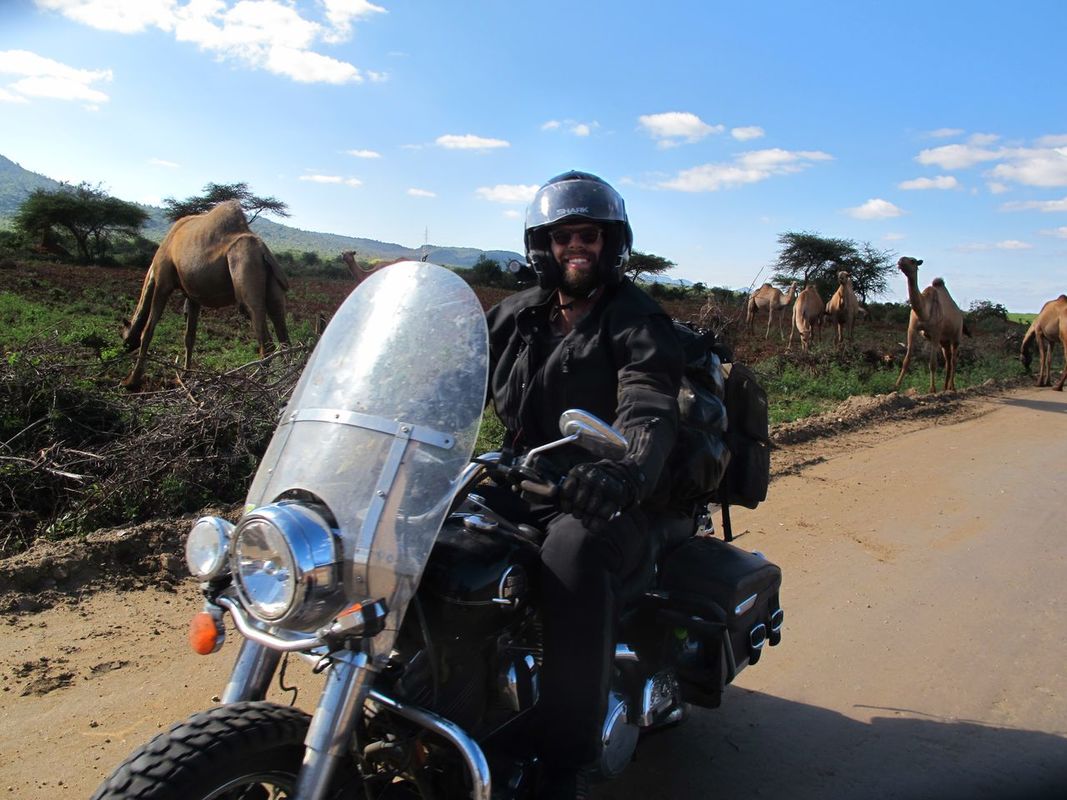 Riding in Ethiopia does have its perils: I narrowly missed several children running into the street, fresh tarmac would suddenly wash out, and kids throwing stones at bikers seems to be a national pastime! But my biggest concern was the animals wandering free in the road. On my first day in Ethiopia I hit a donkey at speed, tossing me from the bike. The wind was knocked out of me and my right elbow was screaming. I wiggled my fingers and toes; all good. My gear did a fine job and I got away with just some bumps and bruises. The bike, however, laid on its side, lights shattered and front fender crumpled into the tyre – this was bad.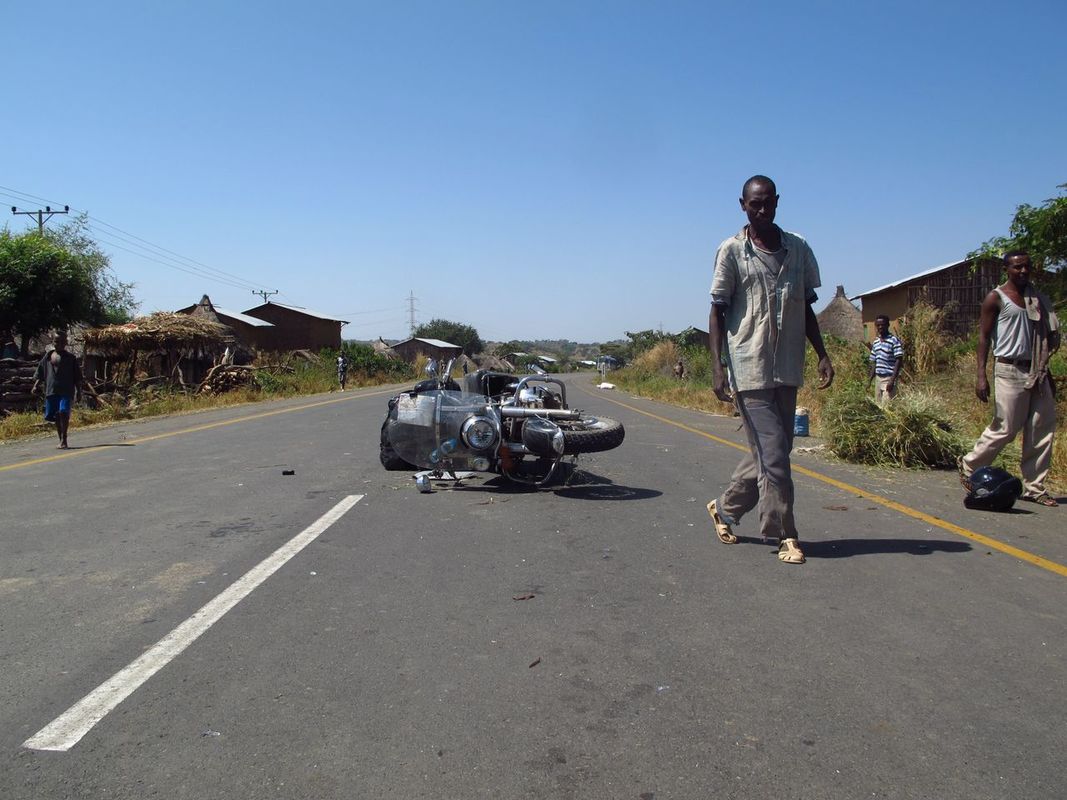 Word quickly spread throughout the village, and I was surrounded. One guy was shouting, but seeing that I was mildly banged up and that the donkey had walked off finding shade under a nearby tree, he helped me drag the bike off the road. Fortunately the engine guards worked as advertised and the bike started up. A few well-placed kicks to the fender gave the front tyre space to roll. I asked the villagers about the condition of the donkey; no one spoke English, so I made a donkey noise while giving a thumps up gesture. One woman laughed awkwardly; the man who helped me lift my bike looked at me like I had severely damaged my head. Rob Roy rode up and suggested it was time to go.
The day got progressively worse; on a 60km section of poorly maintained gravel road, I hit a pothole and both hose lines to the rear shocks blew, spraying hydraulic fluid everywhere. Without suspension, the fender rattled loose; when I stopped to strip it off, a group of Ethiopian children lifted a few things from my bike. After sunset, I dropped the bike and trapped my foot between the saddlebag and a rock, spraining my right ankle and knee. That night, I was grateful to put that day behind me and crawl into my sleeping bag.
I woke with a stiff leg, but I was looking forward to getting on the bike and seeing more of the country. The ride around central Ethiopia to Lalibela was overwhelming; I was moved to tears thinking about how fortunate I was to be alive riding in a near-perfect moment, my head clear of all thought except the road in front of me. These feelings last for only a few minutes – I know I am exactly where I am meant to be and am somehow connected to… well, everything.
Ethiopia is a country of contrast; the roads are some of the most gorgeous I've ever ridden. The mountains are breathtaking, and the kids embody joy. One hint: I found that quickly returning kids' frantic waves helps to reduce the barrage of stones!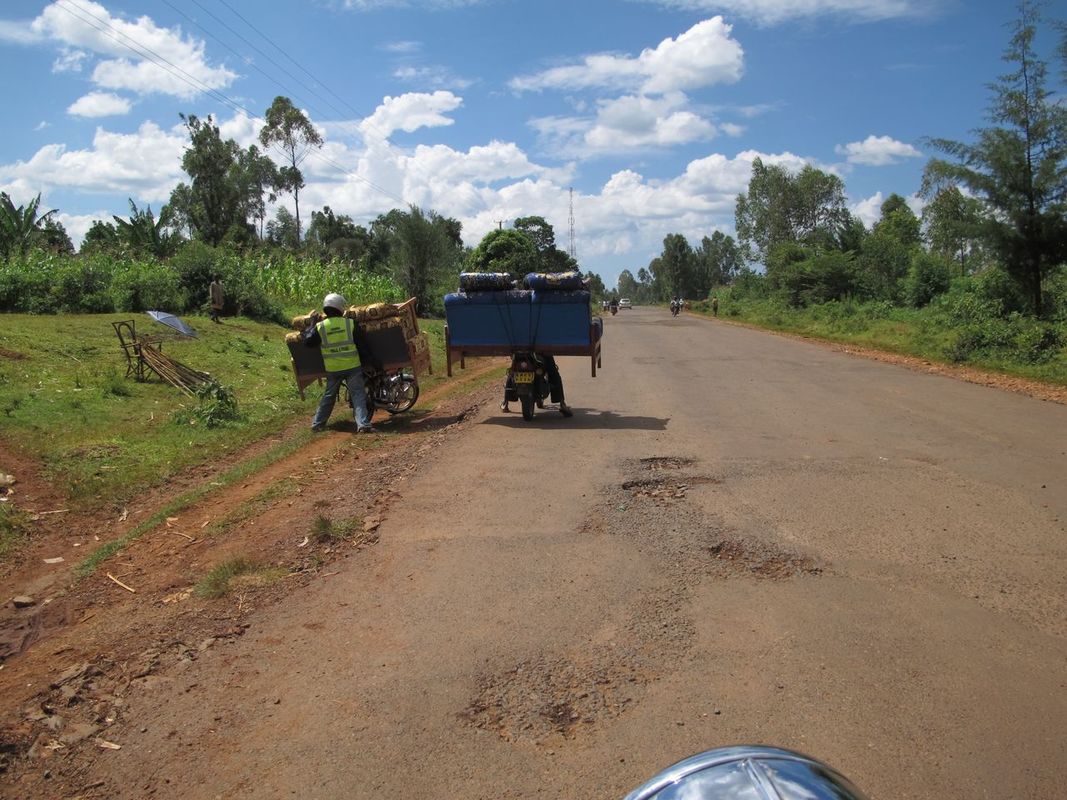 It was time to see what Kenya had in store. The A2 road in Northern Kenya is the last section of dirt road on the entire Cairo to Cape Town route. Sadly, it's under construction and will be entirely tarmac in a few years – yup, it will then be possible to ride from London to Cape Town without your bike ever touching dirt. When I rode through South America, my bike crossed thousands of miles of sand and washboards without a major problem. The A2 didn't seem worse than than these roads, but it sure did a number on my bike. The north part of the road was deep mud; my bike, gear and I weigh more than 500kg. Fortunately, a few local villagers saw me axle-deep in mud and were kind enough to give me a push.
The mud eventually gave way to sand. Against my intuition, and apparently physics, a 350kg Road King® with a low centre of gravity and five inches of ground clearance is a kick-ass machine on sand – I looked forward to deep bits, where the aluminium skid plate I hoseclamped to the frame became a sled and the rear road tyre pushed me through. The low ground clearance became a lifesaver, but it was my inexperience riding sand that almost killed me. It took hundreds of miles riding in sand and gravel to learn to stay on the throttle, even when the bike gets squirrelly, making for some hair-raising moments.
After the long section of Kenyan sand came the washboards – any screw that wasn't factory installed eventually rattled free. I chalk a lot of this up to user error; I should have inspected the bike more frequently. Finally, the bolt that held my suspension sheared apart – the weight of all my baggage pushed the rear fender onto the tyre, and the friction caused the seat strapped to the top of the fender to melt. I was relieved it was just the seat melting and nothing electrical. Later, without suspension, even the 'maxi-fuse' that leads to the fuse box rattled apart on the heavy corrugation – it didn't blow, but actually shook apart, killing the electrics. I think the bike was sending me an SOS. That's when I discovered oil dripping from the small hole torn in the sump. I was probably a hundred miles from the nearest mechanic, and goodness knows how far from the nearest Harley® dealership with oil leaking from the engine – this was bad.
I am not mechanically inclined, but on the road I've learned to diagnose problems on the bike. I carried a spare maxi-fuse, plus a quick application of liquid steel that Rob Roy brought plugged the leaking sump, and later an extremely helpful mechanic somehow found a matching bolt, solving my problem.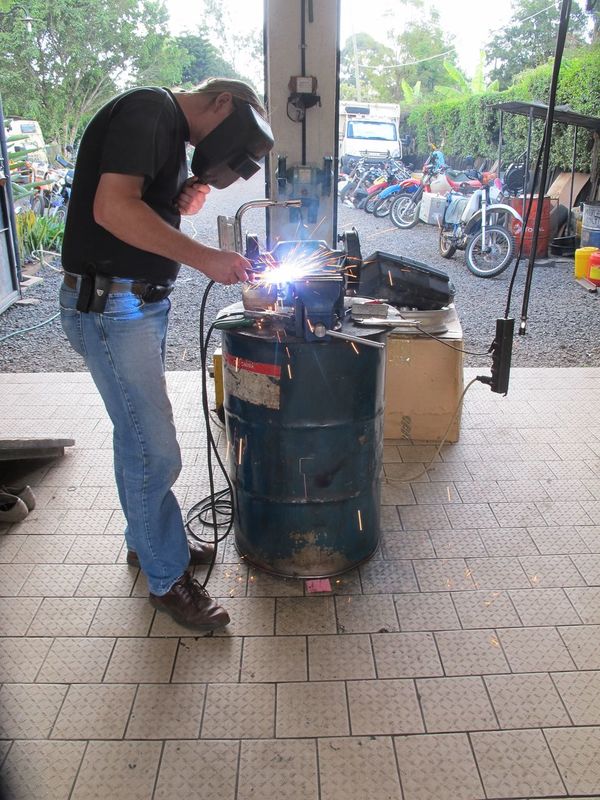 Back on the tarmac, in western Kenya, I spent a few minutes visiting President Barack Obama's grandmother – Momma Sarah. She asked questions through an interpreter about the trip and my Harley. Then I spent the afternoon walking through the small Kenyan village in which my President's father grew up, thinking about how small this world truly is.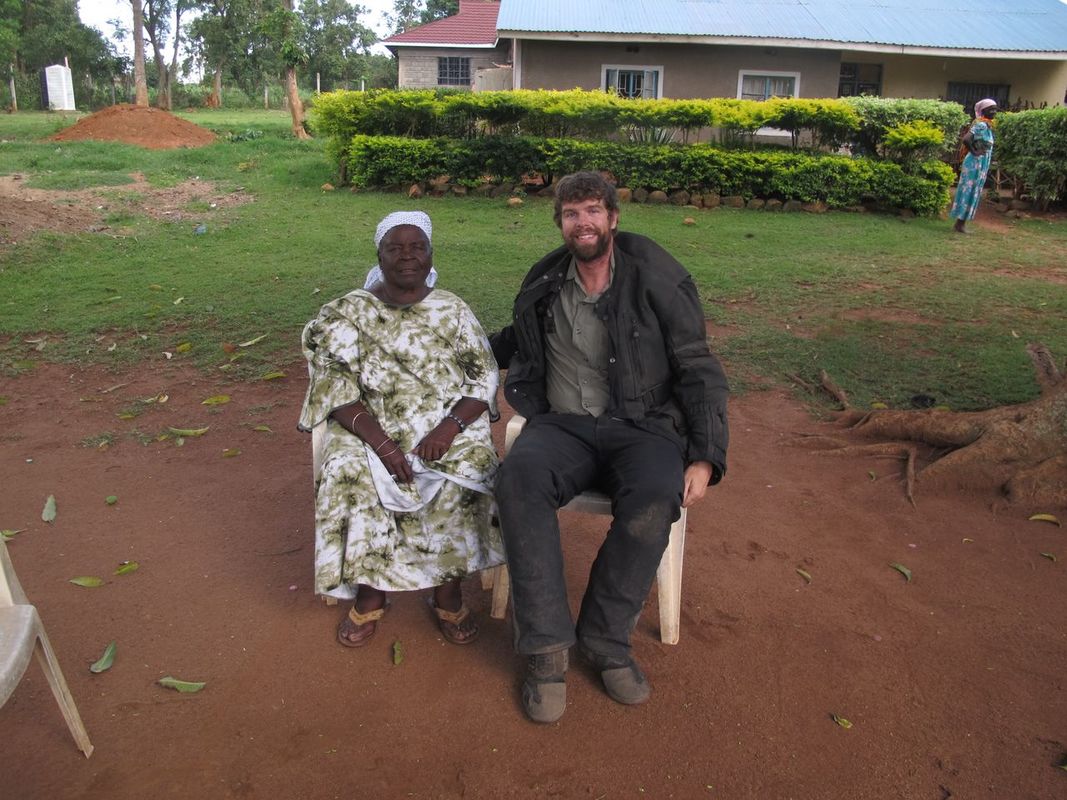 Riding in Uganda was terrifying. Occasionally I experienced oncoming traffic passing another vehicle on a small two-lane road. The disregard for motorcyclists was ubiquitous in Uganda – dozens of times a day trucks and 4x4s forced me onto the shoulder, sometimes off the road entirely. In Tanzania it got so bad that I started throwing water bottles at the oncoming trucks. The feeling of satisfaction was quickly replaced by the realisation that I was in rural Tanzania without any water – fail.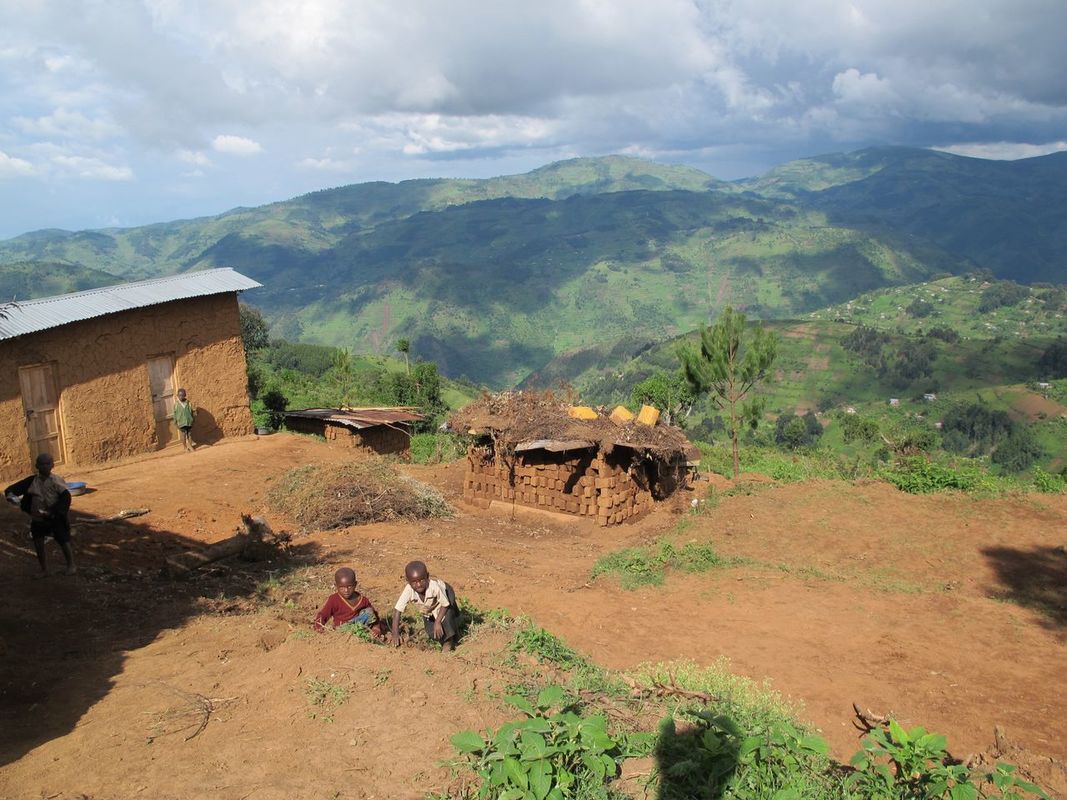 In Rwanda, the memorials to the 1994 genocide nearly brought me to tears. I met with several Peace Corps volunteers who discussed their concern that ethnic tensions, which resulted in the first genocide, would likely flare up again.
I wish I had had more time to explore Tanzania, but I had to make tracks as my girlfriend Bridget was meeting me in Lusaka, Zambia. After four months of being apart, I couldn't wait to see her. She is amazing, and I am so grateful that she could join me on this journey.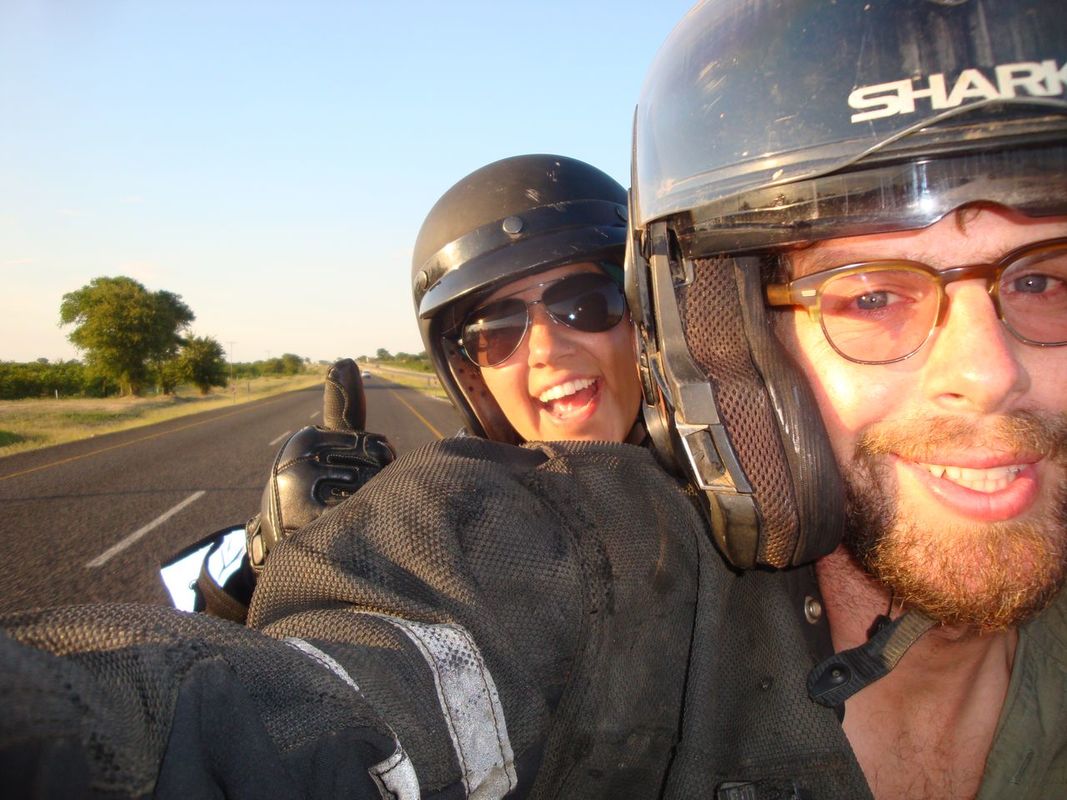 We spent five incredible weeks riding through southern Africa. We saw all the normal tourist stuff – big-five safaris in Botswana, Victoria Falls, seeing great white sharks in South Africa and all that, but it was the moments off the beaten track that I will remember most: trying to save a small kitten in Zimbabwe, meeting a guy selling a handful of gems at a gas station in Namibia, and staring in awe as the setting sun sank into the dunes off the Skeleton Coast. After sharing a month riding thousands of miles together, I proposed to Bridget at the southern tip of Africa, Cape Agulhas. Of course, my bike is front and centre in the proposal photos!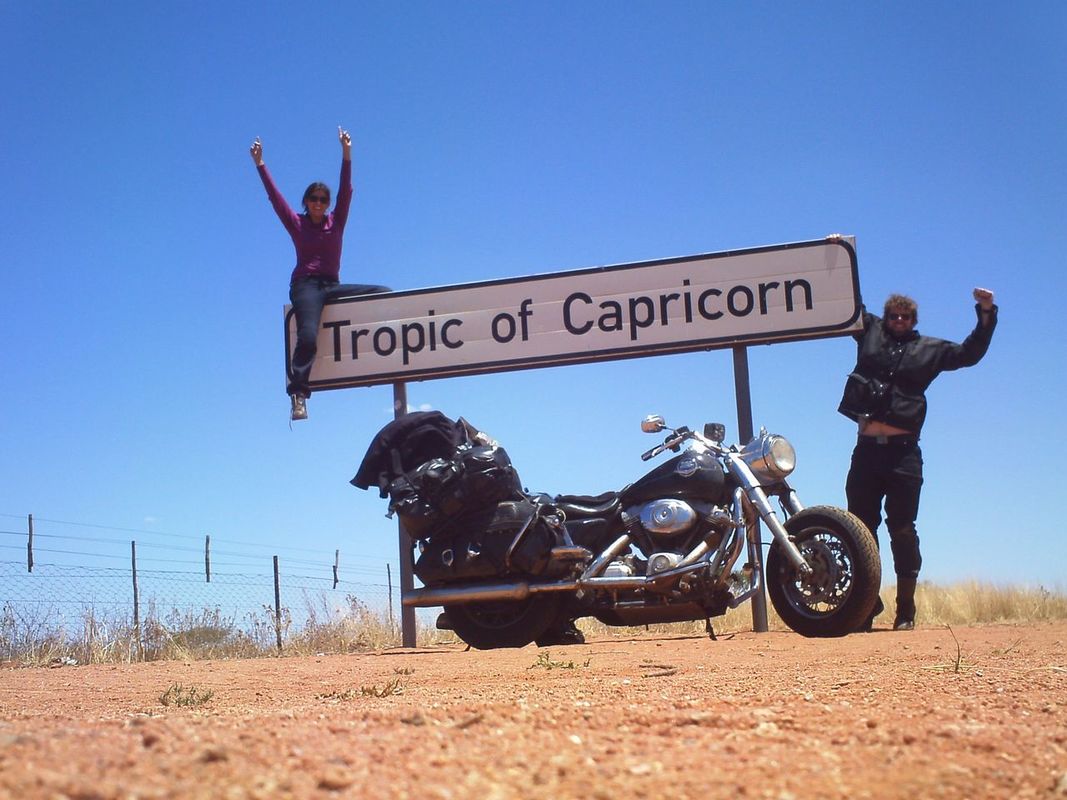 I've loved riding my Road King® around the planet, it has taken me everywhere that I've wanted to go, without limitations. Sure I've been banged up along the way, loads of bruises, spraining ankles and knees, and a fractured scapula in Ecuador, but my Harley keeps going with rarely a complaint.
I can finally answer my mother's question – I don't have a death wish. I'm simply searching for the rare moment I only experience on my bike, a head clear of thoughts and worries, when I feel I'm exactly where I'm meant to be – connected to everything at once, while riding towards somewhere new.