Dreaming big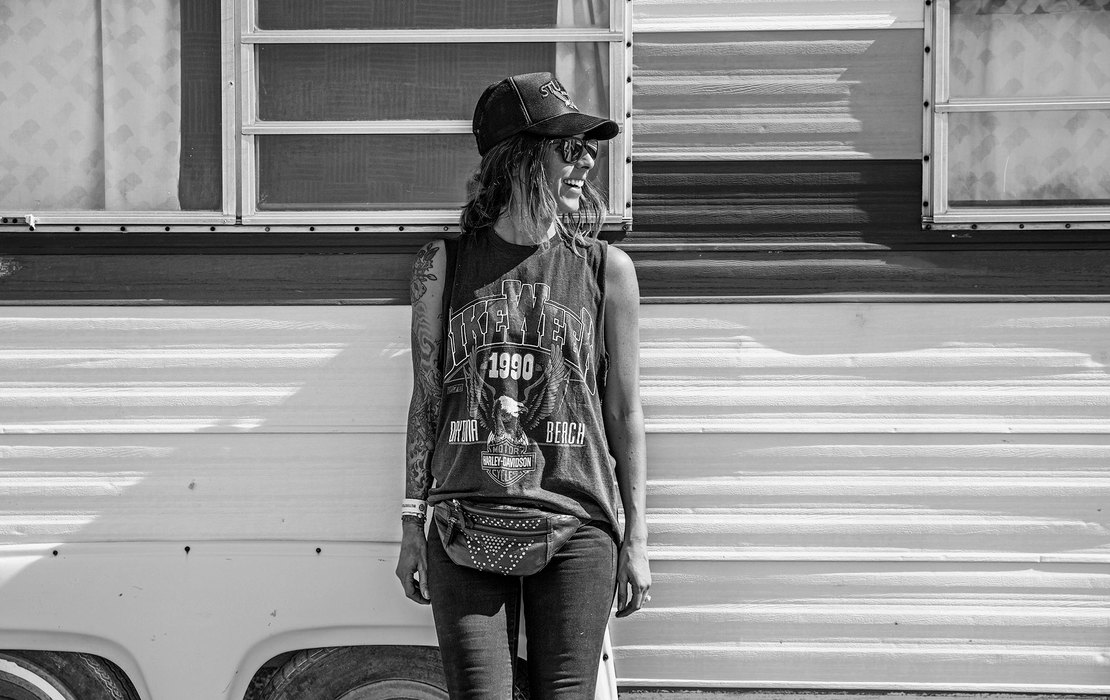 The incredible personal journey of Ashmore Ellis, one of the true innovators of the motorcycle industry
Ashmore Ellis has impacted, morphed and permanently changed the motorcycle industry over the past seven years. She's known primarily for co-creating the Babes Ride Out and Sierra Stakeout events, but in total she has co-created six motorcycle events scattered all over the US and beyond.
Words: Becky Goebel @actuallyitsaxel
Ashmore and I are real-life friends, and she has been a huge personal inspiration to me in my life and career. Seeing her work with Babes Ride Out influenced me to get a bike, to meet other women who ride, and to travel to California, where I now live. Here's her story.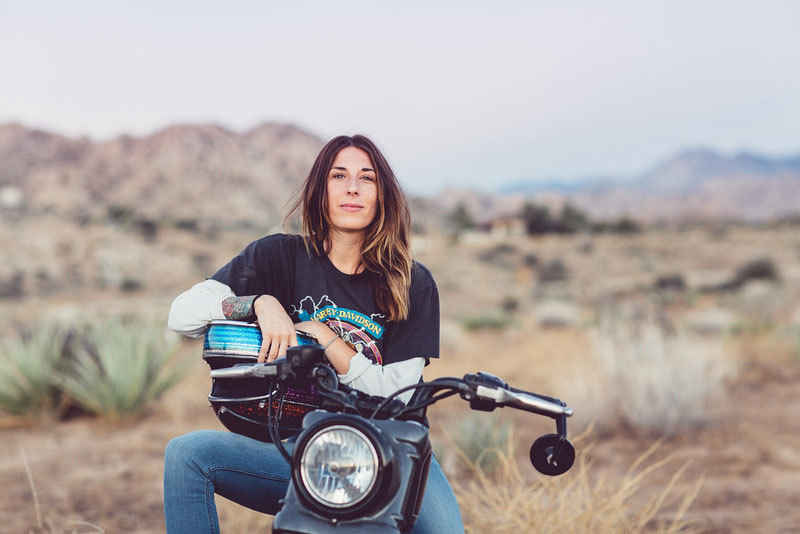 How did you get into riding?
It's a classic story of seeing someone else do it and thinking to myself, "I can do that too". I signed up to take a MSF (Motorcycle Safety Foundation) class as a birthday gift to myself and figured if I liked it after that class, maybe this was for me. I had zero confidence on a motorcycle before taking the class and maybe 10% confidence afterwards. The rest I had to build up over miles and miles of practice. Am I a 100% badass rider now after all those years? Hell no. I take riding seriously and know my limits. If people ride a bit faster than I do, my motto is "I'll see you there". I never got into motorcycles to prove anything – it's because I truly enjoy the ride.
What bikes do you have in your collection?
My daily ride is a custom Harley Davidson Sportster® XL1200S. It's a full-on camping machine that is lightweight, has a clean look and can really carve into mountain roads. I also have a new dual-sport bike – a Husqvarna FE 250. I've been having a blast ripping around in nature with my husband and friends.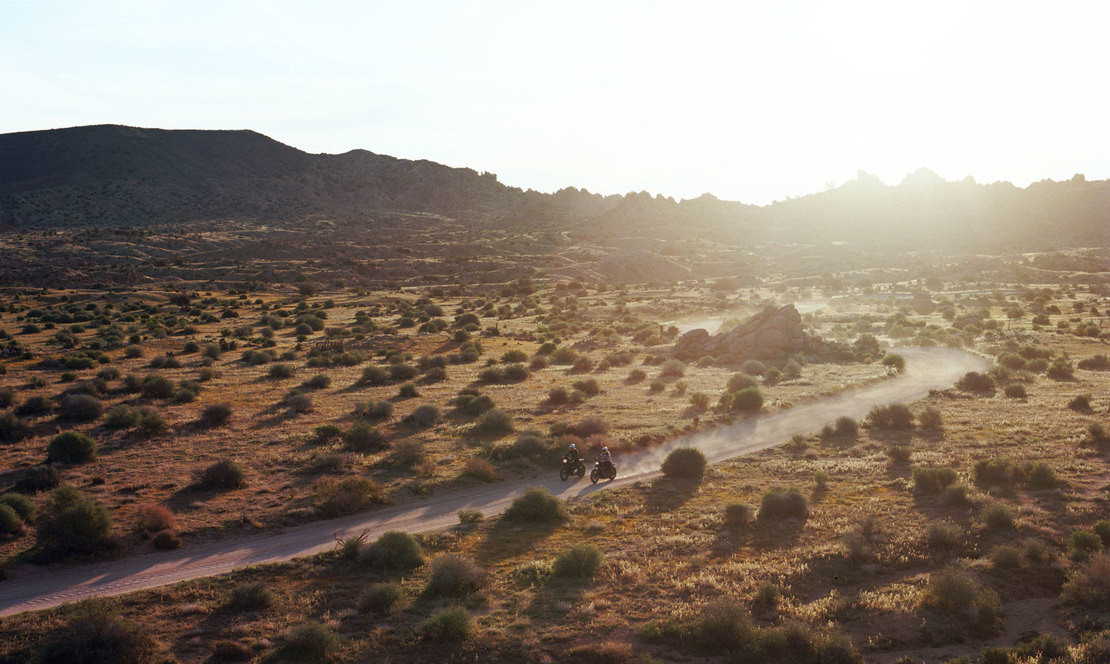 And how did the Babes Ride Out event start?
In 2013 I ran into Anya Violet at Born Free. Anya is a force of nature and has been riding dirt bikes since she could walk. Casual conversation turned to a 'girls' weekend' of motorcycle camping in the desert of Borrego Springs in California. We thought it would be a good idea to put out a call to all the lady riders we were starting to connect with on social media – how awesome would it be if 10 ladies showed up? As it turned out, 50 women showed up, from as far afield as New York, Arizona, northern California and Oregon.
In the second year, Babes Ride Out was official. I had stumbled upon a campsite in Joshua Tree, California, so Anya and I headed out to take a look. The site was in the perfect location and offered incredible rides on some of the most beautiful roads we'd ever seen. When the site owner asked us how many ladies were coming, we said "oh, no more than 150". A few months later, we were looking at a registration list of 500 ladies. By the fourth year, we had more than 1,500 women.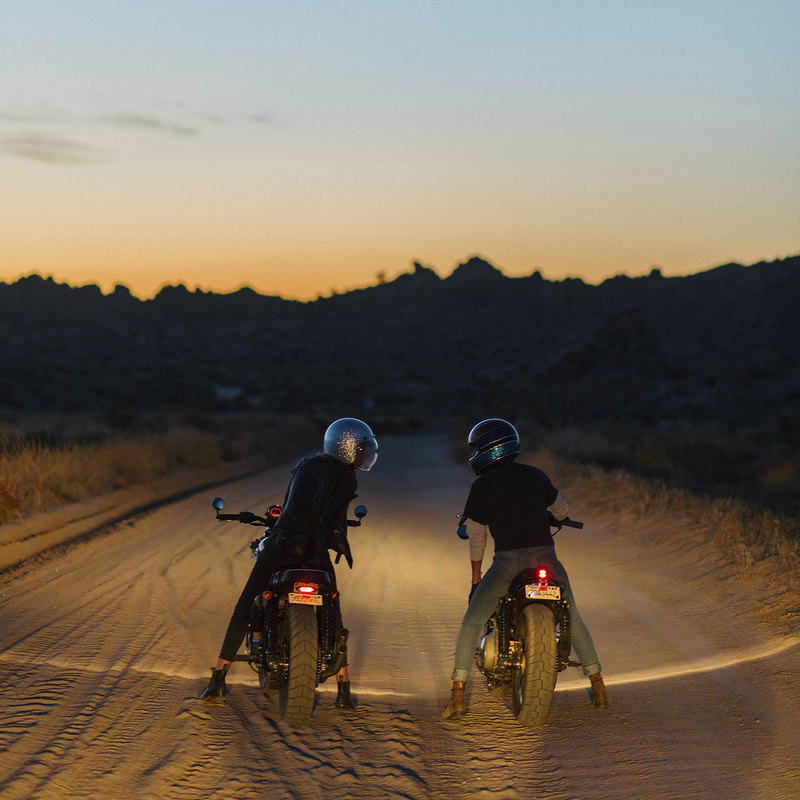 And it just kept on growing, right?
Yeah, and then some! In 2015 we hosted our first free off-roading event (Babes in the Dirt), and we soon decided to make that an annual event. In 2016, Babes Ride Out East Coast was born – that spring, some 250 female riders descended upon the Catskills in New York State. We also reached out to the ladies of VC London (vclondon.co.uk), and Babes Ride Out UK was put in motion.
But why stop there? My husband Mike and I also launched a side project called Stake Out Events, and in 2016, we created the first event of the series, Sierra Stake Out, a co/ed event in the heart of Gold Country. We are expecting close to 1,000 at this year's Sierra Stake Out 3, and we've introduced another new event for 2019: the Blue Ridge Stake Out in Floyd, Virginia. We've also added an East Coast Dirt event to the roster, and have moved our main Babes Ride Out event into the central coast of California.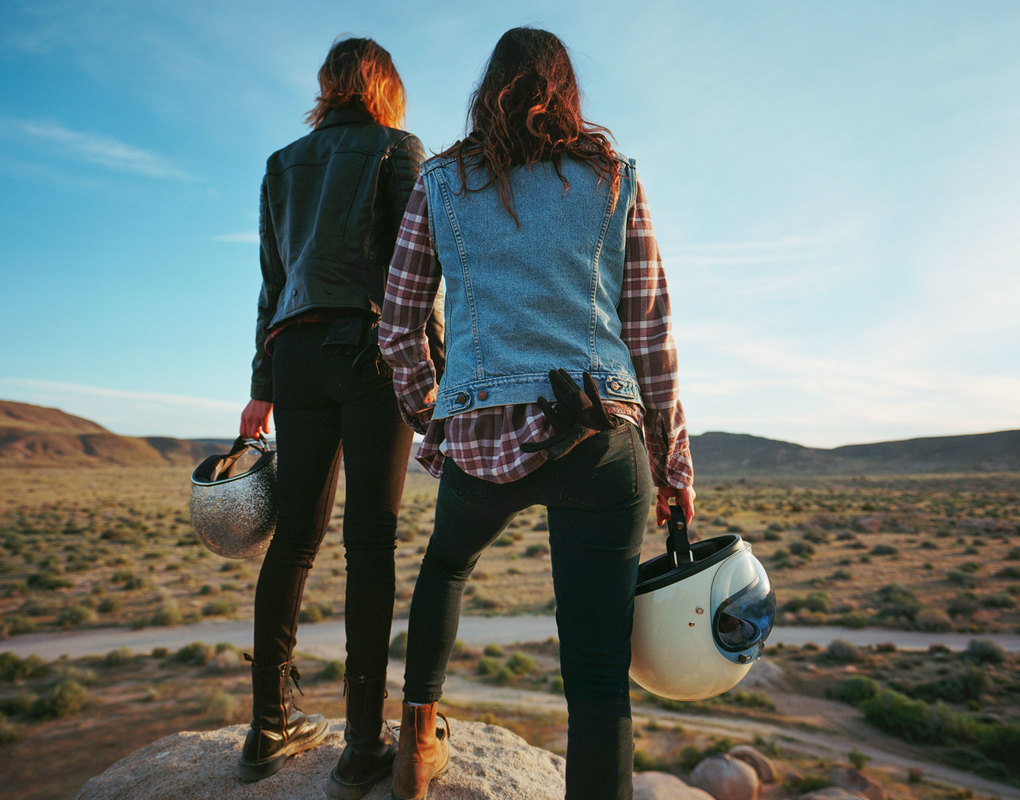 How have all these events changed your personal life and career?
I still work freelance for a few clients, but we've built an event, a brand and a platform from scratch with zero experience, so that's pretty rewarding in itself.
In terms of my personal life, I've had the opportunity to meet some of the most incredible humans, work with my husband and share amazing experiences with thousands of people. It's not been all ups though. I've had to set boundaries, because it does take up quite a bit of my time. I often turn down invites, not because I don't want to go, but because I want to spend time with my husband, clean the house, ride my motorcycles and have a 'normal' weekend every once in a while!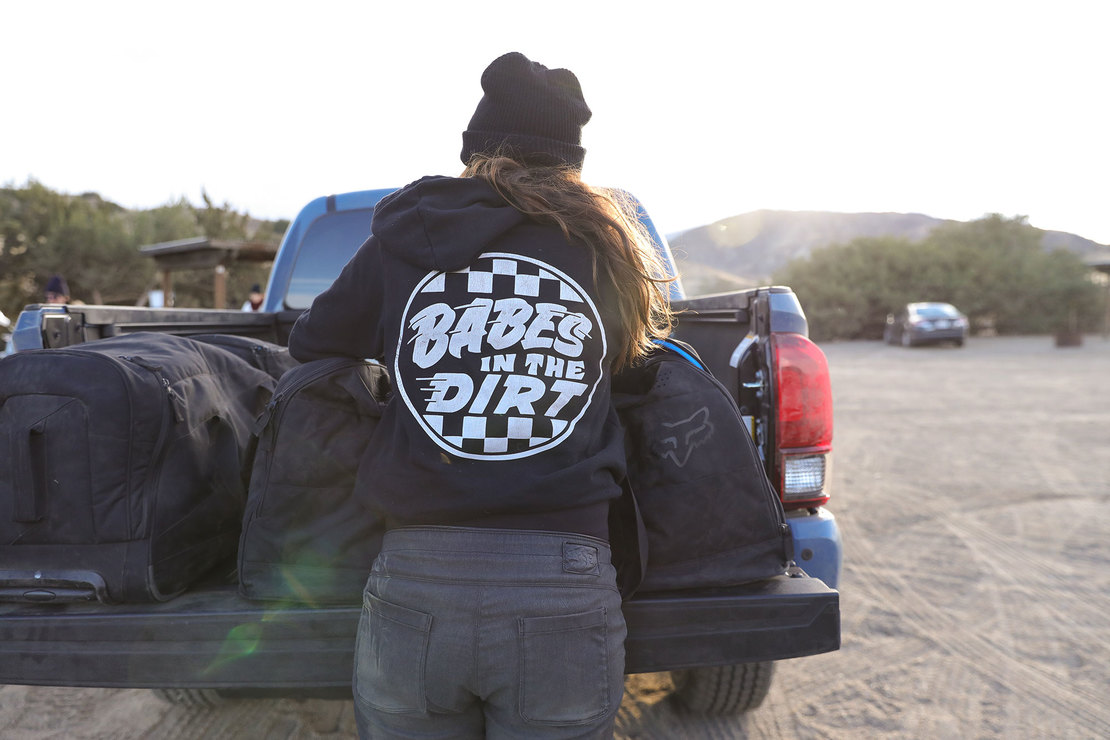 Tell us about a particularly memorable moment from working in the motorcycle industry.
It's difficult to choose just one. However, I have to say my favourite moments producing these events all have to do with the attendees. No matter male or female, these enthusiasts have come along to hang out with friends, ride the routes, and enjoy the camaraderie. Seeing and meeting people who love to ride – not just around town, but really riding their bikes and putting down some miles – is just the best.
From an insider perspective, how have you seen Babes Ride Out impact the motorcycle community?
As the percentage of female riders has risen, women are finding their space within the motorcycling community. Babes Ride Out serves as a way for digital friends to become lifelong friends, and gives attendees a chance to make a real connection with each other. Our goal from day one was to inspire and empower women to explore the world on two wheels.
Additionally, we always put focus on supporting the mindset that rider training is cool. We work with a number of local riding schools, as well as the Harley-Davidson® Riding Academy. By promoting these classes and partnerships, we hope to give riders longevity and support them in becoming more skilled riders.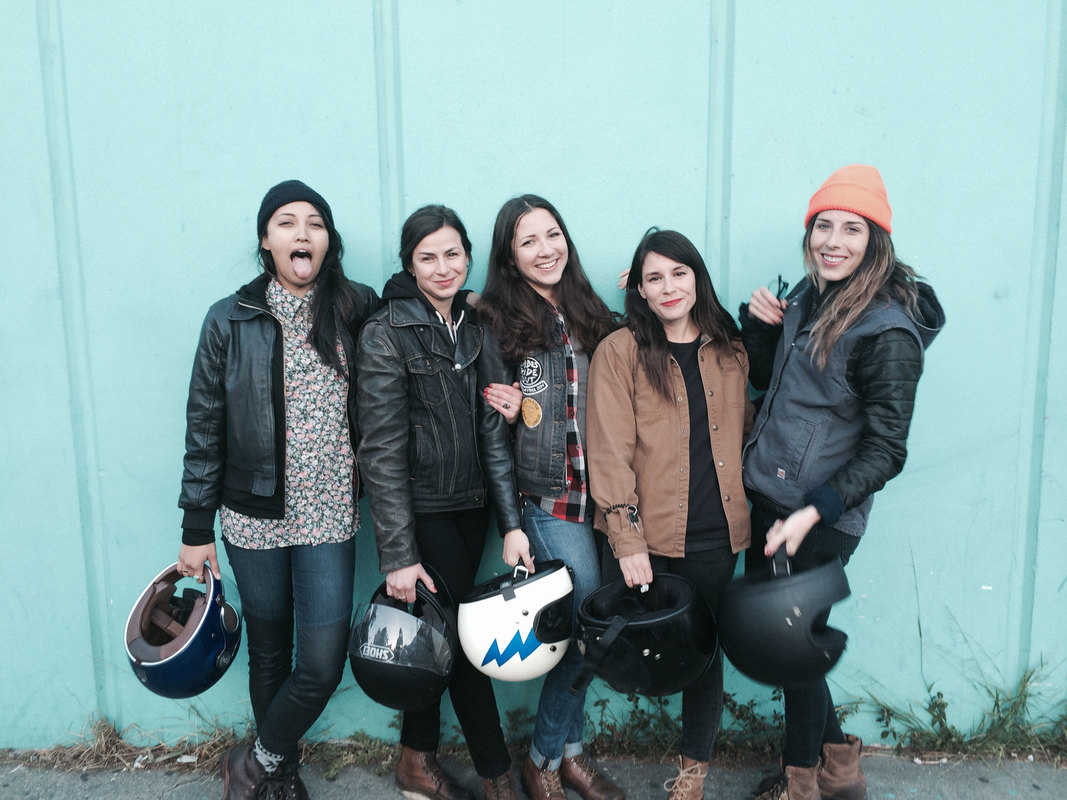 What would you like to see happen in the women's motorcycle community specifically?
For it not to be called the women's motorcycle community and for it to be referred to as the motorcycle community in general. You might be reading this and thinking "Damn girl! You produce motorcycle events focused on women riders!" This is true. But if you think it's to solely encourage women riders, then you've missed the entire point. It's to build a community as a whole. Most don't realise that we work with a ton of men on our events. I think it's incredibly important to remember that it's not 'us' against 'them'. You are part of this community no matter what you ride or wear, or your gender.
Where do you like to ride in your own time?
I am lucky enough to live in a place where I can leave my driveway and after four stop lights and one stop sign, I can ride all the way to Mexico with no obstructions. I love to ride down to the desert in Borrego and up to the mountains in Idyllwild. A few years ago, we bought some land out in Yucca Valley, which offers access to some of the best off-road riding in the region. You can ride from our property up to Big Bear on a really fun route – it has a great elevation gain and some of the biggest yucca plants I have ever seen.
What is your favourite thing about riding?
The camaraderie after a long ride and being able to bring it back to the basics. There is nothing like hauling whatever fits onto your motorcycle and making it work for a week or so. I've learned a lot of things the hard way and have met some of my best friends through two wheels. I know I've still got a lot to learn, but that's probably why I love it so much.
What do you see happening in your future?
The future always surprises me, so it's hard to say. I know I will continue to focus on making each of our events better than the last, and be open to the changes and challenges that life throws our way. Mike and I are welcoming a baby girl in September. It's going to be a wild ride to say the least, but I am committed to making sure she knows that she is more than a gender; rather, a person who has limitless potential if she applies herself and doesn't give up.