Following in James Bond's footsteps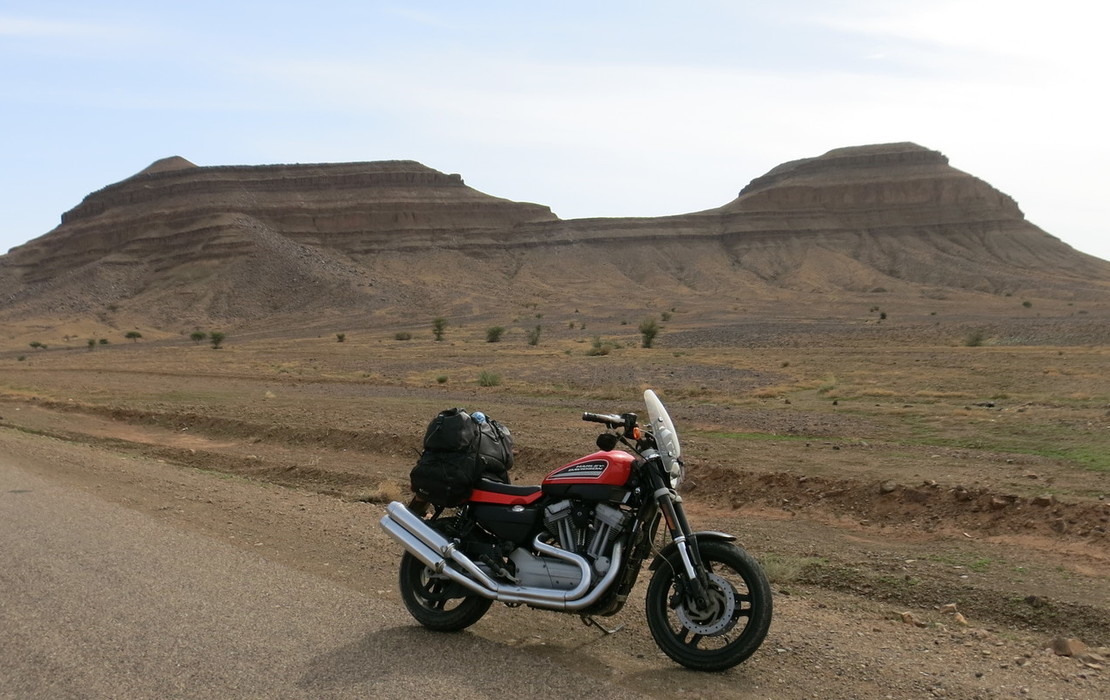 H.O.G.® member Chris Martin recalls how his fascination with 007 took him deep into the Atlas Mountains
I have always been a fan of James Bond movies, so when Spectre was released at the end of 2015, I had to see it. I had heard some of the filming had been done in Morocco, and as I watched the scene in the secret compound inside a giant crater I wondered if it could possibly be real.
After the movie I did a little research and found that this was actually the case; I was surprised I had no knowledge of such a dramatic landmark. Its name is Gara Medouar and there is much debate about how it was formed – either by volcano or meteor being the two most popular theories. Either way, it was a pretty cool-looking crater and a great excuse to take my XR on another road trip.
Into the mountains
I called a friend of mine who is also a Harley® fan and asked if he was up for an adventure. To nobody's surprise he said he was, so I agreed to meet him there. I began my journey by heading north from Casablanca, arriving first at Rabat where I crossed the new bridge on the autoroute bypass that had just opened a few weeks prior. Rabat is a beautiful city, however we instead took a little time to exit the autoroute and drive through one of the world's largest cork forests, where plenty of locals were enjoying their Sunday by having family picnics.
From there I headed east into the Atlas Mountains and into Ifrane for the night. Ifrane is known as the place where the last lion of North Africa died, and there's a statue in the middle of the city commemorating the Atlas Lions. I met my friend here and we headed south. Leaving Ifrane we passed through a forest area known for its Barbary apes, and we were able to see many there.
After hours of amazing scenery we arrived at Rissani. Rissani itself is not that old, but it incorporates the ruins of Sijilmasa, which existed during the time of Christ and was a part of a major trade route across the Sahara. We passed through Rissani and headed to Merzouga for the night. Merzouga is my favourite area of the Sahara, with its colossal sand dunes and plenty of hotels. We stayed at Auberge Sahara, a mud hotel that included a swimming pool.
Off the beaten track
The next morning we pointed our bikes towards our goal – Gara Medouar! On arrival we found there was not even a gravel road, but only a small dirt path. My XR was only equipped with street tyres so we took the path very slow, remaining in first and second gear the entire time. At one point I hit a patch of sand, and the front wheel dug in and took a sharp right turn. I thought I was going down but somehow remained upright. However, now I was pointing in the wrong direction – off the path… big hole… rock… scrub grass… still upright! Hallelujah! I stopped to let my friend catch up and my heart slow down.
We headed on to – or should that be into – the massive crater. I have to say, it was an incredible sight. Once inside we parked the bikes and explored a bit. I found it amazing that, so far out in the middle of the Sahara, we found fossils of ocean creatures inside the crater!
Lost in the desert
After leaving Gara Medouar we had intended to go to the city of Ouarzazate, but around Tazzarine we made a wrong turn. Or, at least, I was concerned we'd gone wrong, but I soon saw a road sign that led me to believe we were on the right road. However, we soon left civilisation completely. The pavement was only a 'chipped' road rather than asphalt. For more than an hour we did not pass a single town, gas station, or even another vehicle. We began to feel quite isolated and concerned about where we were. To compound our worries, my fuel was getting very low. After about another half an hour of riding we saw a young man on a moped. We stopped him to ask where we were, and he indicated that we were just a few kilometres from Zagora – what a relief!
We headed into Zagora, fuelled up and had a bite to eat. We decided to push on to Ouarzazate – this turned out to be a very bad decision. About 80 per cent of the road between Zagora and Ouarzazate was gone! They had removed the asphalt and were in the process of repaving. Asphalt, then gravel, then mud, a little more asphalt, and a lot of dust. It was more difficult than riding off-road!
Back to Casablanca
We arrived in Ouarzazate after dark. Ouarzazate is a city famous for film production; one of my favourite hotels is inside a film studio. We arrived at Hotel Oscar only to have them tell us there was "no more room in the inn!" They were shooting a film, and the film crew was using the hotel. As we contemplated in the parking lot, the hotel manager came out and said one of the crew was a no-show and they had one room for one night. "We'll take it!" we exclaimed without a second's hesitation. It was so, so good to have a hot shower, a nice meal and a soft bed.
In the morning we decided to stop in at Aït Benhaddou, the city where Gladiator was filmed. I took the XR down the steep path to the river's edge for a photo. We then went back up to have a coffee before heading on. From there we crossed over the mountains and through the Toufliht Forest into Marrakech. From Marrakech it was a short ride back home to Casablanca.
This trip had some unexpected perils, but was a great adventure. Riding Morocco always offers some challenges, but also many unexpected pleasant experiences. I may never be able to live the life of the world's most storied secret agent, but at least I had the opportunity to follow in his footsteps!