H.O.G. knows no boundaries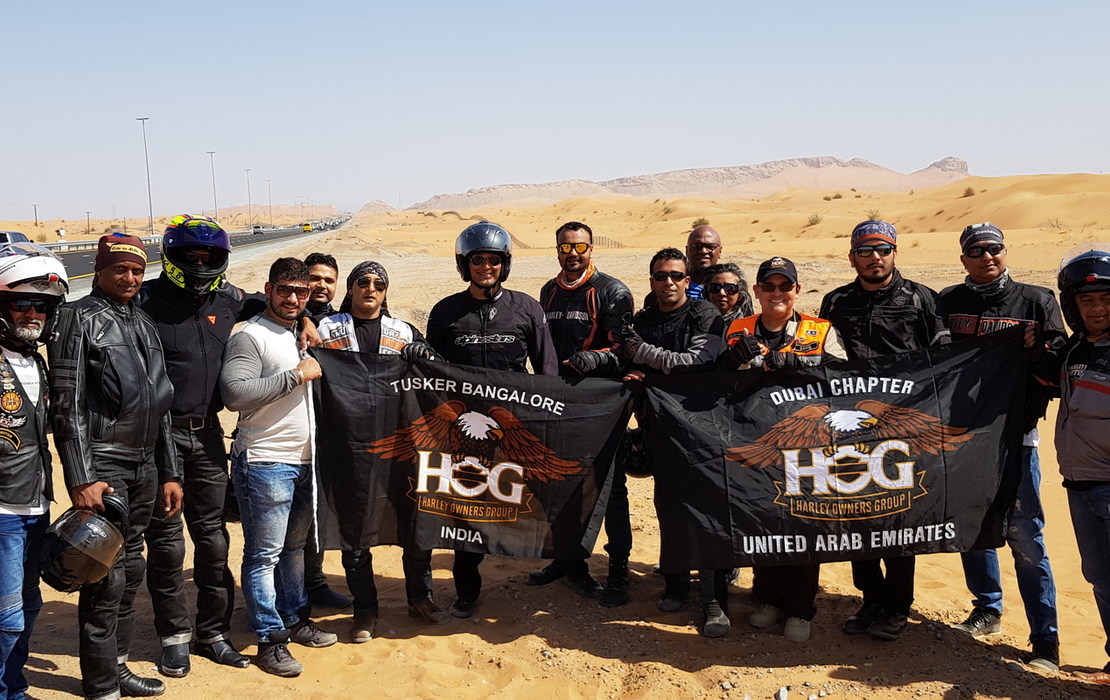 Pioneering H.O.G.® chapter members from India travelled more than 1,000 miles to ride with fellow Harley-Davidson® enthusiasts and explore another country. Now they're asking: 'Where next?'
When it comes to bringing people and their bikes together, H.O.G.® is definitely top of the class – and it was membership of the global Harley-Davidson® community that inspired more than 20 enthusiasts from India to travel to Dubai.
Their trip, the first of its kind for India's H.O.G. members, was the brainchild of Farooq Ahmed. Farooq said: "As an avid Harley® owner and rider and the director of the H.O.G. Tusker Chapter Bangalore for the past three years, I coined the phrase 'H.O.G. Knows No Boundaries'.
"I wanted to expand our horizons and make the world our playground. Because we are part of a million-strong rider club, I thought there was a huge infrastructure available to members to plan events across the world, to see places, meet people and ride our Harleys – what a great way to travel and experience the world!
"When I sounded out this plan with my sponsoring dealer, and with Vijay Thomas, Customer Experience Manager for Harley-Davidson in India, they gave me their backing and told me to go for it.
"The next question was where do we go? I contacted a couple of chapters overseas and also the Dubai dealership, where the team was very receptive. They immediately put me in touch with their chapter officers, where the guys shared my enthusiasm for H.O.G. Knows No Boundaries.
"The outcome was that 23 of us flew to Dubai to spend three memorable days riding our hearts out, interacting with local chapters and the H.O.G. community, spending time with dealerships and enjoying great parties."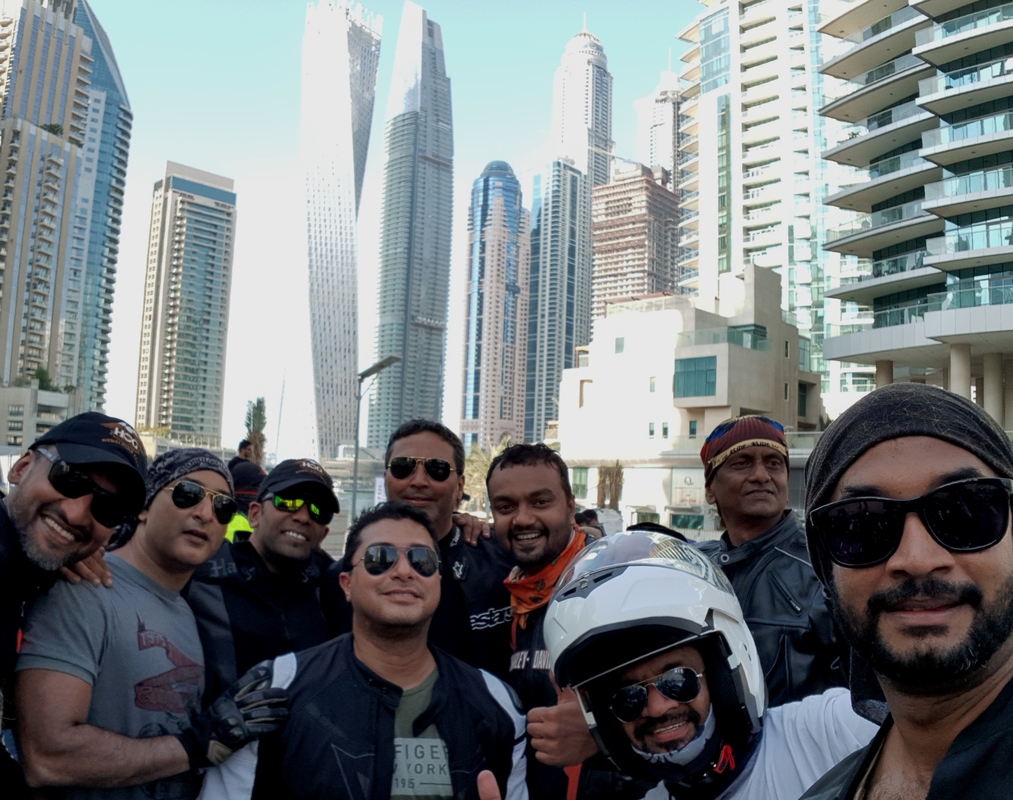 October 25
The first item on the agenda was a 'getting to know you' evening at the Sheraton Dubai Mall of the Emirates Hotel, where H.O.G. members met, mingled and relaxed before the action-packed days to come.
The H.O.G. Knows No Boundaries crew included representatives of chapters from across India – Capital Chapter Delhi, the Himalyan Chapter in Chandigarh and the Foothills Chapter Dehradun from the north, and the Tusker Chapter Bangalore and the Goa Chapter from the south.
Europe and North America were also represented: former Tusker Chapter Bangalore member Ramesh Gala flew out to join the party from Dublin, where he is now director of a global mobility company specialising in relocation to India. He said: "I saw my previous chapter officers, with Farooq as the lead, had posted an official H.O.G. event overseas ride to Dubai, which filled me with excitement – it was simply irresistible."
And Canadian ex-pat and Tusker member Oz Simpson – who with his wife Veda has been living in Bangalore on a long-term work assignment for the last two years – decided the trip was the perfect way for them to celebrate his 50th birthday on October 11.
Oz had joined the Tuskers a year or so ago, after buying a Sportster® 883, so that he and Veda could explore India and meet new people. The move has certainly paid dividends. Veda said: "We have truly enjoyed the friendships we have built through the Tusker group – being part of this social circle has really enriched our stay in India."
October 26
On the following day, H.O.G. members from India headed to the Harley-Davidson® Dubai dealership to spend time with fellow members from Dubai. Following the get-together and shopping at the dealership, the H.O.G. party collected their bikes and hit the road for a ride lasting more than nine hours.
Farooq said: "The first part of the ride was through the scenic mountains at Fujairah along stunning roads, and ended with lunch at the Bikers Café, at Fujairah International Marine Club. After lunch, the ride resumed and we had a taste of riding through mountains and tunnels at Kalba as we returned to Dubai, arriving at the Palm Jumeirah. The day ended with a photo shoot at the Dubai Marina, with the skyline providing a stunning backdrop."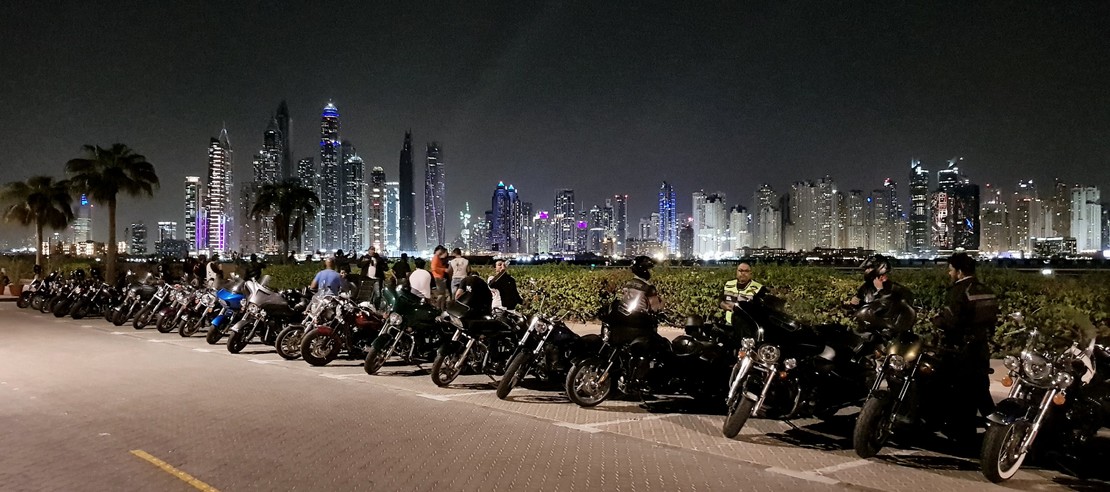 October 27
Day three began with a 6.30am briefing ahead of a desert ride from Dubai to Jebel Hafeet, the second highest peak in the UAE at 1,240 metres (4,000ft) above sea level. The Desert Wolves, an exclusive group of Harley riders from Al Ain, escorted the Dubai and Indian H.O.G. members to breakfast by riding with them on the Jebel Hafeet Mountain Road, which has 60 corners along its 11.7 kilometres, including sheer drops – no wonder it is regarded as one of the world's best driving roads!
Farooq said: "To record this wonderful experience, the riders conducted a photo shoot at the top of Jebel Hafeet Mountain. Then, after bidding farewell to the Desert Wolves, we returned to Dubai for a grand H.O.G. party at the Sofitel Hotel Jumeirah Beach."
Veda added: "The ride through the desert as part of the H.O.G. 'train' of 50-plus riders was the highlight of the trip."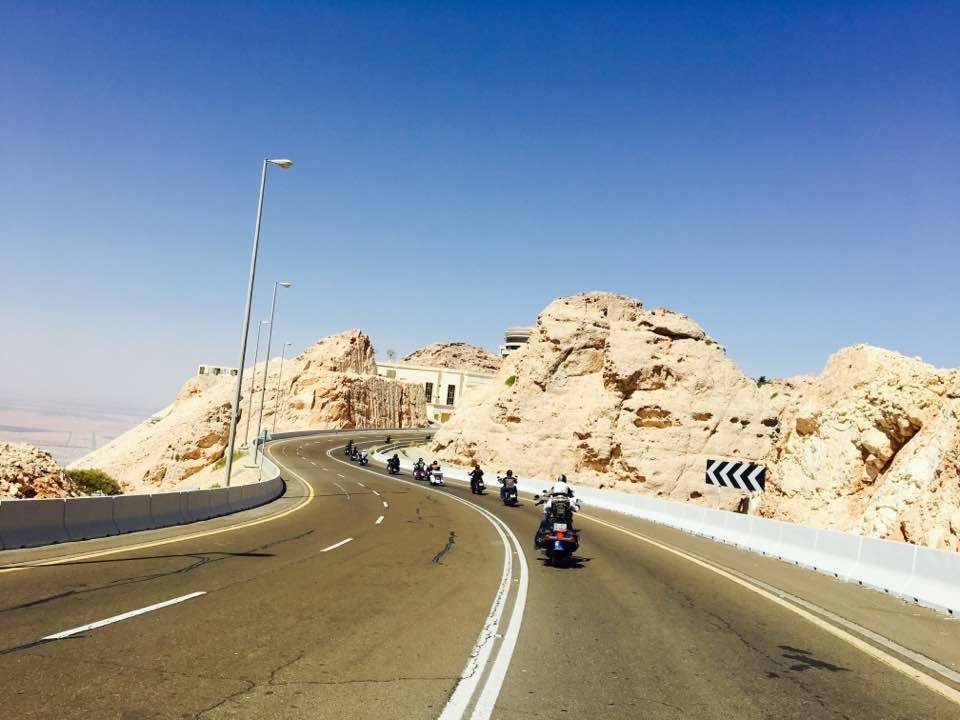 The verdict?
Farooq added: "This event has been so well received by H.O.G. members from India and Dubai that plans for future rides – potentially in Europe – are now in the works. A special mention must go to Harley-Davidson Dubai's dealership and staff – in particular Roland Seiderer, Charl Bester and Jen Santos – and the Dubai H.O.G. Chapter team of David Mercado, Dax, Punal Jaava, Hussain abu Rashed, Nickson and Inasu, plus a generous sprinkling of passionate H.O.G. members from all over the world settled in Dubai, who co-ordinated with us to make this event a huge success."
The response from other participants has been equally positive. Now back in Ireland, Ramesh Gala said: "It was a long-held dream come true to hold a H.O.G. international ride though our Bangalore Chapter and I thoroughly enjoyed my time riding with the Dubai Chapter. Farooq is a charismatic and meticulous organiser who is committed to every adventure ride, and the Dubai team made it easy and memorable. It was one of best overseas rides I've had, keeping our adrenaline levels high throughout."
And Veda Simpson said: "The Dubai trip was amazing and completely lived up to our expectations. It was a terrific birthday experience for Oz." We can't wait to find out what boundaries Farooq and his friends cross next!
Words: Mary Munford. Photos: Nickson Ireri, Shakeel Ahmed, Hussain Abu Rashed, Inasu Chirayath, Saumyajyoti Das